Hazelmere's hat was a hat worn by Hazelmere. Hazelmere was almost always seen wearing this hat, including during battle, although he is shown without it while he was a young gnome during a cutscene in The Eyes of Glouphrie.
During While Guthix Sleeps, when Hazelmere is killed by Lucien during the Skirmish at the Chaos Temple, Hazelmere's hat is his only piece of clothing to not turn to ashes. It instead briefly floats in the air, falls onto his ashes and then disappears with the rest of his remains. After the quest, its fate is unknown.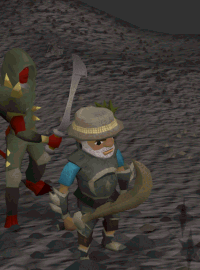 It previously had a combat level of 1. This was changed at an unknown time.
NPCs
Enemies
Items
Scenery
Locations
Music
Miscellaneous
Ad blocker interference detected!
Wikia is a free-to-use site that makes money from advertising. We have a modified experience for viewers using ad blockers

Wikia is not accessible if you've made further modifications. Remove the custom ad blocker rule(s) and the page will load as expected.