Hatchet
Discuss

4
22,502pages
on this wiki

This article refers to all hatchets, if you wish to view Hatchets from Stealing Creation see Hatchet (Stealing Creation)
The Hatchet is the tool used in Woodcutting to chop trees. (Prior to 1 April 2009, a hatchet was called an 'Axe'. All woodcutting axes were then renamed as hatchets to clear up ambiguity between the woodcutting tool and other items such as pickaxes, battleaxes, and thrownaxes.)
A hatchet is a melee weapon, available in all varieties of metal except white, although its power and speed are less favourable than many other weapons. Hatchets can be used to slash webs. A bronze hatchet spawns on the wood stump at the chicken farm in the north east section of Lumbridge. All hatchets except for the Dragon hatchet, the Black hatchet, the Inferno Adze, and the Sacred clay hatchet, can be smithed using the Smithing skill.
The level required to wield a hatchet is different than the level required to use a hatchet to chop trees. Wielding is governed by attack level while chopping trees is governed by woodcutting level. Therefore a level 3 combat player with level 61 woodcutting can use a Dragon hatchet to chop trees, but not wield it if their attack level is not high enough.
Dungeoneering hatchets
These hatchets could only be obtained and used during Dungeoneering.
Combat Styles
Template:CombatStyles AxeWoodcut
Trivia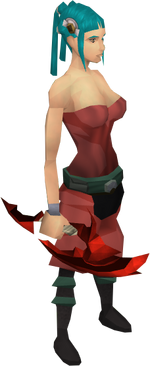 When the woodcutting animation was changed, only the Sacred clay hatchet retained the old woodcutting animation.
Axes were renamed as 'Hatchets' on 1 April 2009 to avoid confusion, but this temporarily caused some scams as people said that a hatchet was a rare item.
Before the introduction of Hatchets, the Broken axe random event was removed and all remaining broken pieces were removed from the game.