Harold Evans was a member of the Mort Myre order of The Myreque. He was trained in the militia and acted as the group's main fighter, often getting into the fray of battle and providing aid to his allies, yet despite constantly putting himself in danger he always got out alive, much to his own surprise.[1] He provided the Myreque with blue tattoos, using blamish dye and nail beast nails to make and apply the markings.[2]
He was present at the Myreque's base in the Hollows when an adventurer sought them out to deliver weapons. When Vanstrom Klause attacked, he killed him and Sani Piliu. Later, the adventurer and Veliaf built a memorial statue to him. His severed head appeared during a hallucination during River of Blood, requesting that the adventurer not pour water on him as he wasn't a bloodveld.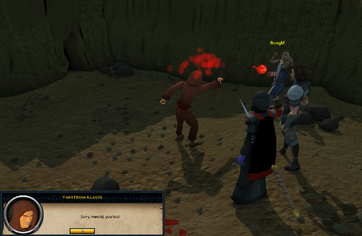 References
Edit
Ad blocker interference detected!
Wikia is a free-to-use site that makes money from advertising. We have a modified experience for viewers using ad blockers

Wikia is not accessible if you've made further modifications. Remove the custom ad blocker rule(s) and the page will load as expected.