Guthix balance
Discuss

2
22,530pages
on this wiki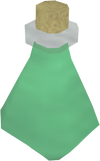 Guthix balance potions are modified Restore potions, made using the Herblore skill. To make Guthix balance, players must have started In Aid of the Myreque and have at least level 22 Herblore. Guthix balance can be used against vampyres and vyrewatches in Morytania or Meiyerditch. A potion of Guthix Balance has to be mixed in Morytania to complete a Medium Morytania Task.
First, a restore potion is made (by adding harralander and red spider's eggs to a vial of water). Then, garlic and silver dust are added to the restore potion to make this potion. Silver dust can be made by using a silver bar at the Grinder near the Ectofuntus, or bought at the Grand Exchange. Adding garlic gives the player 25 Herblore experience, and adding silver dust gives another 25 Herblore experience.
Garlic and silver dust can be added to restore potion of any dosage, i.e., 1-4 doses. The experience for the secondary ingredients is the same, independent of the dosage. For maximum efficiency, it is recommended that restore potions are decanted into 4-dose potions before Guthix balance potions are created. Alternatively, if being made from scratch for the experience, making the potions at the default 3 doses would earn more experience at the cost of more materials. If only the garlic is added, players will obtain "Guthix balance (unf)". The number of doses for these unfinished potions is not shown in their in-game names, although it will be for the finished potion.
Guthix balance potions are used against frozen Vampyre juveniles, Vampyre juvinates or Vyrewatch. After freezing a vampyre with the Rod of Ivandis or Flail of Ivandis, the usage of the potion has three outcomes: the vampyre will be destroyed, the vampyre will become angry (+10 combat level, but vulnerable to all attacks), or they will be returned to human form. Using it on a held Vyrewatch will simply deal a random amount of damage.
Flask
This potion can be made into a Guthix balance flask by using at least six doses of it with a Potion flask. Players do not need a specific level to turn potions into flasks.
Dropping monsters
| Monster | Combat level | Quantity | Rarity |
| --- | --- | --- | --- |
| Undead lumberjack | 30,35,40,45,50,55,60,64,70 | 1 | |
Unfinished potions

Coconut milk • Guam • Rogue's purse • Marrentill • Tarromin • Harralander • Ranarr • Toadflax • Spirit weed • Magic essence • Irit • Wergali • Avantoe • Kwuarm • Snapdragon • Cadantine • Lantadyme • Antipoison+ • Dwarf weed • Weapon poison+ • Torstol • Antipoison++ • Weapon poison++ • Fellstalk

Combat potions

Attack (mix) • Strength (mix) • Defence (mix) • Magic (mix) • Ranging (mix) • Combat (mix) • Super attack (mix) • Super strength (mix) • Magic essence (mix) • Super defence (mix) • Antifire (mix) • Super ranging (mix) • Super magic (mix) • Zamorak brew (mix) • Saradomin brew • Super antifire • Extreme attack • Extreme strength • Extreme defence • Extreme magic • Extreme ranging • Overload

Recovery potions

Stat restore (mix) • Energy (mix) • Summoning • Prayer (mix) • Super energy (mix) • Super restore (mix) • Sanfew serum • Adrenaline potion • Super prayer • Prayer renewal

Cures and antipoisons

Relicym's balm (mix) • Antipoison (mix) • Super antipoison (mix) • Yeti curse cure • Sanfew serum • Antipoison+ (mix) • Antipoison++

Skill potions

Agility (mix) • Fishing (mix) • Hunter (mix) • Fletching • Crafting

Unfinished Juju potions
Juju potions

Juju hunter potion • Scentless potion • Juju farming potion • Juju cooking potion • Juju fishing potion • Juju woodcutting potion • Juju mining potion • Saradomin's blessing • Guthix's gift • Zamorak's favour

Weapon poisons
Others

Bravery potion • Cadava potion • Goblin potion • Guthix balance (unf) • Guthix balance • Guthix rest • Potion • Mixture - step 1 • Mixture - step 2 • Shrink-me-quick • Super fishing explosive • Troll potion • 'voice of doom' potion • Olive oil • Sacred oil • Serum 207 • Serum 208 • Yeti curse cure

Tars

Guam • Marrentill • Tarromin • Harralander

Flasks

Agility • Antifire • Antipoison • Antipoison+ • Antipoison++ • Attack • Crafting • Defence • Energy • Extreme attack • Extreme defence • Extreme magic • Extreme ranging • Extreme strength • Fishing • Fletching • Guthix's gift • Guthix balance • Hunter • Juju cooking • Juju farming • Juju fishing • Juju hunter • Juju mining • Juju woodcutting • Magic essence • Magic • Overload • Prayer • Prayer renewal • Ranging • Recover special • Relicym's balm • Restore • Sanfew serum • Saradomin's blessing • Saradomin brew • Scentless potion • Serum 207 • Serum 208 • Summoning • Super antifire • Super antipoison • Super attack • Super defence • Super energy • Super magic • Super prayer • Super ranging • Super restore • Super strength • Weapon poison • Weapon poison+ • Weapon poison++ • Zamorak's favour • Zamorak brew

Dungeoneering potions

| | |
| --- | --- |
| Weak potions | Magic • Ranged • Melee • Defence • Stat restore • Cure • Rejuvenation • Weapon poison • Gatherer's • Artisan's • Naturalist's • Survivalist's |
| Normal potions | Magic • Ranged • Melee • Defence • Stat restore • Cure • Rejuvenation • Weapon poison • Gatherer's • Artisan's • Naturalist's • Survivalist's |
| Strong potions | Magic • Ranged • Melee • Defence • Stat restore • Cure • Rejuvenation • Weapon poison • Gatherer's • Artisan's • Naturalist's • Survivalist's |