Guthix's gift
Discuss

0
22,512pages
on this wiki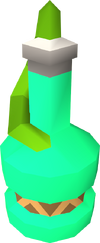 Guthix's gift is a reward from the Herblore Habitat activity. It requires 75 herblore to make and gives a 10% bonus to herblore experience when making juju potions. The potions can be mixed at any bank and this bonus will take effect, but the bonus only applies to Juju potions. A guide to obtain the ingredients and make this potion is here.
The potion boosts experience for both cleaning grimy vine herbs and making juju potions. The potion does NOT boost experience from making unfinished juju potions even if the player is wearing a Factory outfit. The player will receive regular cleaning experience with the outfit, though.
Making this potion grants 170 herblore experience and requires a clean samaden and a Guthix vine.
This juju potion can be stored by the tool leprechaun found in the herblore habitat, however only Juju farming potions, Juju hunter potions, Scentless potions, Guthix's gift, Saradomin's blessing, and Zamorak's favour can be stored with the leprechaun. In order to do so the potion must consist of 3 doses, otherwise it cannot be stored. The maximum amount of potions of one type that can be stored is 30. However, unlike the other Juju potions stored with the Juju leprechaun, this one is more effective when stored in the player's bank, so that a maximum number of Juju potions can be mixed in the limited time while the potion is effective.
Each dose of potion lasts for 5 minutes. You will get a notice in your chat box when your potion's effect is about to wear off (about 30 seconds before) and also when it has worn off.
This potion can be made into an Guthix's gift flask by using at least six doses of it with a Potion flask. Players do not need a specific level to turn potions into flasks.
Unfinished potions

Coconut milk • Guam • Rogue's purse • Marrentill • Tarromin • Harralander • Ranarr • Toadflax • Spirit weed • Magic essence • Irit • Wergali • Avantoe • Kwuarm • Snapdragon • Cadantine • Lantadyme • Antipoison+ • Dwarf weed • Weapon poison+ • Torstol • Antipoison++ • Weapon poison++ • Fellstalk

Combat potions

Attack (mix) • Strength (mix) • Defence (mix) • Magic (mix) • Ranging (mix) • Combat (mix) • Super attack (mix) • Super strength (mix) • Magic essence (mix) • Super defence (mix) • Antifire (mix) • Super ranging (mix) • Super magic (mix) • Zamorak brew (mix) • Saradomin brew • Super antifire • Extreme attack • Extreme strength • Extreme defence • Extreme magic • Extreme ranging • Overload

Recovery potions

Stat restore (mix) • Energy (mix) • Summoning • Prayer (mix) • Super energy (mix) • Super restore (mix) • Sanfew serum • Adrenaline potion • Super prayer • Prayer renewal

Cures and antipoisons

Relicym's balm (mix) • Antipoison (mix) • Super antipoison (mix) • Yeti curse cure • Sanfew serum • Antipoison+ (mix) • Antipoison++

Skill potions

Agility (mix) • Fishing (mix) • Hunter (mix) • Fletching • Crafting

Unfinished Juju potions
Juju potions

Juju hunter potion • Scentless potion • Juju farming potion • Juju cooking potion • Juju fishing potion • Juju woodcutting potion • Juju mining potion • Saradomin's blessing • Guthix's gift • Zamorak's favour

Weapon poisons
Others

Bravery potion • Cadava potion • Goblin potion • Guthix balance (unf) • Guthix balance • Guthix rest • Potion • Mixture - step 1 • Mixture - step 2 • Shrink-me-quick • Super fishing explosive • Troll potion • 'voice of doom' potion • Olive oil • Sacred oil • Serum 207 • Serum 208 • Yeti curse cure

Tars

Guam • Marrentill • Tarromin • Harralander

Flasks

Agility • Antifire • Antipoison • Antipoison+ • Antipoison++ • Attack • Crafting • Defence • Energy • Extreme attack • Extreme defence • Extreme magic • Extreme ranging • Extreme strength • Fishing • Fletching • Guthix's gift • Guthix balance • Hunter • Juju cooking • Juju farming • Juju fishing • Juju hunter • Juju mining • Juju woodcutting • Magic essence • Magic • Overload • Prayer • Prayer renewal • Ranging • Recover special • Relicym's balm • Restore • Sanfew serum • Saradomin's blessing • Saradomin brew • Scentless potion • Serum 207 • Serum 208 • Summoning • Super antifire • Super antipoison • Super attack • Super defence • Super energy • Super magic • Super prayer • Super ranging • Super restore • Super strength • Weapon poison • Weapon poison+ • Weapon poison++ • Zamorak's favour • Zamorak brew

Dungeoneering potions

| | |
| --- | --- |
| Weak potions | Magic • Ranged • Melee • Defence • Stat restore • Cure • Rejuvenation • Weapon poison • Gatherer's • Artisan's • Naturalist's • Survivalist's |
| Normal potions | Magic • Ranged • Melee • Defence • Stat restore • Cure • Rejuvenation • Weapon poison • Gatherer's • Artisan's • Naturalist's • Survivalist's |
| Strong potions | Magic • Ranged • Melee • Defence • Stat restore • Cure • Rejuvenation • Weapon poison • Gatherer's • Artisan's • Naturalist's • Survivalist's |
Jadinko creatures

Common • Igneous • Cannibal • Aquatic • Amphibious • Carrion • Draconic • Saradomin • Guthix • Zamorak • Shadow • Diseased • Camouflaged

Seeds

Red blossom • Blue blossom • Green blossom • Erzille • Argway • Ugune • Shengo • Samaden • Lergberry • Kalferberry

Produce

Red vine blossom • Blue vine blossom • Green vine blossom • Erzille • Argway • Ugune • Shengo • Samaden • Lergberries • Kalferberries

Unfinished Juju potions
Juju potions

Hunter potion • Scentless potion • Farming potion • Cooking potion • Fishing potion • Woodcutting potion • Mining potion • Saradomin's blessing • Guthix's gift • Zamorak's favour

Juju secondaries

Corrupt vine • Shadow vine • Marble vine • Striped vine • Plant teeth • Aquatic vine • Pungent vine • Oily vine • Draconic vine • Saradomin vine • Guthix vine • Zamorak vine

Rewards