Guthix (pronounced /ˈɡʌθɪks/, "Gùh-thicks"[1]) was the God of Balance and the foremost young god. He was the first of the young gods to arrive on Gielinor, bringing with him the goddess Seren and other races including the humans and elves. His beliefs were simply to achieve balance and allow mortals to live in peace, similar to those of Seren.
There is a common misconception about Guthix, which is that he was the god of peace and tranquillity. It holds some truth, as Guthix sought to create a world of Balance where mortals could live in peace without the interference of gods. Although balance does not necessarily mean peace (as evidenced by the Void Knights), when talking to the player in The World Wakes, Guthix stated that he is personally a pacifist, and that also he did not necessarily agree with the actions taken by those who follow him, as he has stated that he did not want to be worshipped.
Description and powers
Edit
Guthix was a shape-shifter, and was able to take the form of anything he desired. He was believed to take the form of a butterfly when he first arrived on Gielinor. When he brought humans to Gielinor, he took the form of one himself so as not to frighten them.
When he first became a God, Guthix had the ability to open portals to travel to other worlds. He originally required the Elder Sword to do this, but eventually became powerful enough to open portals without it. He was able to easily open many portals through which he banished the warring gods at the end of the Third Age. He also can create a magical wall that keeps any higher tier gods from walking on a world, demonstrated by his creation of the 'Edicts of Guthix'.
Guthix seemed strictly adamant towards the side of balance. A good example of how this motto plays into the game is in Castle Wars and Soul Wars, when a player picks the Guthix Portal. When this happens, the player sides with the side with the least players and effectively equals the teams, hence the saying, "Balance is Power". Guthix was known to have powers that are able to create elemental creatures (Balance Elemental Guardian), bless Humans and other beings, and the power to see to the future, create portals, and being powerful enough to ban other gods from a world. It was hinted in a Q&A that he also had the power (like Zaros) to leave his body if he wished to save himself from dying, but as stated, Guthix wished to die.
It is generally thought that Guthix's symbol was originally attributed to him by his followers. However, Orlando Smith suggests it may have far older origins due to its presence on murals dated to the First Age. The fact that Armadyl and Saradomin are known to have obtained their symbols from Elder Artefacts may suggest similar origins for Guthix's symbol.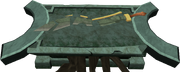 Guthix was originally a member of a now-extinct race known as the Naragi. They were a peaceful race with little to no warriors. One day, the Naragi diviners detected a disturbance in the city of Askroth - a portal to another world was opening. When the portal opened, Saradomin came through, to be greeted by a welcoming committee the Naragi had set up. For reasons unknown, the Naragi were unwilling to follow him however, and may have possibly been hostile - which angered him - and he razed Askroth to the ground. A fortress was built on the city's ruins and his armies spewed forth from it. A God War had begun on Guthix's homeworld.
The war destroyed much, including Guthix's neighbours and family. This influenced him to form the belief that worlds must exist in peace, without the constant interference of gods. A balanced world.
It is unknown how long the war lasted, but near the end, when his world was in ruins, Guthix, who was hiding with his daughter Aagi, witnessed a battle between Saradomin and a godlike Boar known to the Naragi as Tuska.
Saradomin eventually abandoned the plane, and another God, Skargaroth, engaged Tuska in battle. Tuska gored him with her horns, causing him to drop a powerful sword that crackled with energy. Skargaroth collapsed onto Guthix's home, killing his daughter who was hidden inside. Guthix, angered, took up the god's sword, blinded the boar, and stabbed the god Skargaroth in the back. The sword absorbed Skargaroth's godly power and transferred it to him. It was at this point that Guthix was mortal no more, but became a fully-fledged god Himself.
Begining of the First age
Edit
After many centuries of wandering, Guthix discovered Gielinor, the last, perfect creation of the Elder Gods, along with 3 Elder God artefacts, the Stone of Jas, a horn and the Staff of Armadyl. It was here that he realised what he believed to be his purpose; to create a world free of the influence of Gods. He opened the World Gate to bring forth peaceful races that did not tend towards good or evil, and who had no concept of Gods - these included Humans, Gnomes, Dwarves, Fairies, and Fairy Dragons among others. This marked the beginning of the First Age.
At some point during this time, the Goddess Seren arrived in Gielinor as well, and the two became very close friends. According to Guthix's memories, Guthix met Seren before the First Age, when he was exploring the planes. Together, they helped the mortals prosper, but Guthix felt that Gielinor should truly belong to mortals and tries to convince Seren to leave Gielinor while he sleeps. She cries at this, for they had become close friends. Guthix himself said, "We'd grown close, and I had no intention of abandoning her." He also said, "Seren promised that she would follow me," Referring to the fact that while he wanted the world to forget him she didn't want to. He soon went into his first sleep, thus marking the beginning of the Second Age. The worship of Guthix mostly died out as other Gods arrived onto the plane and their influence grew. Guthix did not emerge again until the end of the Third Age, the God Wars, when Zamorak's destruction of Forinthry caused him to awake.
End of the Third age
Edit
To stop the wars, Guthix laid down his edicts and banished the major gods from the world, creating a magical barrier to keep them out.[2] They would no longer be allowed to influence the world directly, except through their followers; they would have to isolate their wars to the God realms. However, Gielinor was forever changed from Guthix's original vision; Forinthry was forever scarred, becoming what is now called the Wilderness. Many races that were brought in to fight in the War, and who did not care for balance remained in Gielinor, and despite the banishment of the Gods, mortals continued to worship them. After sealing the Stone of Jas away in a hidden temple, Guthix, feeling great sorrow for the world he had shaped and loved so, descended again to slumber. But first, he paused to survey Gielinor's ravaged state, and wept. Upon realising his tears had imbued the stone nearby with magical properties, he assigned Juna to guard them and to judge who would be worthy to pass. He also appointed Fiara, Harold Death Esquire, Cres, Ocellus and Valluta Guardians at some point. According to the Book of Seren, Guthix gave her no choice but to leave, and when she scattered herself across the forest, he wept, thinking she was gone, before returning to sleep once more in his chamber, and would not be heard from again until the end of the Fifth Age.
"
Remember your purpose. Forget me.
"
 

— Guthix's final words.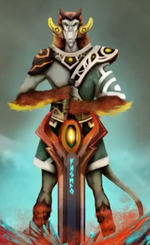 After thousands of years existing as the very thing he fought against, Guthix longed for death, to be reunited with his people which he missed so very much. Eventually, Guthix would get his wish. In the year 169 of the Fifth Age, the archaeologist and explorer Orlando Smith uncovered what transpired to be Guthix's original resting place, which with the help of a renowned adventurer, was accessed after millennia untouched. This sparked off a series of events that culminated in Guthix's demise, at the hands of the Zarosian Mahjarrat Sliske with the legendary Staff of Armadyl. Before he died, Guthix told his tale to the adventurer, his new and last Guardian, gave them a portion of his godly powers, and left the defense of Gielinor against the other gods in their hands, so as to avoid the destruction of the world.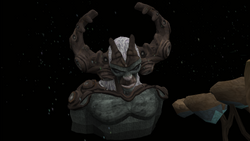 With Guthix slain, the Edicts he had established to keep the gods out of Gielinor were nullified, allowing the deities to once again step foot in the world - with Saradomin being the first - and essentially ushering a new, uncertain Age.
Ideologies
Edit
Guthix was the god of balance, and wished to have a world without gods, a place where mortals can live in peace and balance without the interference of gods. Even so, he would have liked mortals to not fight in the name of gods or even know of their existence. Despite him knowing this would not be likely, this was still his wish and the reason he has been sleeping. It has also been stated by Jagex that Guthix is connected to the Anima Mundi, which is life in all things, something the Druids respect.
Perhaps that is why some people incorrectly assume that Guthix was of a benevolent nature. This is not completely true or false as it can be shown in the Guthixian memories that he wished for a world of "No gods, no war. Nature, balance, freedom, and peace..." An example of Guthix's value of Balance, and what balance really means, is best demonstrated by the last puzzle in The World Wakes quest, where the player must choose between several interventions in a theoretical scenario. The choices are divided into two dichotomous dimensions, making a total of four categories, and are as follows: Chaos vs. Order and Good vs. Evil. In the end each category needs to be balanced, a.k.a. have exactly the same amount as its counter-weight. This means that for a balanced world evil, good, chaotic and ordered things need to exist.
In an other example, in Meeting History, Guthix tells the newly-arrived humans he introduced to Gielinor to use but not abuse the new world they have entered into and to live in balance with it.
Over the large amount of years that Guthix had retreated himself from the world, his wish for mortals to forget him was not a success. Even in Guthix's point of view, what he wished for the mortals was corrupted, reshaped or misinterpreted by some of his followers. Guthix did not want people to worship or follow him (wanting people to be free from gods), but this led to quite a divide between some of his teachings and of one his closest and most devoted of followers Juna; evidenced through the dialogue the player can have with her after the completion of The Chosen Commander where she tells what she thinks after The World Wakes, which is similar to some other followers.
After his death, his followers no longer worship him as a god and now follow his teachings. Some of his followers have known to become part of the "Godless" faction, where they believe as well that they should protect the world from the gods with an army.
Followers of Guthix
Edit
These followers are those who worshipped him before his death.
Groups and races
Edit
Notable individuals
Edit
Animals associated with Guthix
Guthix's relationships with other gods
Edit
Entering the word "murder" or "redrum" in the notes section results in the message "All rest and no play makes Guthix a dull boy." This is a reference to a famous line used in the movie "The Shining", based on the novel by Stephen King; "All work and no play makes Jack a dull boy."
In the Origins of Gielinor, Guthix can be seen with green eyes, but in his resting place, he has cyan eyes. His younger Naragi form portrays him with turquoise eyes.
Prior to The World Wakes, Guthix was believed to be genderless due to him being a shape shifter.
The elves call Guthix the green god and were once taught by him along with their goddess Seren.
Guthix bears many similarities to the Green Man of Pagan mythology.
References
Edit