Guardians of Guthix
Discuss

20
22,529pages
on this wiki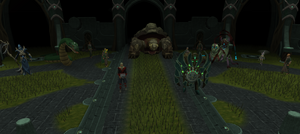 The Guardians of Guthix are a group of creatures chosen by Guthix himself to guard the most sacred places of the Guthixian religion at the end of the Third Age. According to Mod Osborne, there were originally as many Guardians as standing stones in a druids' circle, totalling eight[1]. Some of the Guardians are blessed with great power and/or wisdom on Gielinor, greater even than certain low-tier gods.
The Balance Elemental was long considered to be a Guardian of Guthix, as Juna refers to it as such, but was confirmed not to be one due to a fundamental difference; the elemental was created by Guthix rather than chosen from his followers.
In the Runezone interview with Mod Osborne, he revealed that one of the other Guardians of Guthix has a unique purpose.
Guardians
Edit
References
Edit