For the standard variant, see
Guard
.
This guard was added to the game when the old-style Wilderness returned in 2011. He will not let anyone into the Wilderness without a warning (and a warning screen), and in reverse will not let anybody inside Daemonheim that has been in combat for the past ten seconds. If not in combat, you can simply walk past him, behaving similar to a Border guard. Next to him are Hilda and Torsteg, two NPCs that were re-added at the same time.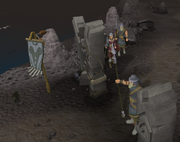 Ad blocker interference detected!
Wikia is a free-to-use site that makes money from advertising. We have a modified experience for viewers using ad blockers

Wikia is not accessible if you've made further modifications. Remove the custom ad blocker rule(s) and the page will load as expected.