Grim Reaper
Discuss

13
22,477pages
on this wiki
Loading...


Harold Death Esquire, better known as the Grim Reaper or simply Death, is a legendary Guardian of Guthix who is responsible for the passing of souls in Gielinor. He has also been the main figure of most Halloween events. During these events, the player had to perform various tasks to satisfy the Reaper.
Being one of the Guardians of Guthix, his role is to control deaths[1]. He is extremely powerful and acts as a simple regulator of life, expanding or shortening lifespans to meet balance. Contrary to popular belief, he cannot kill or bring back beings to life because he wants to, nor can he revive someone whose time had come. He has much fun from his job, enjoying reaping people's souls, but takes it very serious nonetheless and obeys Guthix' commands.
In combat, Harold is a fearsome adversary. His massive scythe is able to slice several foes at once apart and he has an arsenal of magical spells at his expense. He has been seen to use a blue spell that sucks life and health out of a victim, as well as creating lethal spirit balls which inflict fatal damage when touched. Harold usually defends himself instead of actively trying to kill, however, due to his vow to maintain balance.
He also acts as a "Death tutor"; his office is accessed when new players die for the first time. He will explain about death, item losses, and gravestones. The player may exit at any time through the exit portal. One's gravestone's timer is paused whilst one is within the dimension of the Reaper. The player is, at this time, "dead". The player is only allowed this one time, the first time they die, though they apparently pass through this every time upon death. The player may walk around in the death dimension but they should talk to him. They can may return there multiple times, but if they die with 4+ items, it becomes impossible. Harold has been part of the 2007, 2009, 2010 and 2011 Hallowe'en events.
The Temple Knights appear to have written a dossier concerning him, which was published in Postbag from the Hedge #35. The complete dossier can be found here.
Leisure time
Edit
When not helping souls die, Harold lives in his Mansion of Death, where he has butlers to help him with the upkeep. His insta-kill-touch, however, resulted in hundreds of accidental deaths over the years, seeing that his powers are not limited inside his own domainServants' Guild for a new worker and got 10% off due do them being number 1000. While waiting for the servant's arrival, Harold's house became an utter mess, him unable to take proper care of himself. Despite his loyalty towards balance and his vow to only reap people whose time has come (refusing to remove a spider from his bathtub because his touch would kill her untimely), he does not seem to mind the many deaths of servants he has caused. Apparently, Grim once had a mentor, whose eyeball he keeps in his living room.
. When his 999th servant, named Alfonse, was killed when Harold patted him on his back in gratitude, he contacted the
During all Hallowe'en events, Harold was accompanied by his skeletal pet dog, Muncher, for whom he cares a lot, although he is not happy when he disobeys his orders. Harold has often had trouble with pets in the past due to his touch causing instant death, which resulted in his pet bunny exploding when he tried feeding it a carrot. Aside from Muncher, Grim is experimenting with undead fish to keep him company (he attempts to achieve this by killing them, then undoing the act with his magical hourglass).
Harold also appears to have good musical tastes, being a big fan of rock bands, including Adamantite Damsel and Ping & Pong. With the latter two he even has an agreement that, should they die before their time, he will reverse time so they can make more music. Harold, known to his clanmates as Death, is one of the five founders, and the leader, of The Horsemen. He has organised two "Deathcons" in their citadel in the sky.
Harold, like all beings, used to be bound to the Edicts of Guthix, which dictated that he must always have black robes, a scythe and spiderwebs in his house. He was to maintain the quality of these items as well, often needing to sharpen his scythe or to clean or even replace his robes should they get stained with blood (causing havoc in Varrock when he would go to Thessalia's Fine Clothes to purchase new robes). Despite Guthix's death, he still respects the Edicts and continues wearing his apparel.
Harold is not known for having many friends, although he has an acquaintance called the Soggy Teabag On The Bench Gremlin, who places soggy teabags on benches. They both use the alias 'Nigel'.
Holiday events
Edit
2007 Halloween Event
Edit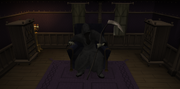 During the 2007 Hallowe'en event, the Grim Reaper owned a house located in the Dark House Portal south of Falador. He ordered the player to do his house chores because his servant has recently passed away from the Grim Reaper's death touch. One of the first tasks the player had to do was to find the skull of the servant in the Grim Reaper's Garden. The next task was to reorganise his items in the correct spot in the western room. By using his diary, the player could effectively put his items in order. Afterwards, the Grim Reaper told the player to try out his obstacle course on the second floor, used to keep his servants on their toes. The player had to do this twice, and after that, he had to talk to the Grim Reaper to receive the Grim Reaper Hood and a new Zombie Hand emote.
Web of Shadows
Edit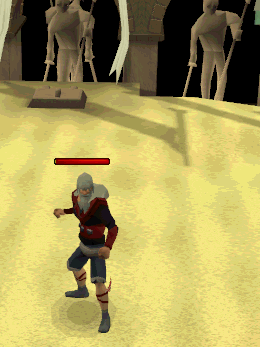 In 2009, Grim's house was revisited again. He would tell the player he had a spider in his bath, and wanted it removed. If players refused, he would kill them and they would appear outside the portal with all of their items. After travelling into the Spider Realm (Grim Reaper appears to own a portal leading to this realm) and speaking to the Spider Queen, the player is ordered to place cobwebs into Grim's house. After putting cobwebs into the Grim Reaper's house, the Spider Queen will give you a Web Cloak and Eek the Spider.
Partying is Such Sweet Sorrow
Edit
During the 2010 event, Grim Reaper is in need of help of prepared a party. After completing little tasks around the Grim Reaper's house for the party being held you will be rewarded with a Bone brooch (when used will morph you into a pile of bones) and the Puppet master emote. During this event, it becomes clear that Grim is a big fan of Zabeth Corvid, and begs the player to fetch an autograph.
Deathcon II
Edit
In 2011, Grim Reaper appeared to be the owner of his very own citadel. The player is asked by Frank to help building the Citadel. The player has to perform tasks for Beauty, Frank and Infinity. After this was done, the player had full access to the citadel (with a Deathcon lanyard) and got a Deathcon t-shirt as a souvenir. The player also unlocked the Living on Borrowed Time emote. The Grim Reaper, along with Muncher, received a graphical update with the release of this event.

The Grim Reaper explains why we respawn.
(
link
)
During Hallowe'en events, the Grim Reaper appears at a player's death. He stops appearing at the end of each holiday event. When he appears, he proclaims a random phrase, a list of which can be seen below;
Let me escort you away, (player name)...
(Player name) is mine!
Now is the time you die, (player name).
Muahahahahaha!
There is no escape, (player name)...
Beware Mortals. (Player name) travels with me now.
I claim (player name) as my own.
Your time here is over, (player name).
I have come for you, (player name)!
Death's examine text during the 2010 Halloween event was 'Do not fear the Reaper', a reference to the song of the same name by Blue Öyster Cult.
A Postbag from the Hedge later revealed that Death has the catch phrase, "Gotta reap 'em all." This is a pun on the catch phrase "Gotta catch 'em all" from Pokémon. In the same Postbag from the Hedge it was said his customary black robes act as the legendary Reaper skillcape, although this was likely a joke.
During Halloween 2007, if a player read the Varrock Herald it would mention a man in black robes wandering around RuneScape stealing peoples lives.
According to the dossier, the Grim Reaper was the Champion of a Belltolling contest, but nobody survived. The only witness was a "zombie" about to terrorise the near town.
If you try to open the world map in his room it says: "It would be unwise to open the world map in Death's realm."
After completing the 2010 Halloween event, Zabeth Corvid tells the player to tell Grim that "every rose has its thorn", a reference to the song of the same name by Poison. This is also a reference to "Bill and Ted's Bogus Journey" when they are asked what the meaning of life is, Death says the line "Every rose has its thorn".
After completing the 2010 Halloween event, if a player asked about 'every rose has its thorn' they would get a reply saying it happened '...a long time ago, in a dimension far, far away." This is a reference to Star Wars: 'A long time ago, in a galaxy far, far away."
Since Hallowe'en 2011 he says "Let me escort you away (PLAYER NAME)..." , prior to that he would say "Let me escort you to (Lumbridge/Falador/Camelot/Edgeville/Soul Wars), (PLAYER NAME)"
Harold has a mother, who looks exactly like him, as shown in the drawing in his dossier.
Harold has many aliases, including Grim Reaper, Nigel and Destroyer of Life, as stated in his dossier.
Death received a graphical update with the release of the quest "The World Wakes". It is yet unknown whether he will wear this new attire in possible future Hallowe'en events.
It is weird that the Edicts of Guthix state he must wear black, but his most recent update has him wearing dark blue. This is most likely an oversight by Jagex.
References
Edit