Gravite staff
Discuss

6
22,489pages
on this wiki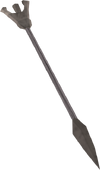 The Gravite staff is a 2h magic weapon released along with the Dungeoneering skill. It requires 55 Magic and 45 Dungeoneering to wield. It can be purchased from the rewards trader for 40,000 Dungeoneering tokens, which would realistically require a Dungeoneering level of 64 to obtain. As with all gravite weapons, it lasts about 10 hours in combat before it needs to be recharged.
The Gravite Staff is currently the strongest and most accurate Magic weapon in the Free-to-Play game. 
After the Evolution of Combat update, the Weapon Damage of Magic users are now largely determined by the equipment and spell they are using. In F2P, a player 99 Magic and casting the spell Fire Blast will find the weapon damage of this weapon to be 1420. In comparison, the Gravite 2h sword has a base weapon damage value of 1229. This gives the Gravite 2h sword a weapon damage value of 1377 at 99 Strength. Even level 75 magic, the weapon damage for a Gravite Staff casting Fire Blast will be 1390. This effectively makes the Gravite Staff the strongest weapon in the free game in terms of weapon damage, second to only the Corrupt dragon spear.
It should be noted, however, that this doesn't account for the skill bonus accuracy of the player. A player maxed melee stats will still be much more accurate than a player with average magic levels. With that said, the evolution of combat's stress on usage of the combat triangle mages magic users especially potent against melee'ers, even ones with vastly superior stats.
Combat Stats

| Class | Slot |
| --- | --- |
| Magic | |

Weapons
Main
Off
Damage
-
-
Accuracy
983
-
Type
-
-
Attributes
Armour rating

0

Life bonus

+0

Prayer bonus

0

Critical bonuses

0%

0%

0%

Attack speed

Average

Interval: 3.6 seconds

Compare item

A player wielding a gravite staff

[view] • [talk]
Repair costs
Edit
When first bought, the weapon is 20% charged. Repair costs come in 1% increments; you can repair them whenever there's at least 1% charge missing.
100% charged (Fully charged) – no cost.
99% charged – 10,000 coins or 1,000 coins and 65 tokens.
90% charged – 100,000 coins or 10,000 coins and 650 tokens.
0% charged (No charge) – 1,000,000 coins or 100,000 coins and 6500 tokens.
The gravite staff used to cost 90,000 Dungeoneering tokens before the 21 April 2010 update.
While the actual Dungeoneering level required to buy this item is 45, the experience required to obtain the 40,000 tokens would bring the player to a bare minimum of 63, with 64 being the realistic expectation due to the rounding down of Xp values when rewarding tokens.
Staves
Battlestaves

Battlestaff • Air • Water • Earth • Fire • Lava • Mud • Steam

Mystic staves
Skeletal staves
Skeletal battlestaves
Necromancer's staves
Dungeoneering staves

Air empowered • Water empowered • Earth empowered • Fire empowered • Catalytic empowered, celestial • Doomcore • Law • Nature • Gravite • Chaotic

God staves
Talisman staves

Runecrafting • Air • Mind • Water • Earth • Fire • Body • Cosmic • Chaos • Nature • Law • Death • Blood • Omni

Animal staves
Runic staves
Game card

Lightning staff 1 • Lightning staff 2 • Lightning staff 3 • Lightning staff 4

Other staves

Ahrim's • Ancient Enhanced • Blisterwood • Broken • Caitlin's • Crozier • Dominion • Dramen • Iban's • Lunar • MindspikeTower • Penance trident • Pharaoh's sceptre • Polypore • Rod of Ivandis • Sacred clay • Skull sceptre • Slayer's • Staff of Armadyl • Staff of light • StarfireStarfury • Third-age druidic • Toktz-mej-tal • Wizards' Tower Zuriel's corrupt
Chaotic equipment

RapierOff-hand• LongswordOff-hand• Maul • Claw Off-hand • Staff • Crossbow Off-hand• Kiteshield • Spike

Gravite equipment
Ranged
Magic

Arcane pulse necklace • Arcane blast necklace • Arcane stream necklace • Tome of frost • Nature staff • Law staff • Farseer kiteshield

Prayer

Twisted bird skull necklace • Split dragontooth necklace • Demon horn necklace • Amulet of zealots • Bonecrusher • Scroll of renewal Rapid Renewal

Miscellaneous

Scroll of life • Scroll of efficiency • Scroll of cleansing • Herbicide • Gem bag • Coal bag • Anti-poison totem • Ring of vigour • Spirit cape • Sneakerpeeper • Charming imp • Dungeoneering experience