Gravite longsword
Discuss

7
22,486pages
on this wiki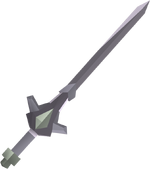 The gravite longsword is a main-hand melee weapon released along with the Dungeoneering skill. It requires 55 Attack and 45 Dungeoneering to wield. It can be purchased from the rewards trader for 40,000 Dungeoneering tokens, which would realistically require a Dungeoneering level of 64 to obtain. As with all gravite weapons, it lasts about 10 hours in combat before it needs to be recharged.
This is the 5th strongest longsword in the game outside of Dungeoneering after the drygore longsword, chaotic longsword, vesta's longsword, and dragon longsword.
Combat Stats

| Class | Slot |
| --- | --- |
| Melee | |

Weapons
Main
Off
Damage
673
-
Accuracy
983
-
Type
Slash
-
Attributes
Armour rating

0

Life bonus

+0

Prayer bonus

0

Critical bonuses

0%

0%

0%

Attack speed

Fast

Interval: 3.0 seconds

Compare item

A player wielding a gravite longsword

[view] • [talk]
Repair costs
Edit
When first bought, the weapon is 20% charged. Repair costs come in 1% increments; you can repair them whenever there's at least 1% charge missing.
100% charged (Fully charged) – no cost.
99% charged – 10,000 coins or 1,000 coins and 65 tokens.
90% charged – 100,000 coins or 10,000 coins and 650 tokens.
0% charged (No charge) – 1,000,000 coins or 100,000 coins and 6500 tokens.
Using a Gravite longsword, one can hit a maximum of around 2258 damage. This can be achieved with Strength potions, prayers and level 99 Strength.
The Gravite longsword used to cost 90,000 Dungeoneering tokens before the 21 April 2010 update.
While the actual Dungeoneering level required to buy this item is 45, the experience required to obtain the 40,000 tokens would bring the player to a bare minimum of 63.
Chaotic equipment

RapierOff-hand• LongswordOff-hand• Maul • Claw Off-hand • Staff • Crossbow Off-hand• Kiteshield • Spike

Gravite equipment
Ranged
Magic

Arcane pulse necklace • Arcane blast necklace • Arcane stream necklace • Tome of frost • Nature staff • Law staff • Farseer kiteshield

Prayer

Twisted bird skull necklace • Split dragontooth necklace • Demon horn necklace • Amulet of zealots • Bonecrusher • Scroll of renewal Rapid Renewal

Miscellaneous

Scroll of life • Scroll of efficiency • Scroll of cleansing • Herbicide • Gem bag • Coal bag • Anti-poison totem • Ring of vigour • Spirit cape • Sneakerpeeper • Charming imp • Dungeoneering experience