The granite tablet is an item found in Lamistard's Tunnels during The Curse of Arrav.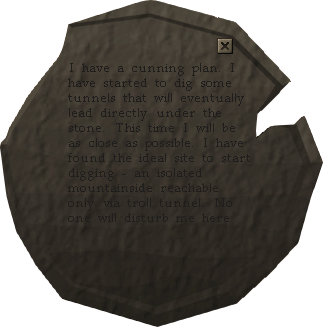 Transcript
Edit
I have a cunning plan. I have started to dig some tunnels that will eventually lead directly under the stone. This time I will be close as possible. I have found the ideal site to start digging - an isolated mountainside reachable only via troll tunnel. No one will disturb me here.
Disassembly
Edit
Ad blocker interference detected!
Wikia is a free-to-use site that makes money from advertising. We have a modified experience for viewers using ad blockers

Wikia is not accessible if you've made further modifications. Remove the custom ad blocker rule(s) and the page will load as expected.