Grand Vizier Hassan is the Grand Vizier of the desert nation of Al Kharid, a large city on the northernmost fringe of the vast Kharidian Desert. He is also a taskmaster for the easy Desert Tasks.
Hassan has loyally served the Emir for some time, keeping a close eye on the economic state of Al Kharid. As the Emir's adviser, his voice is one of the strongest in Al Kharid, and has largely been responsible for the city's financial success.
The Emir's son and heir to the throne, Ali Mirza, was kidnapped by Lady Keli, an infamous mercenary killer known for her underhanded business tactics. Khnum, a henchmen for Lady Keli, reveals to Ozan & the player that she should be departing from Draynor Village. When confronted, she demanded a massive ransom in exchange for Ali's safe return to Al Kharid. Threatening to kill him, her plans were concluded when the adventurers hand over the Kharid-ib.
The Emir, at the time, was starting to die of cardiomyopathy, thus being in no fit state to rule. As such, the Emir's position was temporarily given to Hassan. Hassan, hoping to save Ali with paying Keli's massive ransom, began to work with Osman, the city's trained spymaster.
Even after the hostage crisis, Hassan continues working hard to keep the city safe. He was largely responsible for the peace deal with the Menaphites of the southern desert, with whom Al Kharid had long been engaged in war. He's also keeping a close watch on Ali Morrisane, a trader that arrived from Pollnivneach and has since been involved in a number of controversial business arrangements.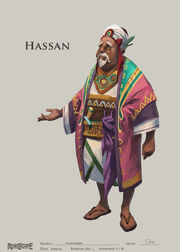 Grand Vizier Hassan may have been inspired by Ali Hassan al-Majid, as they have similar names and roles.
Ad blocker interference detected!
Wikia is a free-to-use site that makes money from advertising. We have a modified experience for viewers using ad blockers

Wikia is not accessible if you've made further modifications. Remove the custom ad blocker rule(s) and the page will load as expected.