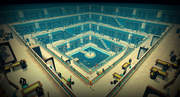 The Grand Library of Menaphos is located underneath the Golden Palace in the Imperial district of Menaphos. The entrance to it can be found just south of the entrance to the Golden Palace itself. The library is divided into four levels, the top floor, the second level, the third level, and the bottom level.
A sundial is located in the centre of the library on the lowest level, used for completing the Golden Path Challenge. There are bookshelves scattered around the the library.
A competition was held for players to write their own stories which has been added in game after the initial update on 3 July 2017.
It is maintained by Kohnen the librarian. During and after Our Man in the North, Aristarchus can also be found inside the library near the entrance, opposite of Kohnen.
Grand Library of Menaphos

NPCs
Books
Miscellaneous
Ad blocker interference detected!
Wikia is a free-to-use site that makes money from advertising. We have a modified experience for viewers using ad blockers

Wikia is not accessible if you've made further modifications. Remove the custom ad blocker rule(s) and the page will load as expected.