Ad blocker interference detected!
Wikia is a free-to-use site that makes money from advertising. We have a modified experience for viewers using ad blockers

Wikia is not accessible if you've made further modifications. Remove the custom ad blocker rule(s) and the page will load as expected.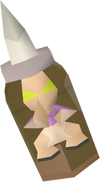 A Gourmet impling jar is the result of successfully catching a Gourmet impling, while also having an empty impling jar.
If a player catches an impling without an empty impling jar, they would automatically receive the loot instead.
This jar can be traded in singularly to Elnock Inquisitor for 3 empty impling jars.
Selling this jar on the Grand Exchange will make a profit of 555. Trading this jar to Elnock for 3 empty jars and selling the empty jars on the Grand Exchange will give a profit of -29.
You can trade one of this jar, along with three baby impling jars and two young impling jars to Elnock for a vial of Imp repellent, or alternatively, trade three of this jar, along with two earth impling jars and one essence impling jar for a magic butterfly net.
If a player attempts to cast analyse or disassemble on this item, they will get the message You monster! You can't disassemble a living thing.
Item
Quantity
Rarity
GE price
Bass
1
Common
120
Tuna
1
Common
38
Curry
1
Common
529
Meat pie
1
Common
129
Chocolate cake
1
Common
475
Meat pizza
1
Common
337
Frog spawn
1
Common
Not sold
Ugthanki kebab
1
Uncommon
582
Jangerberries
1
Uncommon
230
Lobster
4 

(noted)

Uncommon
336
Shark
3 

(noted)

Uncommon
2,541
Mud pie
1
Uncommon
2,693
Chef's delight
1
Rare
8,926
Garden pie
1
Uncommon
776
Fish pie
1
Uncommon
287
Rainbow fish
5 

(noted)

Rare
685
Garden pie
6 

(noted)

Rare
4,656
Swordfish
3 

(noted)

Rare
1,059
Rainbow fish
1
Rare
137
Strawberries (5)
1
Rare
561
Summer pie
1
Very rare
690
Spice
1
Common
595
Curry leaf
1
Common
461
Cooked karambwan
2 

(noted)

Uncommon
9,222
Raw karambwan
2 

(noted)

Uncommon
8,730