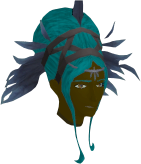 The Gossamer Outfit is an override available from Solomon's General Store. It costs 420 RuneCoins for free users and 378 RuneCoins for members. It consists of the following:
Gossamer Teleport
Gossamer Feathered Headdress (Head Slot)
Gossamer Robes Top (Body Slot)
Gossamer Robes Bottom (Legs Slot)
Gossamer Silk Gloves (Hands Slot)
Gossamer Pumps (Feet Slot)
Gossamer Wings (Wings Slot)
As well as working with ordinary lodestone teleports, the Gossamer teleport animation also works with quick teleports.
Ad blocker interference detected!
Wikia is a free-to-use site that makes money from advertising. We have a modified experience for viewers using ad blockers

Wikia is not accessible if you've made further modifications. Remove the custom ad blocker rule(s) and the page will load as expected.