The Gorajo hoardstalker is found within the sinkholes of Gielinor. You can talk to him to start the minigame. He appears to be dressed as a jester and has cards and money pouches floating around his head.
The Hoardstalker claims to have been guarding the sinkhole for the last 100 years to make sure Bilrach does not return to claim the resources within.
Players can deposit the resources they have collected within the dungeon to him. After the required amount of resources have been gathered within the dungeon, the Gorajo hoardstalker will take you into the adjoining treasure room where you and your party will determine your rewards.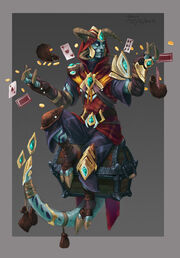 Ad blocker interference detected!
Wikia is a free-to-use site that makes money from advertising. We have a modified experience for viewers using ad blockers

Wikia is not accessible if you've made further modifications. Remove the custom ad blocker rule(s) and the page will load as expected.