Goliath gloves
Discuss

36
22,530pages
on this wiki
Goliath gloves are a set of degradable gloves that can be obtained in the Dominion Tower. They offer the highest bonuses to melee offence and defence. They require 80 Attack to wield. Since players must be at least combat level 110 and have completed at least 20 quests involving Dominion Tower boss monsters, these are effectively additional requirements for the gloves.
Players can choose between four different colours of Goliath gloves: black, white, yellow, and red. Additionally, the gloves have an animation that resembles orange flames coming off them. Goliath gloves degrade after four hours of melee combat and must be reobtained from the Dominion Tower afterward.
Combat properties
Goliath gloves have the highest bonuses to melee offence and defence, even beating the Culinaromancer's gloves 10.
Combat Stats

| Class | Slot |
| --- | --- |
| Unknown edit | |

Weapons
Main
Off
Damage
-
-
Accuracy
-
-
Type
-
-
Attributes
Armour rating

0

Life bonus

+0

Prayer bonus

0

Critical bonuses

0%

0%

0%

Compare item

[view] • [talk]
Unarmed attacks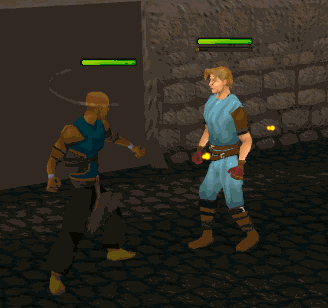 While goliath gloves can be equipped along with a weapon, the gloves reach their full potential when the player does not equip a weapon, and instead fights "unarmed" with only the gloves equipped. An invisible boost of +82[1] is added onto the gloves' existing crush and strength bonuses, bringing their totals to +96 and +95, respectively. The unarmed animation also changes, featuring much more dramatic punching attacks using either one arm or the other, depending on which attack style is selected. Note that players can equip an item in their off-hand slot, such as a shield, a defender, or a god book, and use the gloves' unarmed attacks. Only the primary weapon hand must be empty.
When fighting unarmed, goliath gloves are among the strongest crush weapons in the game. The gloves are comparable to an abyssal whip due to the similar bonuses and rapid attack speed. While the gloves are considerably weaker than a chaotic maul, they are also considerably faster. The gloves are especially effective against monsters that are weak to crush attacks, such as waterfiends and skeletal wyverns; in fact, goliath gloves are among the few crush weapons that can be equipped alongside the elemental shield or equivalent that is required to fight skeletal wyverns. In the context of player killing situations, goliath gloves can also be effective against players who wear platebodies, which are weakest against crush attacks.
Special attack
When fighting with the gloves' unarmed attacks, the gloves will randomly execute a special attack that deals typeless damage, traps the target in place for a few seconds, and drains its Attack, Strength, Defence, Ranged, and Magic by 7 levels. This special attack does not use any of the special attack bar and triggers randomly during combat. Furthermore, in a multicombat area, the special attack will hit all targets within a 6-square radius.
Note: The special attack appears to ignore the invisible +82 strength bonus when fighting without a weapon. Additionally, players will not receive experience from this or healing from Soul Split .
Obtaining
Total level: 1458

75

-

66

75

61

65

65

65

62

64

70

70

70

68

52

75

60

55

50

65

65

64

65

41

-

----

110

275

30
To unlock the option to receive Goliath gloves as a reward item from the Strange face, players must meet a number of requirements:
Defeat a total of 500 bosses in either Climber or Endurance matches. The victories do not have to be consecutive.
Defeat the following bosses in the Tower at least once:
*Defeating both Nomads in the "No More Nomad... No More!" special fight will count toward this requirement, although defeating only one will not.
The skill levels required to complete the above quests are detailed in the box to the right. These effectively function as additional requirements to obtain and use Goliath gloves.
Degrading & reobtaining
Goliath gloves degrade and fall apart after four hours of combat. Players can check the condition of a given pair of Goliath gloves by right-clicking them and selecting "check-state". It is important to note that, in contrast to most other degradable items, Goliath gloves count upward from 0% degraded (perfect condition) to 100% degraded (falling apart). For example, a pair of Goliath gloves that is 75% degraded has been used for three hours, and has one hour of usage remaining before falling apart.
While a pair of Goliath gloves cannot be repaired, it is possible to obtain multiple pairs from the strange face by killing another 5 bosses in either Climber or Endurance matches; this will earn an invisible "reward credit" that can be exchanged for a pair of Goliath gloves, Spellcaster gloves, Swift gloves, or 100 dreadnips. The strange face will store up to 15 such "credits", after which they must be redeemed in order to earn more. A player may only have 3 pairs of Goliath gloves at any one time.
Image gallery
Trivia
Goliath gloves will never stack in the bank, not even if multiple pairs are the same colour and in the same state of degradation.
The typeless damage dealt by the goliath gloves' special attack has a number of properties: It will hit through prayers such as Protect from Melee and damage monsters that are immune to melee attacks, it will award no experience, it does not receive a damage bonus from the ferocious ring while in Kuradal's Dungeon, it will not trigger Soul Split, it will not cause monsters to become aggressive, and it will not trigger Auto Retaliate from other players. Furthermore, a target that is struck with the special attack in a single combat zone can still be attacked by another player until the player who is wielding goliath gloves executes a normal attack against the target.
Although the attack styles menu specifies that the Aggressive option is a kick, the animation is instead of a roundhouse punch performed with the weapon hand.
The standard attack animation for the goliath gloves is an uppercut with the offhand; players will execute this attack even while wielding something in the offhand.
While the Aggressive attack animation might make the gloves seem slower than usual due to the animation's length, the gloves do attack with a speed of 6 regardless of the chosen attack style.
Prior to 3 November 2011, goliath gloves were unobtainable due to a bug that prevented Nomad from appearing in Climber or Endurance modes. The same patch that fixed this bug also allowed players to complete the "No More Nomad... No More!" special battle and have it count as the Nomad requirement for unlocking the gloves.
There is currently a glitch wherein the gloves will randomly activate the special attack of a weapon, if both goliath gloves and a weapon with a special attack are equipped.
When goliath gloves are worn, players' hands appear to be closed fists, rather than just stumps. This effect only occurs with goliath, swift, and spellcaster gloves.
Goliath gloves along with all other Dominion Tower gloves do not display any particle effects in the Adventurer's Log.
Equipping Goliath gloves while using any other attack style other than melee will not degrade them.
See also
References
Bosses

Class A

Nomad • Pest Queen • Decaying avatar • Eruni • Ayuni • Leeuni • Dagannoth Mother (Blood Runs Deep) • Zenevivia

Class B

The Untouchable • Damis • Fareed • Kamil • Dessous • The Everlasting • The Illusive • Dagannoth sentinel • Karamel • Gelatinnoth Mother • Nezikchened

Class C

Balance Elemental • Jungle demon • Arrav • Ice demon • The Inadequacy • A Doubt • Giant Roc

Class D

Arrg • Barrelchest • Chronozon • Evil Chicken • Flambeed • Agrith-Na-Na • Dessourt • Giant scarab

Class E

Bouncer • Koschei the deathless • Arzinian Avatar • Black Knight Titan • General Khazard • Black Knight guardian

Class F

Dad • Dramen Tree Spirit • Agrith Naar • Dagannoth mother (Horror from the Deep) • TokTz-Ket-Dill • Black golem • Grey golem • White golem

Class G

Treus Dayth • Elvarg • Culinaromancer • Tumeken's shadow • The Kendal • The Draugen

Class H

Tarn Razorlor • Sigmund • Melzar the Mad • Count Draynor • Delrith • Solus Dellagar

Miscellaneous

Sunfreet
Power-ups

| | |
| --- | --- |
| Weapons | |
| Bombs | |
| Dom potions | Dom super restore • Dom saradomin brew • Dom super antipoison • Dom super prayer |
| Other | |

Gloves

Goliath gloves • Spellcaster gloves • Swift gloves

Mines
Miscellaneous

Xp book • A journal page • Dominion journal • Dreadnip • Dominion marker • Dominion medallion • Super dominion medallion