Golden scythe
Discuss

62
24,274pages
on this wiki

The
golden scythe
is an item that was first spotted in the
Toy box
in
Player owned houses
when the
2011 Hallowe'en event
was released. They were given to the first 25 people who completed the Deathcon II event being held at
RuneFest
, thus making it one of the rarest items in the game. It is a fun weapon, so it has extremely low stats. It is significantly different compared to the
scythe
from 2003 to avoid confusion between the two. The scythe was awarded to players who were able to correctly un-code the message 'Death might just reward your quick puzzling with exclusive benefits'.
"
Hey guys,

The golden scythe is a reward for the first 25 players at Runefest who hand in the correct answer of the Deathcon II event being held there. It is a fun weapon so has no stats and is significantly different to the scythe from 2003, so there won't be any confusion there. If you see some one with it, make sure you take a screeny as you won't see them often.

"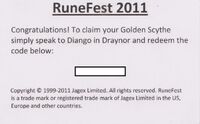 Combat Stats

| Class | Slot |
| --- | --- |
| Melee | |

Weapons
Main
Off
Damage
22
-
Accuracy
110
-
Style
Crush
-
Attributes
Armour rating

0

Life bonus

+0

Prayer bonus

0

Critical bonuses

0%

0%

0%

Attack speed

Average

Interval: 3.6 seconds

Compare item

A player wielding a golden scythe

[view] • [talk]
The release of the golden scythe caused much controversy in the community because of the circumstances under which it was given.
References
Edit
^ Mod Mat K. "@Mod Mat K". 29 October 2011. Recent Game Updates Forums.

*
Easter

Easter egg • Bunny ears • Rubber chicken • Easter ring • Chicken set • Chocatrice cape • Easter carrot • Squirrel ears • Sunbeam crown • Icicle crown • Egg on face mask • Chocolate egg on face mask • Eggsterminator • Butterfly Outfit

Hallowe'en

Pumpkin • Halloween masks • Scythe • Zombie head • Jack lantern mask • Skeleton set • Grim reaper hood • Warlock / Witch costume • Web cloak • Eek • Bone brooch • Deathcon lanyard • Deathcon t-shirt • Hourglass • Sock mask • Buskin mask • Hallowed robes • Unhallowed robes • Ectoplasmator • Builder's apron • Explorer Jack's helmet

Christmas

Christmas cracker • Partyhats • Santa hat • Yo-yo • Hats and scarves • Marionettes • Wintumber tree • Reindeer hat • Snow globe • Santa costume • Ice amulet • Ghost costume • Candy cane • Salty claws hat • Heimland games souvenir • Christmas wand • Sparkles • Santa beard • Santa sack

Thanksgiving
RuneFest

Flagstaff of festivities • Runefest 2011 hood • Golden scythe • RuneFest 2013 Cape

Commemorative

Golden cracker and hammer • 200m glasses • 10th anniversary cake and candles

Cryptic Clue Fest

Magnifying glass • Investigator's outfit • Rock fragment • Avalani's robes • Mysterious book • Diamond sceptre • Diamond crown

Other

Lily of the valley • Oktoberfest pretzel • Carnival headdress • Skull mask
Vanity items and membership thanks gifts

Vanity items

| | |
| --- | --- |
| 2010 | Flagstaff of festivities |
| 2011 | Ornate katana • Runefest 2011 hood • Green skin • Golden scythe • Turkey hat • Ice mask |
| 2012 | Barbed bow • Flaming skull • Golden katana • Scarecrow mask • Lightning staff 1 2 3 4 • Bloodpouncer • Paladin Outfit |
| 2013 | Skypouncer outfit • Aurora armour • Capoeira outfit • Sinister Clown Face • RuneFest 2013 Cape |

Membership thanks gifts

| | |
| --- | --- |
| 2011 | |
| 2012 | Mad necklace • Tropical Islander outfit • Promissory note • Fate cards • Soul phylactery • Deathtouched dart • Emergency healing box • Portable deposit box • Festive aura |
| 2013 | Bank booster +50 • Crown of Loyalty • Golden Chinchompa • Solomon Monthly Freebies |

Other gifts

| | |
| --- | --- |
| 2010 | Golden cracker |
| 2011 | Chrome goggles |
| 2012 | Cape of Validation • Boogie bow • 200m glasses • Beta scientist outfit • Book of Faces |