The golden scythe is an item that was first spotted in the Toy box in player-owned house when the 2011 Hallowe'en event was released. They were given to the first 25 people who completed the Deathcon II event being held at RuneFest, thus making it one of the rarest items in the game. It is a fun weapon, so it has extremely low stats. It is significantly different compared to the scythe from 2003 to avoid confusion between the two. The scythe was awarded to players who were able to correctly un-code the message 'Death might just reward your quick puzzling with exclusive benefits'.
"
Hey guys,

The golden scythe is a reward for the first 25 players at RuneFest who hand in the correct answer of the Deathcon II event being held there. It is a fun weapon so has no stats and is significantly different to the scythe from 2003, so there won't be any confusion there. If you see some one with it, make sure you take a screeny as you won't see them often.

"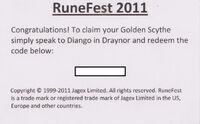 Combat Stats
Skill requirements
None
Class
Slot
Melee
Weapons
Main
Off
Damage
22
-
Accuracy
110
-
Style
Crush
Attributes
Armour
0
Life points
0
Prayer
0
Style bonuses

0

0

0

Attack speed
Average

Interval: 3.6 seconds

[view] • [talk]
The release of the golden scythe caused much controversy in the community because of the circumstances under which it was given.
References
Edit