The golden katana is an item distributed to certain players starting on 22 July 2012[1]. Like the Ornate Katana, it had the same stats as a bronze 2h sword, but the attack styles of a longsword. The Golden Katana was obtained by purchasing 90 or 180 days of membership from Amazon.com after linking your RuneScape and Amazon accounts. This can no longer be obtained.
This katana is almost identical in every aspect to a bronze 2h sword, other than appearance and wielding stance.
This katana, the ornate katana, the auspicious katana, the Eastern outfit, the quick-fire crossbow, and the Wushanko outfit were the only known items to have come from the Eastern Lands until the release of Player-owned ports.
Combat Stats
Requirements
None
Class
Slot
Melee
Tier
1
Weapons
Main
Off
Damage
114
-
Accuracy
110
-
Style
Slash
Range
1
Speed

Average (3.6s)

Attributes
Damage reduction
Armour
0
PvM:

0%

PvP:

0%

Life points
0
Style bonuses
Prayer
0

0

0

0

[FAQ] • [doc]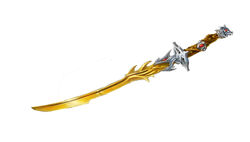 References
Edit
Swords
Halberds
Godswords
Reward
Other
Promotional
Dyed noxious scythe
Dyed Zaros godsword
Ad blocker interference detected!
Wikia is a free-to-use site that makes money from advertising. We have a modified experience for viewers using ad blockers

Wikia is not accessible if you've made further modifications. Remove the custom ad blocker rule(s) and the page will load as expected.