The golden feather is a quest item used in the Eagles' Peak quest. It is found on a pedestal inside some caves under Eagles' Peak. The player must use the golden feather along with a bronze feather and silver feather in order to open a locked door that leads deeper into the caves.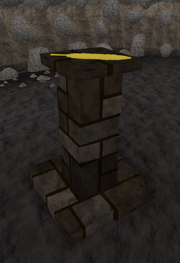 Disassembly
Edit
The gold feather was once tradeable and people were offering to pay large sums of money for it. This was changed shortly after release.
NPCs
Enemies
Items
Locations
Music
Miscellaneous
Coloured
Quest
Other
Ad blocker interference detected!
Wikia is a free-to-use site that makes money from advertising. We have a modified experience for viewers using ad blockers

Wikia is not accessible if you've made further modifications. Remove the custom ad blocker rule(s) and the page will load as expected.