Golden cracker
Discuss

7
22,498pages
on this wiki
The Golden cracker is an Item which celebrates Jagex's win in the Golden Joystick Awards. On login, players received a message in their chatbox: 'We have given you a golden cracker in your bank to celebrate our Golden Joystick win! Use it on another player to open it.' If one's bank is full, the item can be given to him by Diango upon talking to him. If a player loses the cracker via dying, Alchemy, or by simply destroying it, it can be reobtained by speaking with Diango.
Once a player uses it on another player, they receive a Golden hammer. This is a "fun" item, which appears as a Golden hammer wielded in both hands, like a small Granite Maul. If the hammer is misplaced somehow, one can obtain a replacement cracker (not the hammer itself) from Diango once again in order to obtain a new hammer.
When someone pulls a cracker on another player, the second will receive a message saying "You pull a golden cracker, and (name of first player) receives the prize!"
The Golden Hammer, however, has no positive Attack, Strength, or Defence stats. Two options are available once equipped, each one for a different year that Jagex won the award: Brandish (2009)-Your character flips the hammer and catches it- and Spin(2010)-Your character starts to spin the hammer around for a short time.
The Hammer can be retrieved (from the cracker) an unlimited number of times by any user. Even new accounts have access to the hammer. It is unknown whether the event will be removed until next year, or if it will remain as a permanent reward for all RuneScape players to enjoy.
Golden hammer
Edit
Although the golden hammer was intended as a fun item, it serves as a multi-purpose item by having many of the same functions as a normal hammer. The golden hammer can be used for skills, such as smithing or construction, which would ordinarily use a hammer, but since it can be wielded, it was popular to use when training these skills to save an inventory space. Since the release of the toolbelt its use has diminished, as a normal hammer can be stored in the toolbelt.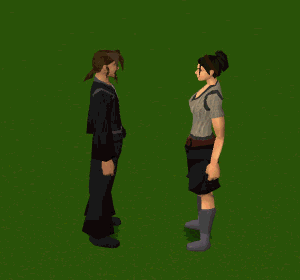 Easter

Easter egg • Bunny ears • Rubber chicken • Easter ring • Chicken set • Chocatrice cape • Easter carrot • Squirrel ears • Sunbeam crown • Icicle crown • Egg on face mask • Chocolate egg on face mask • Eggsterminator

Hallowe'en

Pumpkin • Halloween masks • Scythe • Zombie head • Jack lantern mask • Skeleton set • Grim reaper hood • Warlock / Witch costume • Web cloak • Eek • Bone brooch • Deathcon lanyard • Deathcon t-shirt • Hourglass • Sock mask • Buskin mask • Hallowed robes • Unhallowed robes • Ectoplasmator

Christmas

Christmas cracker • Partyhats • Santa hat • Yo-yo • Hats and scarves • Marionettes • Wintumber tree • Reindeer hat • Snow globe • Santa costume • Ice amulet • Ghost costume • Candy cane • Salty claws hat • Heimland games souvenir • Christmas wand • Sparkles • Santa beard

Thanksgiving
RuneFest

Flagstaff of festivities • Runefest 2011 hood • Golden scythe

Commemorative

Golden cracker and (hammer) • 200m glasses • 10th anniversary cake and candles

Cryptic Clue Fest

Magnifying glass • Investigator's outfit • Rock fragment • Avalani's robes • Mysterious book • Diamond sceptre • Diamond crown

Other

Lily of the valley • Oktoberfest pretzel • Carnival headdress • Skull mask
Vanity items and membership thanks gifts

Vanity items

| | |
| --- | --- |
| 2010 | Flagstaff of festivities |
| 2011 | Ornate katana • Runefest 2011 hood • Green skin • Golden scythe • Turkey hat • Ice mask |
| 2012 | Barbed bow • Flaming skull • Golden katana • Scarecrow mask • Lightning staff 1 2 3 4 • Bloodpouncer • Paladin Outfit |
| 2013 | |

Membership thanks gifts

| | |
| --- | --- |
| 2011 | |
| 2012 | Mad necklace • Tropical Islander outfit • Promissory note • Fate cards • Soul phylactery • Deathtouched dart • Emergency healing box • Portable deposit box • Festive aura |
| 2013 | |

Other gifts

| | |
| --- | --- |
| 2010 | Golden cracker |
| 2011 | Chrome goggles |
| 2012 | Cape of Validation • Boogie bow • 200m glasses • Beta scientist outfit • Book of Faces |