Walkthrough
Edit
Start point

Go to Goblin Village and talk to General Bentnoze or General Wartface.
Member requirement
Free to play
Official difficulty
Novice
Length
Short (~5 minutes)
Requirements
None
Items required
Items from the tool belt are not listed unless they do not work or are not automatically added.

OR instead of red dye and yellow dye

Enemies to defeat
None
Getting started
Edit
Talk to General Bentnoze or General Wartface, both of whom are located in the Goblin Village.
If you need goblin mail, you can grab three suits of goblin mail from the following crates:

Behind the generals' hut
Behind the western hut
Up a ladder at the entrance of the camp
Finishing Up
Edit
Dye the goblin mails blue and orange.
Give the orange goblin mail to one of the generals.
After the cutscene, give the blue goblin mail to one of them.
Give a normal goblin mail to one of them.
Quest complete!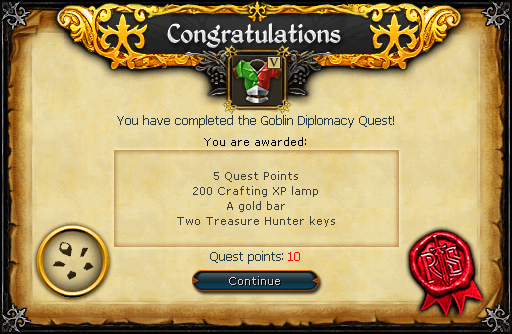 Music unlocked
Goblin Village (Entering Goblin Village, does not require starting the quest)
Ad blocker interference detected!
Wikia is a free-to-use site that makes money from advertising. We have a modified experience for viewers using ad blockers

Wikia is not accessible if you've made further modifications. Remove the custom ad blocker rule(s) and the page will load as expected.