Goblins are generally weak monsters who are popular for combat training at low combat levels, they are especially useful for training melee and magic.
Locations
Edit
Goblins can be found in various places, including:
Champions' Challenge
Edit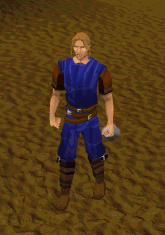 Goblins are one of the 'races' that have champions in the Champions' Challenge Distraction and Diversion. To fight the Goblin Champion, the player must kill goblins until one drops a Goblin Champion's scroll, which is a very rare drop.
The labels 'rare' and 'very rare' are relative in this section. Most items are very common compared to a much rarer item such as a shield left half. Rarity also depends on which goblin is killed. For instance, level 1 goblins (around Lumbridge) are more prone to drop bronze bolts, cabbage, chef's hats, and mind runes compared to the Goblin Village goblins.
100% drops
Edit
| | Item | Quantity | Rarity | GE price |
| --- | --- | --- | --- | --- |
| | Bones | 1 | Always | 182 |
Goblins from Goblin Village do not drop charms.
No charm
89%
9–10%
0.3–0.4%
0.9–1%
0.1–0.2%
Represents a 90% confidence range based on a sample of 52,181 kills.
1 charm is dropped at a time.
Add data to the log (requires JavaScript).
Armour/Weapons
Edit
Other items
Edit
Universal drops
Edit
Universal drops are dropped by nearly every monster outside of Daemonheim.
These drops are dropped alongside main drops.
| | Item | Quantity | Rarity | GE price |
| --- | --- | --- | --- | --- |
| | Key token | 1 | Rare | Not sold |
The media of the Runescape homepage shows a picture of updated goblins.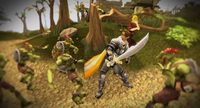 Some common goblins have a "talk" option such as the one in the hay barn in Draynor near Mabel. However, upon talking to them, the game box will say "The goblin doesn't have anything interesting to say."
Some of the goblins in Goblin Village appear to be smoking cigars.
Prior to the Evolution of Combat, the goblins with the flags would run from players. As a result of this, it contradicted their examine text, which was "A soldier to the death." These goblins also had much lower hitpoints than the other goblins in the dungeon, only having 3 hitpoints. With the Evolution of Combat update, these goblins' combat stats were increased to match the other ones and they do not run away from players anymore.
Ad blocker interference detected!
Wikia is a free-to-use site that makes money from advertising. We have a modified experience for viewers using ad blockers

Wikia is not accessible if you've made further modifications. Remove the custom ad blocker rule(s) and the page will load as expected.