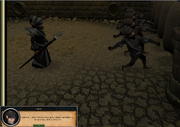 Glouck (known as simply Gnome in-game) is a Gnome who was revealed as the ruler of Arposandra during The Prisoner of Glouphrie quest. He appears once in the quest, training a team of gnomes who are able to disappear. His relation to Glouphrie (The founder of Arposandra) is currently unknown, although according to dialogue with Bolrie, it would seem Glouck has overthrown Glouphrie, as he refuses to allow his name to be mentioned within Arposandra, and severely punishes anyone who does.
Ad blocker interference detected!
Wikia is a free-to-use site that makes money from advertising. We have a modified experience for viewers using ad blockers

Wikia is not accessible if you've made further modifications. Remove the custom ad blocker rule(s) and the page will load as expected.