Walkthrough
Edit
Birthday feast
Edit
The yeti's lair
Edit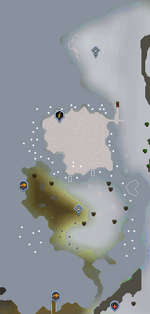 Prepare for a battle with a level 81 monster.
Travel to the 'i' icon ('question mark' on legacy interfaces) in the snowy Rellekka Hunter area.
Inspect and follow the tracks (east of the Hunting expert), mine the ice mound and go inside.
Run to the opposite wall and enter the tunnel.
Kill Nial and take his items.
Talk to King Gjuki Sorvott IV in the central building.
Talk to Freygerd.
Talk to Mawnis Burowgar in Neitiznot.
The king's cure
Edit
Talk to King Vargas.
Travel to the Mountain Camp. A pole and plank can be found near the goats if you didn't bring a staff and plank.
Climb the tree next to the lake, use the staff/pole on the rocks then use the plank on the flat stone.
Listen to the shining pool.
Use your vial on the spring that appeared.
Add the irit, grind the diamond root, cast enchant diamond on the dust, add the dust and yeti hair to the vial.
Talk to King Vargas.
Talk to Brundt in the longhall to give him the unfinished astral rune.
Talk to Manni.
Quest complete!
Ad blocker interference detected!
Wikia is a free-to-use site that makes money from advertising. We have a modified experience for viewers using ad blockers

Wikia is not accessible if you've made further modifications. Remove the custom ad blocker rule(s) and the page will load as expected.