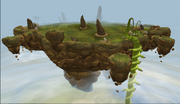 Glod is a huge, muscular giant who can be found on the cloud at the top of the magic beanstalk in the Grim Tales quest. He has a Combat level of 97.  He attacks with an EXTREMELY accurate melee attack, in which he stomps on the player. Glod has the ability to bellow threats at players to either make them run in fear of the huge giant or charge at him in anger. He can also heal himself similar to the gorillas on Ape Atoll, making him a bit harder to kill. When Glod is killed he drops the golden goblin which is a quest item needed for the Grim Tales quest.
Glod is immune to poison-based attacks. In addition, he also has the ability to disable any active Prayers on the player, also lowering their prayer points by a noticeable amount. If you stand at least 3 steps away from him, he will not be able to use his melee attacks.
A good method of fighting Glod is with magic, standing at the edge of the arena as to render his bellow that makes players run away useless. Players will then only have to worry about the bellow that makes them charge forward.
Alternatively, if using melee, setting Protect from Melee/Deflect Melee as a quick prayer and when Glod knocks out your prayer, double click the quick prayers icon to quickly restore the prayer.
100% drop
Edit
Other drops
Edit
Rare drop table drops
Edit
This monster drops items from the rare drop table.
The ring of wealth improves the chances if equipped but is not required to access the table.
Show/hide rare drop table

Item
Quantity
Rarity
GE Market Price
Coins
250; 381; 450; 3,000; 9,000; 12,000
Common
Not sold
Uncut sapphire
1
Common
1,143
Uncut emerald
1
Common
1,783
Uncut ruby
1
Common
3,576
Loop half of a key
1
Uncommon
8,548
Tooth half of a key
1
Uncommon
12,668
Uncut diamond
1
Uncommon
7,160
Uncut dragonstone
1
Rare
14,935
Dragonstone
1
Rare
9,966
Dragon dagger
1
Uncommon
17,221
Rune battleaxe
1
Rare
24,627
Rune javelin
5
Rare
1,270
Adamant javelin
20
Very rare
920
Rune spear
1
Very rare
12,048
Dragon spear
1
Very rare
36,856
Dragon dagger
50 (noted)
Very rare
861,050
Rune kiteshield
1
Very rare
32,145
Shield left half
1
Very rare
65,188
Dragon helm
1
Very rare
59,636
Adamant bolts
200
Uncommon
17,400
Rune arrow
150–200; 500
Rare
29,850–199
Onyx bolts
150
Rare
1,303,050
Battlestaff
200 (noted)
Rare
1,665,400
Air orb
1,000 (noted)
Rare
1,418,000
Fire orb
1,000 (noted)
Rare
1,612,000
Vecna skull
1
Very rare
133,474
Water talisman
1
Uncommon
4,721
Earth talisman
25–35 (noted)
Uncommon
19,825–27,755
Fire talisman
25–35 (noted)
Uncommon
50,450–70,630
Chaos talisman
1
Uncommon
227
Nature talisman
1
Uncommon
270
Pure essence
500–15,000 (noted)
Uncommon
42,500–1,275,000
Nature rune
47–77
Rare
5,217–8,547
Soul rune
20
Rare
2,420
Death rune
50; 121
Rare
93
Blood rune
50
Rare
8,150
Raw swordfish
125 – 250; 1,000 (noted)
Uncommon
37,250–298
Raw shark
250–500 (noted)
Uncommon
246,500–493,000
Big bones
150 – 500 (noted)
Uncommon
67,350–224,500
Coal
150–7,500 (noted)
Uncommon
41,700–2,085,000
Adamantite ore
150–800 (noted)
Uncommon
227,700–1,214,400
Silver ore
100 (noted)
Rare
10,500
Adamant bar
1,000–7,000 (noted)
Rare
3,168,000–22,176,000
Runite ore
100 (noted)
Rare
1,041,900
Rune bar
1,50,150 (noted)
Rare
13,002–1,950,300
Clean ranarr
33 (noted)
Uncommon
74,448
Clean toadflax
25–250 (noted)
Uncommon
95,050–950,500
Clean snapdragon
30–120 (noted)
Uncommon
106,530–426,120
Clean torstol
10–100 (noted)
Uncommon
118,420–1,184,200
Saradomin brew (4)
250 (noted)
Very rare
172,000
Watermelon seed
3
Uncommon
6,030
Yew seed
1–50
Rare
71,385–3,569,250
Magic seed
1–6
Rare
160,602–963,612
Palm tree seed
10
Rare
1,064,590
Snapdragon seed
1
Rare
2,196
Torstol seed
1–31
Rare
78,509–2,433,779
Fellstalk seed
2
Rare
932
Yew logs
100–20,000 (noted)
Rare
56,100–11,220,000
Glod can be fought an infinite amount of times. This is done by defeating him, not picking up the Golden Goblin, climbing back down and then back up. He will reappear and must be killed again in order to receive the goblin. This also make multiple gem drops possible, at the cost of prayer/food/runes/arrows.
Glod is an alternate name for Fornjót, an ancient giant in Norse mythology.
While fighting, Glod may shout "Glod smash!" This is a reference to the Marvel Comics hero, the Incredible Hulk, who says "Hulk smash!"
Glod's appearance is really similar to that of the Incredible Hulk. It might be possible that Glod's design was based on the Incredible Hulk.
Glod is also the name of a recurring character in Terry Pratchet's Discworld books. Appearing initially as a bad tempered dwarf. Owing to the popularity of the Discworld books in the United Kingdom where Jagex is based, it's not unreasonable to speculate that the Glod in RuneScape may be inspired at least in part by his literary cousin.
Glod is one of the few NPCs that actually had visible fingers.
The name of the quest may have come from the book "Grimm's Fairytales" written by the Grimm Brothers.
Glod was featured as the first question in the RuneScape quiz 14. This quiz was released 29 June 2010, the question being "Where can Glod be found?" The answer was "At the top of the beanstalk like all good giants!"
Glod is currently the largest giant in the game.
The golden goblin is a reference to the golden hen and the golden harp from the fairy tale: "Jack and the Beanstalk." The giant being found at the top of a beanstalk (and someone murdering the giant and stealing his possessions) is also a reference to Jack and the Beanstalk.