This article is about the item in the 2010 Easter event. For the quest item, see
Colour wheel
.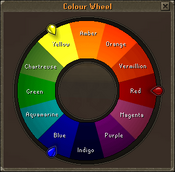 The Glaze colour wheel was an item used in the Easter 2010 event. When clicked on, it would provide information on which combination of yellow, blue, or red glaze was needed to produce each secondary coloured glaze used during the Event. Though it was a pigment colour wheel, in the inventory, it appeared to have colours arranged as a light colour wheel.
NPCs
Items
Rewards
Music
Locations
Ad blocker interference detected!
Wikia is a free-to-use site that makes money from advertising. We have a modified experience for viewers using ad blockers

Wikia is not accessible if you've made further modifications. Remove the custom ad blocker rule(s) and the page will load as expected.