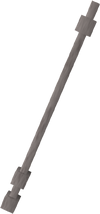 A Glassblowing pipe is used to shape molten glass using the Crafting skill. It is required to make any Glass item, and can be stored in the Tool belt.
Players often stock up Molten Glass, and then shape it at banks, saving a considerable amount of time.
Obtaining
Edit
Glassblowing pipes can be obtained at the following locations:
Store locations
Edit
This list was created dynamically. For help, see the FAQ.
To force an update of this list, click here.
Craftable items
Edit
Disassembly
Edit