Gielinor Games Reward Shop
Discuss

10
22,528pages
on this wiki
The Gielinor Games Reward Shop is run by Oomad Arrow, the gnome organizer located at Varrock Square, and contains a large variety of items related to the Games. It was released on 11 July 2012, in preparation for the Gielinor Games, and was made available on 24 July 2012, with the release of the aforementioned update.
It costs 30,550 points in total to purchase all the rewards in the shop.
Rewards
The shop consists of three tiers: bronze rewards, silver rewards and gold rewards. All sections contain the same items, but with the respective medal colour, except for the gold rewards, which include two emotes and an Athlete title. All gold rewards are members-only.
Accessing the next tier requires 2500 points. Wearing a ring gives a bonus for both experience and Contribution Points: Victor's bronze ring (1750 points price - 25K xp boost - 5% points boost), Exalted silver ring (2000 points price - 50K xp boost - 7.5% points boost), and Herculean gold ring (2500 points price - 100K xp boost - 10% points boost).They wont work for points if you have maxed your xp out for that event.
Outfits have no combat bonuses, but have a small amount of weight reduction: Bronze - 1 kg each, Silver - 1.8kg each, and Gold - 1.3 kg each.
The torches are light sources and have emotes.
You may only hold 2500 Contribution Points at a time. Be sure to spend it else you will not gain any more.
Players may only access each tier by unlocking the previous ones.
Bronze rewards (F2P)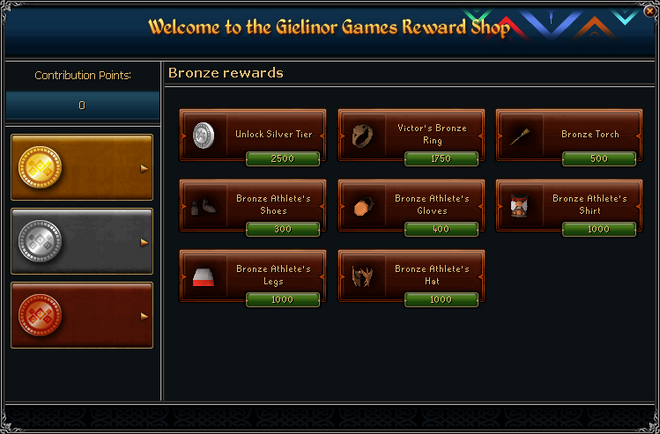 It costs 5,950 to purchase all the bronze rewards.
Silver rewards (F2P)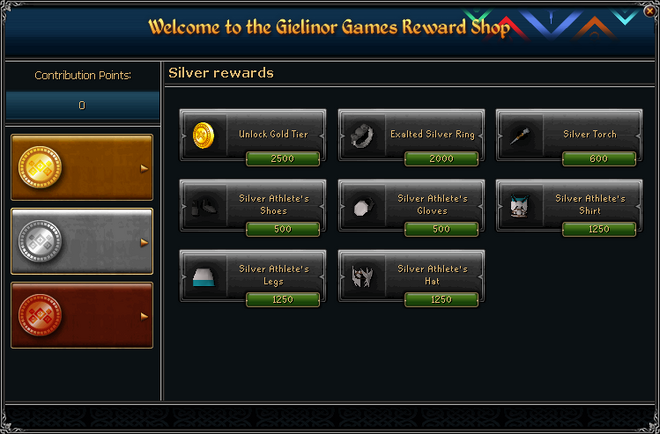 It costs 7,350 to purchase all the silver rewards, not including the 2,500 required to unlock it.
Gold rewards (P2P)
It costs 12,250 to purchase all the gold rewards, not including the 5,000 required to unlock it.
Trivia
It is possible to exchange bronze and silver rewards with Oomad Arrow for a full refund, though gold rewards and rings cannot be exchanged.
When wearing any of the athletes' hats, it will cause the player's hair to turn fair. It may be a reference to the Roman Emperor Julius Caesar, who was noted to have fair hair, and wear a crown of gold leaf.
There was a glitch where if the player buys one bronze or silver item, then wears it or puts it somewhere else, the player can reclaim the item again and then give both items back for double the tokens. This has been fixed.
There was a glitch within the Resource Race where a player could "spam" click herbs for massive returns on contribution points, planting in excess of 30 seeds in the allowed 5 minuite window. Well over 1500 points could be earned in a single 5 minute game, this has since been fixed so a players can only gather herbs as fast as the animation allows, putting the maximum point return at around 1400 per run.
Each of the torches has an associated emote with it, although only the bronze torch has sound effects. This is likely a bug.
Getting a random event whilst the store is open results in a black screen.
Race delegates

Oomad Arrow • Mudfoot • Unuki • Sunnel • Larsa • Oluien • Mikael

Commentators
Gielinor Games

Head-to-Head • Cheese Wheel Rolling • Resource Race • Marathon

Gielinor Games Preparation

| | |
| --- | --- |
| Catering | Raisins • Tupelo honey • Bitter melon • Plum • Cinnamon • Ginger • Paprika • Filo pastry • Sour cream • Yoghurt • Rhubarb • Burned toffee • Mint • Nutmeg • Dandelion • Coffee beans • Raspberries • Pepper • Gielinor games food |
| Medals | |
| Construction | |

Rewards

Outfits

| | |
| --- | --- |
| Gold | Gold athlete's hat • Gold athlete's shirt • Gold athlete's legs • Gold athlete's gloves • Gold athlete's shoes • Gold torch • Herculean gold ring |
| Silver | Silver athlete's hat • Silver athlete's shirt • Silver athlete's legs • Silver athlete's gloves • Silver athlete's shoes • Exalted silver ring |
| Bronze | Bronze athlete's hat • Bronze athlete's shirt • Bronze athlete's legs • Bronze athlete's gloves • Bronze athlete's shoes • Victor's bronze ring |

Emotes (gold)
Titles (gold)