Giant scarab (Contact!)
Discuss

3
22,486pages
on this wiki
The Giant Scarab is fought during the final battle of the Contact! quest. It summons level 108 locust riders and scarab mages to aid it in its battle. The Giant Scarab is the sixth highest level quest only monster that is fought via conventional means in the game.
It hits upwards of 200 life points with melee and ranged and is very poisonous, with the damage starting at 98 per hit. If you are out of melee range from the Giant Scarab and are using Protect from Missiles, a message will say "The scarab clacks its mandibles and you are mystically poisoned," so you will be poisoned anyway, unless you drink antipoison or are holding an anti-poison totem.
The grey object in its back is Kaleef's keris dagger.
The Giant Scarab is fightable as a class D boss monster in the Dominion Tower minigame if the player has completed Contact!. During the Dominion Tower battle, however, the player can use keris, and the riders and mages that the scarab summons are level 93, 98, and 106.
Combat strategy
Edit
Only the most durable should engage this monster in melee combat; players should bring an anti-poison, prayer potion, lightsource and tinderbox, weapon and armour you would not care about losing, good food and a one-click emergency teleport (maybe an ectophial) is vital. The Poison Purge Aura is useful also to turn the poison into hitpoints. The Giant Scarab has extremely high defence against slash attacks and very low stab defence, so a zamorakian spear is recommended over an abyssal whip. The scarab is immune to the effects of poison.
The scarab is extremely weak to Ice Rush (or any other ice attack), any earth-based spell, and Slayer Dart. There is a safe spot in the south-west corner of the room that can be used for protection from his melee attacks as well as the spear wielding locust riders. The official quest guide states that the scarab is weak to stab attacks. While hiding here and using Protect from Ranged, players can defeat the scarab while taking minimal damage from the mages.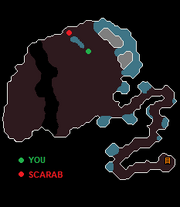 Another and actually quite safe and easy way is to wait just inside the tunnels until the Scarab wanders around the cave and positions itself behind a water puddle (see image). Then approach and mage/range it from a distance with the appropriate protection prayer (Ranged). Using this method, the scarab will NOT summon locust riders. Alternatively, if the Giant Scarab will not move, it may be possible to range/mage it from as far away as possible without it summoning any help.
It may also be useful to bring a combat familiar to the fight, since the area is multi-combat.
Bosses

Class A

Nomad • Pest Queen • Decaying avatar • Eruni • Ayuni • Leeuni • Dagannoth Mother (Blood Runs Deep) • Zenevivia

Class B

The Untouchable • Damis • Fareed • Kamil • Dessous • The Everlasting • The Illusive • Dagannoth sentinel • Karamel • Gelatinnoth Mother • Nezikchened

Class C

Balance Elemental • Jungle demon • Arrav • Ice demon • The Inadequacy • A Doubt • Giant Roc

Class D

Arrg • Barrelchest • Chronozon • Evil Chicken • Flambeed • Agrith-Na-Na • Dessourt • Giant scarab

Class E

Bouncer • Koschei the deathless • Arzinian Avatar • Black Knight Titan • General Khazard • Black Knight guardian

Class F

Dad • Dramen Tree Spirit • Agrith Naar • Dagannoth mother (Horror from the Deep) • TokTz-Ket-Dill • Black golem • Grey golem • White golem

Class G

Treus Dayth • Elvarg • Culinaromancer • Tumeken's shadow • The Kendal • The Draugen

Class H

Tarn Razorlor • Sigmund • Melzar the Mad • Count Draynor • Delrith • Solus Dellagar

Miscellaneous

Sunfreet
Power-ups

| | |
| --- | --- |
| Weapons | |
| Bombs | |
| Dom potions | Dom super restore • Dom saradomin brew • Dom super antipoison • Dom super prayer |
| Other | |

Gloves
Mines
Miscellaneous

Xp book • A journal page • Dominion journal • Dreadnip • Dominion marker • Dominion medallion • Super dominion medallion