Giant ent
Discuss

5
22,528pages
on this wiki
Giant ent
Level
78
Duration (

min

)
49
Points cost
8
Race
Ent/Tree
Abilities

Increased yield when harvesting Farming fruit trees, bushes, belladonna and cacti
Forager - produces oak logs
Nature link - can convert pure essence into nature or earth runes

Special moves
Acorn Missile
Combat level
137
Examine text
He ent such a bad guy.

Combat stats
Life Points
Max hit
3900
150 (approx)
Attack
Defence
Ranged
Magic
60
60
60
60
Immune to poison?
Yes
Attack Style
Controlled
[view] • [talk]

Giant ents are level 78 Summoning familiars. They are foragers that produce oak logs, and have the ability to convert pure essence into either one earth or nature rune. Giant ents are also useful in the Farming skill.
Giant ent pouch
Edit
Giant ent pouch is made by using a Summoning pouch on a Summoning obelisk with 124 spirit shards, a Green charm and a willow branch in the inventory. Making the pouch earns 136.8 experience points. Using the pouch to summon a Giant ent gains 1.6 experience points, and costs 8 Summoning points.
Acorn missile scroll
Edit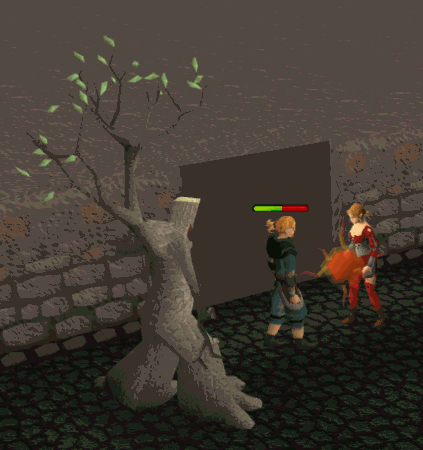 Acorn missile scroll enables the use of the Acorn Missile special move for a Giant ent. Using the pouch on a Summoning obelisk creates 10 scrolls.
Acorn Missile
Edit
Acorn Missile is a special move for Giant ents, which may inflict up to 187 life points to 3 opponents, as well as drop acorns.
Currently, it hits an opponent (or anyone around the opponent) twice.
Nature link
Edit
If a pure essence is used on the Giant ent, it will turn into either an earth rune or a nature rune. However, experience is NOT gained from doing this. It is also required to use each pure essence individually on the Giant ent which can be a very tedious effort.
A good method is to mine pure essence and give it directly to the Giant ent to convert. This can yield upwards of 400 earth runes and 500 nature runes an hour if the player is proficient at clicking.
Giant ents have the potential to double yield when harvesting fruit from fruit trees, bushes, cacti, and belladonna. The average bonus is a 50% yield boost. However, you will not receive experience for the bonus yield. For example, on average, a fruit tree will give 9 pieces of fruit instead of 6, however you will only receive experience for harvesting the 6.
In "The Lord of the Rings" an Ent named Treebeard says "Don't be hasty." The dialogue of the giant ent may be a parody of this.
As with many other creatures and objects, the Giant ent's examine is a pun.
Even though Ents have a tertiary item of a willow branch, they produce oak logs.
In the Funorb game Armies of Gielinor, the Titan Ent uses the Giant Ent's image.
Currently both the ent's foraging ability and ability to spawn acorns with a scroll are broken.
If talking to Quercus with the Giant ent, extra dialgoue can be heard.
Gold charm

Spirit wolf • Dreadfowl • Spirit spider • Thorny snail • Granite crab • Spirit mosquito • Bull ant • Spirit terrorbird • Barker toad • War tortoise • Arctic bear

Green charm

Desert wyrm • Compost mound • Beaver • Void ravager • Macaw • Spirit cockatrice • Spirit guthatrice • Spirit saratrice • Spirit zamatrice • Spirit pengatrice • Spirit coraxatrice • Spirit vulatrice • Magpie • Abyssal parasite • Ibis • Abyssal lurker • Bunyip • Fruit bat • Forge regent • Giant ent • Hydra • Unicorn stallion • Abyssal titan

Crimson charm

Spirit scorpion • Spirit Tz-Kih • Vampyre bat • Honey badger • Evil turnip • Pyrelord • Bloated leech • Smoke devil • Spirit cobra • Stranger plant • Ravenous locust • Phoenix • Granite lobster • Praying mantis • Talon beast • Spirit dagannoth • Swamp titan • Wolpertinger • Iron titan • Pack yak • Steel titan

Blue charm

Albino rat • Spirit kalphite • Giant chinchompa • Void shifter • Void spinner • Void torcher • Bronze minotaur • Iron minotaur • Spirit jelly • Steel minotaur • Spirit graahk • Spirit kyatt • Spirit larupia • Karamthulhu overlord • Mithril minotaur • Obsidian golem • Adamant minotaur • Fire titan • Ice titan • Moss titan • Lava titan • Rune minotaur • Geyser titan

Other

See also: Summoning • Beast of Burden • Forager • Charms • Summoning Obelisks • Summoning pets • Summoning pouches • Summoning scrolls • Wishing well • Dungeoneering familiars