"Aluft Gianne" redirects here. For Aluft Gianne Jnr's father, see
Aluft Gianne Sr
.

Aluft 'Lufty' Gianne Jnr is the son of Aluft Gianne Snr, and the proprietor of the Gnome Restaurant minigame. Speak to him to start the minigame. Aluft Gianne Jnr is found in the north west area of the first floor of the Grand Tree, just a little west of the cafe. Among his restaurant staff includes the gnomes Timble, Tamble and Spang.
In front of Aluft is a table with what appears to be telephone-like devices on top of it. One is vibrating, as if it is ringing. He also seems to be holding something to his ear and speaking apparently to himself. When Gianne requests you deliver to Garkor, he mentions hearing monkeys when he called in for the delivery, revealing the device is indeed a telephone.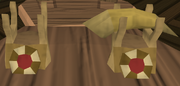 Restaurant NPCs
Items
Delivery destinations
Rewards
Ad blocker interference detected!
Wikia is a free-to-use site that makes money from advertising. We have a modified experience for viewers using ad blockers

Wikia is not accessible if you've made further modifications. Remove the custom ad blocker rule(s) and the page will load as expected.