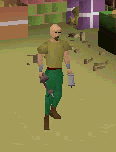 The Ghost buster 500 was used in the 2006 Hallowe'en event, and it was used to attack ghosts in Diango's workshop. It was made by loading an empty ghost buster 500 with a Black destabiliser.
NPCs

Poltergeists
Possessed toys

Items
Rewards
Music
Other
Ad blocker interference detected!
Wikia is a free-to-use site that makes money from advertising. We have a modified experience for viewers using ad blockers

Wikia is not accessible if you've made further modifications. Remove the custom ad blocker rule(s) and the page will load as expected.