Ghorrock Teleport
Release date
18 April 2005 (Update)
Members?
Yes
Level
96
Spellbook
Ancient
Type
Teleport
Experience

106

Runes
28
Quest
Desert Treasure

Click animation for full size
[view] • [talk]
Ghorrock Teleport requires a magic level of 96 and teleports the caster to Ice Plateau in the Wilderness. This is the highest magic level needed for any teleport.
As with all Ancient Magicks spells, the quest Desert Treasure must be completed to cast this spell.
This spell and Spell Book Swap used to be tied for the highest magic level requirement of all spells, but the release of Miasmic Barrage took this title away from them. As of 23 August 2011, the spell Borrowed Power holds this title, because of its 99 Magic requirement.
It is most commonly used for quick access to the Wilderness Agility Course to the northeast, or Lava strykewyrms to the southeast.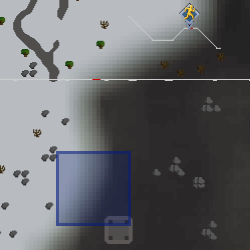 If a player is using Lunar spells, Ice Plateau Teleport is an alternative to Ghorrock Teleport. It takes the player to a nearby location and requires level 89 magic to cast. However, it costs around twice as much.
Input
Cost
82

812

Combo runes
28

5,196

28

5,884

28

7,148

Staves
2

636

2

636

2

636

2

636
Ad blocker interference detected!
Wikia is a free-to-use site that makes money from advertising. We have a modified experience for viewers using ad blockers

Wikia is not accessible if you've made further modifications. Remove the custom ad blocker rule(s) and the page will load as expected.