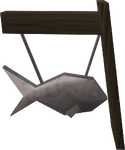 Gerrant's Fishy Business is located in Port Sarim. The shop sells Fishing supplies. It is run by Gerrant.
Before the Advisor and Objective Update on 17 September 2009, Gerrant's shop was the only fishing store available for free to players. Now, however, another fishing store was placed in Lumbridge after the update to make it easier for new players to fish in the area and complete the fishing tasks.
Near the back of the store there is a white apron respawn, potentially useful for those doing the Pirate's Treasure quest. Note that a nearby shop that sells food also has a white apron respawn.
Gerrant's Fishy Business shares its stock with Lovecraft's Tackle, so any alteration in stock of one store causes an alteration in stock in the other store.