General Khazard
Discuss

3
22,528pages
on this wiki

| | | |
| --- | --- | --- |
| " | In the last two hundred years, I've seen such terrible happiness and joy. Now, it is my turn to cover this land in darkness. One day you shall see: all will quake upon hearing my name! | " |
Loading...
Fight Arena Ritual of The Mahjarrat Rejuvenated Shadow Realm
General Khazard
Release date
23 July 2002 (Update)
Members?
Yes
Combat level
120
XP per kill
186 (and 61.4 experience)
Always drops
Nothing
Examine text
He looks really nasty. Smells bad too.

Combat stats
LP
Max hit
4800
400
Attack
Defence
Ranged
Magic
60
60
1
1
Other
Immune to Poison?
Immune to Stun?
No
Unknown edit
Attack Speed

Speed 6 (Interval: 2.4 seconds)

Aggressive?
Poisonous?
Yes
No
Attack style
Weakness
Melee

Nothing

[view template]


General Khazard is a Zamorakian Mahjarrat who has established a large territory between Ardougne and Yanille and is at war with the gnomes. He is featured as an antagonist and boss fight in the Fight Arena and Ritual of the Mahjarrat quests, and also serves as the main antagonist in The General's Shadow miniquest.
Khazard is the youngest of the Mahjarrat, born towards the end of the God Wars. He and Hazeel have claimed a large amount of territory and built up a following in Southern Kandarin, in a region which is now named after Khazard. He owns a pet hellhound playfully named Bouncer, for whom he cares deeply. When Bouncer is defeated by an adventurer, he is shocked and enraged and swears on vengeance. He later summoned Bouncer's ghost on multiple occasions in battle, unable to part from his "only friend".
Personality and traits
Edit
Khazard rules a militaristic settlement, based around the Khazard Fight Arena, which is at war with the Tree Gnome Village. The nearby sea port which supplies the arena is also named after him. These settlements have been in operation for a number of years; in the RuneScape novel Betrayal at Falador, set in 164, Sir Tiffy Cashien mentions that a White Knight once left the order to spy on their activities some time before. He is vague, however, as to how long ago it was, although another knight named Sir Justrain is known to have left in a similar way in roughly 147. He has some influence in the shadow realm, as he was able to send shadow realm scouts to spy on human and gnome strongholds.
Childhood
Edit
Khazard was born towards the end of the Third Age to two Zamorakian Mahjarrat. His mother was named Palkeera[1], of whom not much is known, and his father was a powerful Zamorakian mahjarrat. Palkeera died when Khazard was young, and, with his father's fate unknown, grew up under the tutelage of Hazeel, another Zamorakian Mahjarrat. Not much else is known of Khazard's childhood (or any other Mahjarrat, for that matter), but under Hazeel's tutelage, he grew up to become a powerful Zamorakian warlord, much like Hazeel himself.
Domination of Kandarin
Edit
Towards the end of the Fourth Age, Khazard and Hazeel started their plans of domination, quickly taking control of much of what is now known as southern Kandarin. Hazeel took control of the northern part of the area, in what is now known as Ardougne, while Khazard conquered the southern regions, establishing his Fight Arena and Port Khazard. Together they quickly dominated much of the local humans, ruling by violent dictatorship.
Khazard, using his charisma, was able to persuade much of the humans to submit to his violent rule, and they became the Khazard Army, a violent army which would play a key part of his future plans. Those who refused to submit to his rule were captured and taken prisoner in his Fight Arena, with Khazard often forcing them to fight against strange beasts to the death, for seemingly no reason other than for his own amusement. This went on for decades.
War with the Gnomes
Edit
Meanwhile, an exiled, deceitful gnome known as Glouphrie the Untrusted had disguised himself using his trademark illusion magicks and become advisor to Bolrie, leader of the Tree Gnome Village, found west of Khazard's territory. Glouphrie, disguised as a spirit advisor, informed Bolrie that a 'dangerous and charismatic warrior' known as Khazard had taken control of the humans in the nearby area. Glouphrie told Bolrie that the spirit trees had informed him that Khazard would bring disaster to the gnomes. The fact that King Healthorg of the Tree Gnome Stronghold was not doing anything about this enraged Bolrie, who claimed that the king was weak and dying, becoming blind to the problems of the gnomes.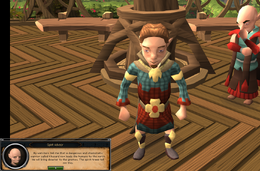 Glouphrie suggested that Healthorg's son Argenthorg would just follow his father's path if he succeeded him, appeasing humans and letting them take all of their land. The gnome illusionist claimed that if the next king of the Gnome Stronghold does not remove the threat of Khazard, the gnomish empire would be destroyed. Bolrie did not want this, and secretly desired for himself to be crowned the next king. Glouphrie suggested that, by attacking Khazard and the humans while they were still weak, these would easily be defeated, and Bolrie would become a hero and win the hearts of all gnomes, claiming that, when Healthorg passed on, he would stand for election for King of the Gnome Stronghold, assuring that he had no chance of losing.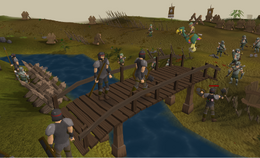 Thus, Bolrie attacked General Khazard, starting the war between the Gnomes of the Tree Gnome Village and the Khazard Army that continues to this day. Glouphrie had tricked Bolrie, and never had any desire of helping him. He had just wanted control of the Gnome Stronghold and to strengthen the Gnomish Empire against its true enemies, which Glouphrie believed to be humans. When the engineer Yewnock used an anti-illusion device and Glouphrie's real identity was discovered and he was found to be working for Bolrie, albeit without the latter's knowledge, Bolrie was forced to leave the gnomes in shame, and his family were banished to a cave underneath the Tree Gnome Village, with him making it his purpose to destroy Glouphrie, who left to found Arposandra.
Bolrie's brother, King Bolren, took control of the Tree Gnome Village, erecting a maze around it, basing its design of one of the puzzles Bolrie used to draw when he was a child. The war between Khazard and the Gnomes continues to this day, as the maze seems to deter Khazard's forces from assaulting the village, although Khazard was able to take control of a small area to the north of the village, which he uses to send attacks on the gnomish forces to this day.
Hazeel's Defeat
Edit
The start of the Fifth Age saw the discovery of Runecrafting and Magic among the humans. In the year 7, a tribe of Saradominist humans led by the Carnillean Family had grown tired of the rule of Hazeel and Khazard, and took it upon themselves to do something about it. Together, they stormed Hazeel's mansion, slaughtering all of the Zamorakians inside. Hazeel had prepared for this, and had hidden a scroll with a ritual to revive him should he ever be defeated within his mansion. When the Saradominists reach Hazeel, they were able to defeat him, but, being unable to kill him completely, only managed to put him into a state of torpor. The humans took control of much of Hazeel's land, establishing the city of Ardougne. This enraged Khazard, but the Saradominists were seemingly unable to take control of Khazard's land, in no small part due to his large army of Zamorakians. Khazard was too busy with his conflict with the gnomes to reclaim Ardougne, and a small cult of Zamorakians were tasked with reviving Hazeel.
Capturing the Servils
Edit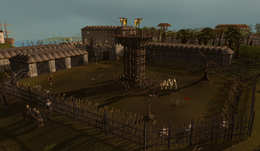 In 169 of the Fifth Age, Khazard kidnaps two members of the Servil family, a young squire known as Jeremy Servil and the knight Sir Justin Servil. Khazard had been victimising the Servils ever since Lady Servil had refused to hand over their lands. Lady Servil requests the assistance of a young adventurer in saving her family, and possibly even defeating Khazard himself. The adventurer is able to infiltrate Khazard's arena using a set of Khazard armour, and tricks Gerald, one of Khazard's lazy guards, into relinquishing the keys to Jeremy's cell. The adventurer rescues Jeremy and heads into the main arena to find Justin, who is being attacked by a scorpion. Jeremy begs the adventurer to save his father, and, after the adventurer dispatches the scorpion, General Khazard claims to be impressed, and agrees that he will let the Servils go - in return for the adventurer becoming his new fight slave.
After the adventurer defeats a large ogre, Khazard decides that they need a tougher challenge, and releases his pet hellhound, Bouncer. After Bouncer is defeated, Khazard becomes enraged, but states that he is not a coward, and keeps his promise of letting the Servils go. However, he decides that the adventurer has caused him so much trouble that he will kill them himself. Khazard proceeds to attack the adventurer, and, after being bested in combat once, Khazard regenerates and turns into a giant form, stating that, as a Mahjarrat, he cannot be beaten. After being bested a second time, Khazard retreats into the Shadow Realm.
Preparing for the Ritual
Edit
After retreating into the Shadow Realm, Khazard begins preparing for the next Ritual of Rejuvenation, an event that occurs every 500 years when the planets align, wherein the Mahjarrat sacrifice one of their number in order to rejuvenate the others. Khazard starts out by sending out various scouts to gather intelligence on the other Mahjarrat and the rest of the world, sending one to the Gnome Stronghold to keep watch on the Gnomes, one to the Kharidian Desert to keep tabs on Azzanadra, Enakhra and Akthanakos, one to Karamja, and finally one to Draynor Manor, to keep watch on the White Knights.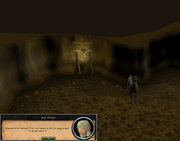 While wandering the forest south of Rellekka, Khazard is approached by the adventurer that had defeated him in combat before. Khazard is impressed that they were able to see into the Shadow Realm, and pretends not to recognise them. He decides to use them to do a task for him, but first sends them to Sin Seer to see if they are trustworthy or not. Upon the adventurer's return, he is very impressed by all of the sins they have committed, and decides he will indeed have a use for them. Khazard sends the adventurer to find his four scouts and tell them to return to him, giving them the message that the planets are nearing alignment and to beware his fellow Mahjarrat, as, although they are weak and few, they are cunning. After the adventurer completes this task and returns with a message from the scouts, Khazard sends them to a cave near the Fishing Guild, for their 'reward', but not before giving them a severed leg, which is supposedly the "key" to their reward.
When the adventurer arrives at the cave, they find the ghost of Bouncer, Khazard's hellhound, and they realise that the reward was just a ruse, and that Khazard has tricked them once again. Bouncer then attacks the adventurer, and a fight ensues. The adventurer is able to defeat Bouncer using the severed leg that Khazard had given them earlier, and uses it to distract Bouncer and then stab him in the back.
The 18th Ritual of Rejuvenation
Edit
| | | |
| --- | --- | --- |
| " | And worried you should be! I think you'll make the perfect sacrifice for the ritual, Wahisietel, just as soon as we've dealt with these maggots! | " |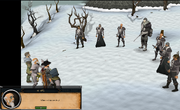 As the time of the ritual drew ever nearer, Khazard headed to the Ritual Site with his army, encountering the adventurer once again, along with Ali the Wise, Sir Tiffy Cashien, Akrisae and a battalion of Temple Knights. Khazard is surprised to see Ali there, recognising him and using a spell to reveal him as the Zarosian Mahjarrat Wahisietel, an old rival of his. Khazard and his troops then proceed to attack the group, with him taking on the adventurer personally, seeking revenge for his prior defeats. With the help of Sir Tiffy and Wahisietel, the adventurer is almost able to defeat Khazard. However, rather than be defeated and chosen as the sacrifice, Khazard quickly retreats to heal and prepare for the ritual, teleporting off, much to the group's annoyance.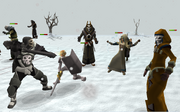 Later on, as the rest of the Mahjarrat arrive at the ritual site, they begin to debate who the sacrifice should be. Khazard joins them, saying that Wahisietel should be the sacrifice, with the newly revived Hazeel agreeing with him. Lucien, being the most powerful Mahjarrat there, ignores his demands and chooses Jhallan instead. Wahisietel disagrees with this decision, stating that, due to the threat he poses, Lucien has to be chosen instead, and a battle breaks out between the factions. Khazard and Hazeel team up to fight Sir Tiffy, Idria and Akrisae, while the adventurer dealt with Zemouregal's zombies.
After Zemouregal's control over Arrav is broken, Arrav attacks Zemouregal, much to the necromancer's horror, as he is not able deal with both Azzanadra and Arrav at the same time. Zemouregal begs Lucien for help, but he simply ignores him. Zemouregal becomes enraged, demanding that everyone attack Lucien, claiming that Wahisietel was right, and Lucien should indeed be sacrificed. Following Zemouregal's advice, Khazard proceeds to attack Lucien along with the other Mahjarrat (although he continues to attack Sir Tiffy at the same time).
Lucien demands that the fighting stop shortly after this turn of events, and he sacrifices Jhallan, rejuvenating the Mahjarrat (including Khazard), filling them with strength once more. After Lucien summons the Stone of Jas, a trio of Dragonkin appear, and he is killed by them a brief skirmish. A terrified Khazard makes a quick excuse about having matters to attend to, and teleports away to avoid being killed, returning to his Fight Arena. Despite his rejuvenation, he continus to walk around in his skeletal form, to better strike fear into both the enemy and his own army.
Fight Arena
Edit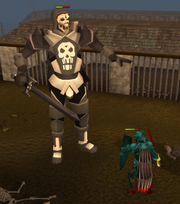 General Khazard serves as an optional boss to the Fight Arena quest. After the player defeats Bouncer, the player can choose to engage in combat with Khazard or escape. Khazard attacks using weak melee attacks and is a fairly easy fight able to be dispatched with little difficulty. It is possible to lure him behind a skeleton and attack kill him with Magic or Ranged, just like all other bosses in the quest. After being reduced to 0 lifepoints, Khazard will proclaim that he cannot be beaten and grow in size, restoring his lifepoints, but not affecting his combat abilities in any significant way. After defeating him the second time, he merely shrinks and disappears, and players are free to leave the arena. This form of Khazard makes reappearance as a boss in the Dominion Tower, with the exact same moves and abilities.
Ritual of the Mahjarrat
Edit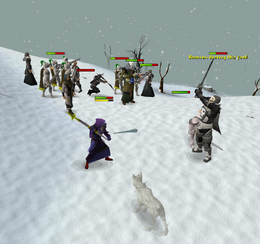 General Khazard returns in Ritual of the Mahjarrat, attacking the player with his troops. During the fight, the player is aided by several Temple Knights, Wahisietel and Sir Tiffy Cashien. This time General Khazard uses a long-range Magic attack, which can be blocked with Protect from Magic or Deflect Magic, and will summon Bouncer's ghost periodically during the fight, who will constantly inflict rapid unblockable damage on you. Bouncer cannot be attacked, so when Khazard summons him, lure him over to Wahisietel, who will kill him for you. It is possible to lure Khazard next to Wahisietel so whenever Bouncer is summoned it will die instantly. During the fight, your combat stats have a large boost from the Stone of Jas, boosting combat stats over 99 for even players meeting the minimum requirements. Low-levelled players will be able to cast high level magic spells like Fire Surge or Ice Barrage on him during the fight, so magic is recommended. While Khazard is significantly more difficult than he was in Fight Arena, he is still fairly easy, even for players meeting the minimum requirements for the quest, and players can simply hide behind a tree and let Sir Tiffy and Wahisietel deal most of the damage to him.
Khazard re-appears later on in the quest fighting Sir Tiffy, Idria and Lucien, but during these fights he cannot be attacked, even though he still has an attack option.

You cannot harm me!
(
link
)
General Khazard proclaims that he cannot be beaten.
When Runescape HD was released, Khazard's armour was changed along with the rest of his army, and his Iron two-handed sword was replaced with appears to be an Iron Katana. He was once again updated with the rework of Fight Arena, and again after The Ritual of the Mahjarrat was released, and he now wields what appears to be a claymore.
When his chathead was updated in the Fight Arena quest, he still had the old, low detail skeleton chathead during The General's Shadow. This has been fixed with the release of Ritual of the Mahjarrat.
He has the same examine text as the Khazard Warlord.
The frozen Zarosian fortress of Ghorrock has a statue of Khazard in its courtyard. Exactly why is unknown. However, it is possible that he commanded Ghorrock at some time.
Despite having been rejuvenated, Khazard has been stated to be the only Mahjarrat to keep his skeletal form; this is because "he chooses his skeletal form to better strike fear into his foes...and his army."
After being rejuvenated, Khazard's chathead colour does not match with the colour of his face on his character model.
Khazard is the only known Mahjarrat to use a weapon, aside from Lucien, Zamorak, and Sliske, who all possessed the Staff of Armadyl.
When fought in Fight Arena, he seems to interrupt himself when giving his speech. He doesn't have this problem in the Dominion Tower, although in the Dominion Tower not all of it is voiced.
References
Edit
^ Zemouregal, "Notes (k-z)", RuneScape. "Khazard is the youngest of our race on RuneScape. He was born towards the end of the God Wars, shortly before the death of his mother, Palkeera."

*
Bosses

Class A

Nomad • Pest Queen • Decaying avatar • Eruni • Ayuni • Leeuni • Dagannoth Mother (Blood Runs Deep) • Zenevivia

Class B

The Untouchable • Damis • Fareed • Kamil • Dessous • The Everlasting • The Illusive • Dagannoth sentinel • Karamel • Gelatinnoth Mother • Nezikchened

Class C

Balance Elemental • Jungle demon • Arrav • Ice demon • The Inadequacy • A Doubt • Giant Roc

Class D

Arrg • Barrelchest • Chronozon • Evil Chicken • Flambeed • Agrith-Na-Na • Dessourt • Giant scarab

Class E

Bouncer • Koschei the deathless • Arzinian Avatar • Black Knight Titan • General Khazard • Black Knight guardian

Class F

Dad • Dramen Tree Spirit • Agrith Naar • Dagannoth mother (Horror from the Deep) • TokTz-Ket-Dill • Black golem • Grey golem • White golem

Class G

Treus Dayth • Elvarg • Culinaromancer • Tumeken's shadow • The Kendal • The Draugen

Class H

Tarn Razorlor • Sigmund • Melzar the Mad • Count Draynor • Delrith • Solus Dellagar

Miscellaneous

Sunfreet
Power-ups

| | |
| --- | --- |
| Weapons | |
| Bombs | |
| Dom potions | Dom super restore • Dom saradomin brew • Dom super antipoison • Dom super prayer |
| Other | |

Gloves
Mines
Miscellaneous

Xp book • A journal page • Dominion journal • Dreadnip • Dominion marker • Dominion medallion • Super dominion medallion