General Graardor/Strategies
Discuss

6
22,501pages
on this wiki
The following lists several strategies and methods for fighting General Graardor and his minions. For the monster, see General Graardor.
General Graardor is the most popular of the five God Wars Dungeon bosses to kill, as he is arguably the easiest, but players should not take him too lightly. To enter Bandos's Stronghold, players must have at least 70 Strength and a hammer (or a sacred clay hammer or golden hammer). To get to the boss room, players must kill 40 minions of Bandos in Bandos's Stronghold or the main God Wars Dungeon area.
Getting the Kill Count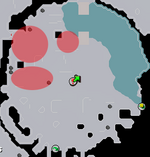 The easiest method of killing 40 Bandos minions is to kill the goblins. The goblins are located in the main area and populate specific locations around the designated Bandos area.
Another method is to kill hobgoblins, who are located just north of the entrance to God Wars Dungeon. Goblins are often full of other players who want to quickly get their 40 kill count, so hobgoblins are a good alternative. Hobgoblins are also low levelled and can be used for Kill Count. While getting Kill Count, it is worthwhile to remember that if a bandos follower is in a fight with another God's follower, you can attack it without being damaged. The best spots to kill Bandos followers are near the stronghold's entrance and south of the entrance where there is always a Zamorak minion and some Aviansies who will constantly fight. If neccesary, players can kill Jogres and Ogres for a faster killcount, as the goblins take longer to spawn than the Hobgoblins.
Orks are spread all over the place execpt for the small group near the broken ice bridge. The constant spawning of a werewolf in the western pocket will always ensure you that the nearby Aviansies, Goblins and Hobgoblins will constantly fight. Hobgoblins can be a quick way to get the 40 killcount needed, as they will constantly attack Werewolves and Bloodvelds that spawn. Killing Orks is not recommended, as they are barely attacked, and killing one will cause others to attack you. Jorges and Ogres are a good way to achieve the count if players want to make some profit (just in case the Bandos trip fails). They can also kill 40 Spiritual Mages/Warriors just in case.
Wearing Bandos-related protection is highly recommended. Players wearing Bandos-related protection will not be attacked by the Bandos followers in the God Wars Dungeon area or Bandos's Stronghold. It is also advised to wear Zamorak-related protection - Bandos's Stronghold has monsters who follow both Bandos and Zamorak. If a player has a planned armour setup that does not include Bandos or Zamorak-related protection, they may choose to bring an extra item to wear while getting their killcount. Common items are god books, Ancient maces for Bandos, unholy symbols, Zamorak arrows, or a dip in the Bandos pool which provides full Bandos-related protection for one hour. Without Bandos-related protection, the chances for a player to get killed are high as they will be attacked by numerous Spiritual warriors, rangers and mages, since Bandos' stronghold contains more minions than any other stronghold.
Popularity
Because Graardor is the easiest of the five bosses, he is commonly killed. It is hard to find an empty world in which he is not being killed, unlike other bosses such as Kree'arra, who is usually empty on most worlds. Once players get 40 killcount, they will have two options to pick if they do want to kill Bandos for a chance to get his hilt, boots, tassets or chestplate. They can either hop and find a world. This is commonly used for new parties because Graardor is usually killed by high levelled players in groups of 2-4, or they can crash the players inside.
The best way is to go north of the big door to the chamber room, and hop there so a misclick won't make you lose your 40 killcount. A Zamorak item is optional but it will save you food from the constant Bloodveld attack.
Strategies
Whether a player decides to solo General Graardor and his minions or join a team, the general strategy is to kill Graardor first, then pick off his minions afterwards. Killing the minions first will only result in them respawning again with no drops, therefore wasting your time killing Graardor.
Graardor has a very high Defence level and can hit up to 605 lifepoints with melee. He also has a multi-target Ranged attack that can hit up to 355 lifepoints. As of an update, if your familiar attacks Graardor, he will start to attack you, which is highly dangerous for mages (unless using Ganodermic armour) and rangers alike. This can happen on BoB's, so healing familiars are advised if needed.
1 Kill Solo Strategy
A player is recommended to have at least 85 attack and strength, 75 defence, around 50 prayer and 70 magic and ranged to get at least 1 kill solo. A bull ant is needed or a familiar that can store more food. Using ultimate strength and incredible reflexes along with a super set.
Equipment: Chaotic longsword, Divine spirit shield, Steadfast boots, Torva platelegs, Ganodermic poncho, Amulet of fury, Torva full helm, Completionist cape, Berserker ring (i), Goliath gloves and a zamorak arrow.
Team Strategies
There are two main team strategies players may choose to use at General Graardor: The Tanking strategy or the Berserk strategy. Players new to God Wars Dungeon are advised to begin with the Tanking strategy, as the Berserk strategy is for much more advanced players.
Basic strategy
The player with the highest defence level will tank Graardor's attacks, while others will slowly kill him. One ranger might be useful to prevent attacks from Strongstack, as he will constantly move around attacking a player, and if done correctly, players attacking Graardor will negate any melee damage Strongstack can do. Once he dies, kill every minion as fast as you can (stab or slash attacks work well aganist them) before Graardor respawns. Steelwill will respawn south of Graardor. Strongstack will respawn north of Graardor, while Grimspike will respawn west of Graardor. The tank must place himself on the other side of the chamber (east where you can see Zamorak's Fortress) and attack him, making Graardor attack the tanker but not anyone else. If you have familiars, instruct them to attack the bodyguards, otherwise a mistake like this can possibly kill you. Repeat this until you need to bank. The bodyguards occasionaly drop food, so many players leave this behind for the tank to use. Players will also trade food if needed for players to extend their trips.
Berserk strategy
Experienced players often choose the Berserk strategy to quickly kill General Graardor and his minions. Berserk teams often consist of three maxed or near-maxed players. Generally, Graardor Berserkers have 99 in most, if not all, combat stats, and have at least 91 (with boost) Herblore for use of overloads and 95 prayer for turmoil curse.
Berserk teams usually stand in the middle of the room and use powerful special attacks in combination with overloads to quickly take Graardor and his minions down. If used correctly, he should die almost immediately after he respawns. Some players go after Steelwill when Graardor's health is very low so some damage can be done for the attackers to not take too much damage off of him. If this is done correctly, players can kill Graardor as many times as they want until they need to bank.
One common berserk setup:
Claws > Ags* - Dragons Claws are better than AGS for the simple reason of accuracy. AGS can hit 800+ at Bandos but due to the inaccuracy of the hits, claws are a better option.
CLS > CR** - The Chaotic Longsword is the preferred choice at bandos because of its massive slash bonus, paired with a dragon defender. The Chaotic Rapier's slash bonus is much smaller (78). Since General Graardor is weak to slash, the Longsword beats the Rapier. However the difference between the two shrinks as gear and stats improve, and for a maxed player there no real difference between the two, and it's mostly up to personal preference (slow, bigger hits or fast smaller hits).
Duo Strategy
As the price of all God Wars Dungeon items have dropped over recent time, the teams for the bosses (Armadyl, Bandos, Saradomin, Zamorak) have become quite smaller in order for the players to receive a better profit from the trip in general. Duo teams consist of two players killing the boss with one being the tank and the other being an attacker. Some duo teams swap tank positions in order to prolong the trip so that one person does not take an immense amount of damage from General Graardor. In the case in which one person is the designated tanker and the other is purely an attacker, it is recommended for the tank to bring the best possible defensive gear and the attacker to bring the best possible offensive gear. It is recommended to be at least level 130+, as most Graardor teams are level 135+, and being from level 100-120 will have an increased risk of being crashed by others. The gear required for a successful duo team is below; although, this can be modified and the player could still have a successful and long trip.
Tank Gear:
* If you are wearing Bandos Armour or higher, you may wish to use a Dragonfire or Spectral Spirit Shield over a Chaotic Kiteshield due to its negative Magic resistance.
Attacker Gear:
Inventory: Please Note that Saradomin Brews are one the best forms of healing so it is extremely recommend to bring them to prolong the trip. Tank: It is recommended that the tank brings both a BoB and a Unicorn Stallion for extra storage of Brews or Rocktails and the Unicorn for an option of healing other than food. It is of course, best to bring a Pak Yak/War Tortoise /Terrorbird along with a Unicorn Stallion /Fruit Bat for maximum length of the trip. Attacker: It is also recommended that Attackers bring brews also even though they wont receive nearly as much damage as the tanker. Attackers bring Brews in order for themselves to last longer and have an ample amount of healing supplies, but also to give to the tank in order to prolong the trip even more. It is recommended that the Attacker also brings a Pak Yak along with a Unicorn Stallion /Fruit Bat or just a Unicorn Stallion /Fruit Bat alone. IT IS NOT recommended for an attacker to bring any form of aggressive familiar unless you are willing to tank and increase your chances of dying. Note: It is only recommended to use Saradomin Brews if you have the option to use Overloads so that your stats have a constant increase and your stats do not get lowered.
Solo Strategies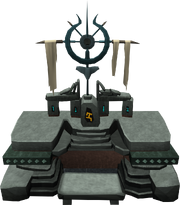 General Graardor can be soloed with Ranged or Melee at very high levels. Magic is not recommended, as Graardor has a high Magic defence. If a player wishes to be able to stay at Graardor for more than one kill, 95+ Defence, 90+ Magic, 67+ summoning, and 90+ Attack and Strength or Ranged (depending on the method) and of course at least 43 prayer is recommended. High magic levels are also needed for the player to successfully tank Steelwill's attacks.
Melee is the foremost recommended strategy, as Graardor is weak to slash. Players with a high Ranged level and diamond bolts (e) or dragon bolts (e) may choose to range instead.
Graardor often hits very high with his Melee attacks so the Protect from Melee prayer is a must. His second attack is a Ranged attack. When he uses this attack, he slams both fists on the ground and a shock-wave hits the player, inflicting up to 355 damage if the player is not using Protect from Ranged. Furthermore, this attack's emote may not always show - take necessary precautions if you notice the General suddenly "stops" attacking, as he most likely about to slam the ground with his second attack.
A beast of burden, such as a spirit terrorbird, war tortoise or pack yak, is a great help in solo tasks. The higher the level of the familiar, the better a player's chances of a longer stay are. If players do not bring a familiar of any kind, they should expect a short stay.
General Graardor should be attacked first. After he is dead, most players choose to deal with Sergeant Steelwill next, as his Magical attack will be dangerous for soloers wearing melee armour. Sergeant Grimspike comes next, to get his Ranged attacks out of the way. Lastly, Sergeant Strongstack, the meleer, should be killed. It is advised to keep Protect from Melee on as players finish up the sergeants, as Graardor might respawn faster than a player is able to kill Sergeant Strongstack.
* You can choose between a dragon defender or divine spirit shield, depending on whether you want faster kills/less chance of being crashed or less chance of death/longer trips (however divine is far too expensive for some players).
Common solo setup (Ranged):