General Graardor
Discuss

93
26,245pages on
this wiki
This article has a related strategy guide here.
This article has a related strategy guide here. (Hard Mode)
Normal mode Hard Mode The World Wakes The Mighty Fall
General Graardor
Release date
28 August 2007 (Update)
Members?
Yes
Combat level
624
XP per kill
4,430 (and 1,461.9 experience)
Always drops
Ourg bones
Examine text
A huge war chief.

Combat info
LP
Max hit
40,000
5,250 (melee), 1,500 (ranged)
Attack
Defence
Ranged
Magic
75
75
75
1
Immune to Poison?
Immune to Stun?
Yes
Yes
Attack Speed

Speed 4 (Interval: 3.6 seconds)

Aggressive?
Poisonous?
Yes
No
Attack styles
Weakness
Melee
Ranged

Nothing

[view]
General Graardor
Release date
30 April 2013 (Update)
Members?
Yes
Combat level
624
XP per kill
16,350 (and 5,395.5 experience)
Always drops
Ourg bones
Examine text
A huge war chief.

Combat info
LP
Max hit
91,150
3,000 (melee), 960+ (ranged)
Attack
Defence
Ranged
Magic
Unknown
Unknown
Unknown
1
Immune to Poison?
Immune to Stun?
Yes
Yes
Attack Speed

Speed 4 (Interval: 3.6 seconds)

Aggressive?
Poisonous?
Yes
No
Attack styles
Weakness
Melee
Ranged

Nothing

[view]
General Graardor
Release date
4 March 2013 (Update)
Members?
Yes
Combat level
210
XP per kill
0 (and 0 experience)
Always drops
Nothing
Examine text
A huge war chief.

Combat info
LP
Max hit
45,000
840
Attack
Defence
Ranged
Magic
60
60
60
1
Immune to Poison?
Immune to Stun?
Yes
Yes
Attack Speed

Speed 4 (Interval: 3.6 seconds)

Aggressive?
Poisonous?
Yes
No
Attack style
Weakness
Melee

Nothing

[view]
General Graardor
Release date
2 June 2014 (Update)
Members?
Yes
Combat level
210
XP per kill
Always drops
Nothing
Examine text
A huge war chief.

Combat info
LP
Max hit
100,000
3,000+
Attack
Defence
Ranged
Magic
85
72
1
1
Immune to Poison?
Immune to Stun?
Yes
Yes
Attack Speed

Speed 4 (Interval: 3.6 seconds)

Aggressive?
Poisonous?
Yes
No
Attack style
Weakness
Melee

Nothing

[view]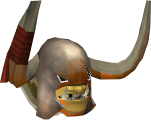 General Graardor is the leader of the army of Bandos within the God Wars Dungeon. He is one of the last known surviving members of the ourg race, a species of powerful ogre-like creatures who served Bandos' armies, and which almost completely died out over the course of numerous wars.
General Graardor can be fought inside Bandos' Stronghold in the God Wars Dungeon. He has no weakness and moderately high defence, and cannot be stunned or poisoned. He attacks with a powerful arm thrust that can frequently hit over 1500 damage. He also has a Ranged attack that is capable of hitting all players in the room for up to 500+ damage. Additionally, he has three minions: Sergeant Strongstack, who uses melee; Sergeant Steelwill, who uses Magic; and Sergeant Grimspike, who uses Ranged. Since the update on the 28th of January increasing Graador's maximum hit by 800-900 and the ease of K'ril Tsutaroth, he became the second most popular God Wars boss, with the prior having full worlds and several people attempting to take said worlds every hour. He is the only monster in the game to drop the Bandos hilt, used to construct the popular Bandos godsword. Because he is the second most popular God Wars Dungeon boss, the supply of Bandos hilts is the second highest of all godsword hilts. As a result of the moderate availability and the low effectiveness, the Bandos godsword has the lowest price of all godswords. However, he also drops the highly coveted parts of the Bandos armour set, making competition fairly intense.
Graardor's melee attack can deal large amounts of damage, up to 2200+. In addition, he may perform a ranged attack by punching the ground with his right fist creating a shock wave that hits everyone in the room. Contrary to popular belief, his range attack is not
Magical ranged
.
Also of note, General Graardor has very high range defence. It is not advised to use this combat style when fighting him, as even those using Ascension Crossbows will struggle to hit him.
To reach General Graardor, players must enter the Bandos encampment of the God Wars Dungeon to the north-west, requiring 70 Strength. To enter his lair, the player needs to have killed 40 Bandos followers. Many players choose to kill goblins and Spiritual rangers to achieve the killcount, as they are the weakest followers of Bandos.
Early history
Edit
Details regarding General Graardor's history are sparse. The ourg race, inclusive of Graardor, arrived at Gielinor from Yu'biusk in the early Third Age along with ogres, goblins, and orks. However, it is likely that Graardor was born some time during the God Wars.
Graardor, during the late Third Age, was one of Bandos' most favoured soldiers. Like many ourgs, such as
Yokrad
and
Blorgak
, his talents earned him many leadership positions in Bandos's army. His strategic military tactics, as well as his simple physical strength, made him an ideal leader. Graardor's physical strength was such that he eventually learned to fight both with weaponry and with his bare hands.
Guthixian campaign
Edit
Most of Graardor's accomplishments during the God Wars have been long-forgotten. As seen in the FunOrb strategy game Armies of Gielinor , Graardor is known to have actively participated in the Bandosians' efforts to repel Guthixian forces in what is now the Wilderness, in what would have been the late Third Age. Given the game's approach to Canon, certain elements of Graardor's role in the game may not be canonical.
Graardor appears in both the "God Wars" and "End of An Age" levels, and in both features as a prominent enemy of the player, who commands Bandos's forces. During the "God Wars" level, which is set in the northwest Wilderness, Graardor commands the Bandosian army in what gradually becomes an all-out five-way battle between the forces of Bandos, Saradomin, Armadyl, Zamorak, and Guthix . Other key Third Age leaders such as Pazuzu, Wingman Skree, and Brother Constantius were amongst those whom Graardor faced.
Graardor also makes an appearance in the game's final level, "End of An Age." The level represents one of the God Wars' final battles, during which many forces clashed with the Guthixian army. Graardor, Commander Zilyana, Dag'eth, and other Third Age leaders are amongst those present. Although Guthix is ultimately victorious during the battle, Graardor and a number of other leaders evidently managed to escape, and later re-emerged.
The godsword
Edit
Graardor's last task in Bandos's forces came in the late Third Age, when a hasty alliance between Bandos, Saradomin, and Armadyl fought against Zamorak in what is now called the God Wars Dungeon of Troll Country. The battle was evidently fought in an effort to claim the godsword, an extremely powerful weapon crafted by the Icyene, which has the fabled power to kill a god.
Although initially the battle was fought only between Zamorak and the Alliance, distrust between the Gods' armies quickly led to the conflict erupting into four-way chaos. Graardor, content with this, oversaw the construction of a rudimentary base of operations in an offshoot of the cave. This fortress, now known as "Bandos' Stronghold," served to house both Graardor and troops rotating out of combat in the main chamber. Graardor himself was placed under the protection of Goblin Sergeants Strongstack, Steelwill, and Grimspike.
During the course of the fighting, a spell cast by an unknown army backfired upon the entire cavern, freezing the entire cave perfectly in place. Graardor was amongst those left imprisoned. Very shortly after this occurred, the god Guthix established the Edicts of Guthix, preventing the direct involvement of any deity in Gielinor. The departure of the world's Gods and the subsequent end of the God Wars meant that the cavern was forgotten, and Graardor would remain frozen in time with its warring armies for more than 2,000 years to come.
In the recent Fifth Age, investigations by both the dwarven explorer Nestor Peregrine and the Asgarnian Temple Knights nearly resulted in the cave's (and Graardor's) rediscovery. In 169, tectonic movement in the neighboring Wilderness caused large portions of the cave to defrost, eventually leading to the release of most of the cavern's population. Unaware that the God Wars have ended, Graardor and the rest of the battle's leaders have resumed the battle for the godsword once again, seemingly unaware that centuries have passed since the end of the wars.
The World Wakes
Edit
| | | |
| --- | --- | --- |
| " | Puny balance god stop wars returning. Bandos - almighty war god - desire battle, so Graardor create it. | " |
When the archaeologist Orlando Smith discovered the last resting place of Guthix in 169 of the Fifth Age, Graardor was the leader of the Bandosians trying to infiltrate the temple in their Attempt to assassinate Guthix. Graardor, not very intelligent, was the last general from the God Wars Dungeon to arrive. Trying to reach the central chamber, each of the gods' factions attacked one store room wing (while Zilyana and her army stormed in after the others were defeated). Graardor eventually managed to brutally make his way into one of the store rooms, only to be met by Thaerisk Cemphier, Chaeldar and a powerful adventurer. Determined to slay Guthix, bring Bandos back to Gielinor, and fight in another God Wars, Graardor charged the trio with his minions. After a tough battle, he was defeated and, forced to flee, exited the room speedily.
Missing, Presumed Death
Edit

General Graardor's voice during Missing, Presumed Death.
(
link
)
Graardor accompanied Bandos to Sliske's "Grand Ascendancy". After the Dragonkin Strisath is released by Sliske, he and the other god followers leave the Empyrean Citadel.
The Mighty Fall
Edit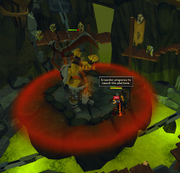 After learning of Bandos's death, Graardor and with several other Bandosian followers launched an attack on Zanik and the Dorgeshuun, claiming them as responsible for the death of Bandos. However, the Bandosians are delayed by arguments over who is the leader and they agree to decide it with the traditional Kyzaj Tournament, which Graardor has won many times in the past. In the tournament, Graardor easily defeats his first two opponents Hobnob and Bork, but is ultimately defeated in the final round by the World Guardian. He outright kills Hobnob and tries to kill Bork, but is stopped by Zarador, as arbiter, who chose to spare Bork as he did not wish to see the orks wiped out, aware that it would one day happen to the ourgs. If the player spares Zanik, he refuses to serve as Zanik's lieutenant. If the player kills Zanik, he will tell the player that he is happy with their choice and makes an excuse saying that he had a bad day. Regardless of the player's choice, Graardor goes back to the Temple of Lost Ancients to claim the Godsword.
Abilities
Edit
Hard Mode/The World Wakes
Edit
When fought in hard mode and during The World Wakes, General Graardor has a selection of attacks and abilities at his disposal, which he will use periodically. They are as follows.
Running under Graardor will result in the player getting dealt with 250 damage and be bound for three ticks.
Graardor Smash
General Graardor will yell "Graardor smash!", smashing his fist into the ground and causing rocks to fall from the ceiling. Shadows will appear in the area they are about to fall, and they can be avoided by running away. Players will be dealt with 600-1000 damage per rock, and being hit by multiple rocks is extremely dangerous.
Graardor Protect
When General Graardor crouches in a defensive stance and says "Graardor protect!", half of the damage dealt will be sent back to the player, similar to Deflect Curses. It's easy to counter it by not attacking him.
Graardor Mad
When General Graardor yells "Graardor mad!", he will stop moving and rapidly punch the area in front of him for massive damage. This can be avoided by running behind him and continuing to attack him from there.
The Mighty Fall
Edit
When fought during The Mighty Fall, Graardor wields a Kyzaj which he uses to attack the player. He has three special attacks in this fight. He will also deal heavy damage to players who stand underneath him for too long.
Kyzaj swing
Graardor holds his Kyzaj to his side momentarily before performing a horizontal swing. This deals 40% of the player's maximum hitpoints in damage if it hits. This can be avoided by moving away from where he aims.
Shockwave
Graardor strikes the arena and creates a shockwave which deals unavoidable damage. This attack deals less damage to the player if they are further away from the middle of the arena.
Arena strike
Graardor slams his Kyzaj onto the arena and breaks part of it off, making it smaller. This deals heavy damage to a player stood on the part of the arena that gets destroyed. He will perform this attack 4 times during the fight - when he's at 80, 60, 40 and 20% of his full health.

Death to our enemies!
(
link
)
When in battle, General Graardor may
utter
the following quotes, all of which are voiced as of
10 January
2011
:
"Death to our enemies!".
"Brargh!".
"Break their bones!".
"For the glory of Bandos!.
"Split their skulls!".
"We feast on the bones of our enemies tonight!".
"CHAAARGE!".
"Crush them underfoot!".
"All glory to Bandos!".
"GRAAAAAAAAAAAR!".
"FOR THE GLORY OF THE BIG HIGH WAR GOD!"
100% Drop
Edit
Represents 90% confidence range, based on a sample of 4,964 kills.
1 charm is dropped at a time.

|   | Item | Quantity | Rarity | GE Market Price |
| --- | --- | --- | --- | --- |
| | Rune platebody | 1 | | 38,306 |
| | Bandos chestplate | 1 | [1] | 4,381,492 |
| | Bandos tassets | 1 | [2] | 3,092,571 |
| | Bandos boots | 1 | [3] | 1,172,731 |
| | Bandos gloves | 1 | | 1,195,359 |
| | Bandos warshield | 1 | | 30,555 |
| | Bandos helmet | 1 | | 1,191,511 |
| | Warpriest of Bandos helm | 1 | [4] | Not sold |
| | Warpriest of Bandos cuirass | 1 | [4] | Not sold |
| | Warpriest of Bandos greaves | 1 | [4] | Not sold |
| | Warpriest of Bandos gauntlets | 1 | [4] | Not sold |
| | Warpriest of Bandos boots | 1 | [4] | Not sold |
| | Warpriest of Bandos cape | 1 | [4] | Not sold |
Runes, gems and ores
Edit
|   | Item | Quantity | Rarity | GE Market Price |
| --- | --- | --- | --- | --- |
| | Runite ore | 2 (noted) | | 22,452 |
| | Adamantite ore | 15–20 (noted) | | 35,025–46,700 |
| | Coal | 115–120 (noted) | | 29,325–30,600 |
|   | Item | Quantity | Rarity | GE Market Price |
| --- | --- | --- | --- | --- |
| | Coins | 19,902–21,000 | | Not sold |
| | Snapdragon seed | 1 | | 1,617 |
| | Femur bone | 1 | [1] | Not sold |
| | Magic logs | 15–20 (noted) | | 16,455–21,940 |
| | Super restore (4) | 3 | | 12,483 |
| | Grimy snapdragon | 3 (noted) | | 14,181 |
| | Long bone | 1 | | Not sold |
| | Curved bone | 1 | | Not sold |
| | Godsword shard 1 | 1 | [2] | 149,437 |
| | Godsword shard 2 | 1 | [3] | 148,913 |
| | Godsword shard 3 | 1 | [4] | 149,222 |
| | Bandos hilt | 1 | [5] | 363,574 |
| | Clue scroll (hard) | 1 | | Not sold |
| | Spirit sapphire | 1 | | Not sold |
| | Spirit emerald | 1 | | Not sold |
| | Spirit ruby | 1 | | Not sold |
| | Starved ancient effigy | 1 | | Not sold |
| | The glory of general graardor | 1 | [6] | Not sold |
| | Clue scroll (elite) | 1 | | Not sold |
| | Sacrifice | 1 | [7] | Not sold |
| | Devotion | 1 | [7] | Not sold |
| | Transfigure | 1 | [7] | Not sold |
Hard mode drops
Edit
Rare drop table drops
Edit
This monster has access to the rare drop table.
The ring of wealth is not required to access the table.
Show/hide rare drop table
Item
Quantity
Rarity
GE Market Price
Coins
250 – 450; 3,000;
9,000; 10,000; 12,000
Common
Not sold
Uncut sapphire
1
Common
1,630
Uncut emerald
1
Common
2,850
Uncut ruby
1
Common
4,277
Uncut diamond
1
Uncommon
6,385
Loop half of a key
1
Uncommon
18,922
Tooth half of a key
1
Uncommon
41,268
Uncut dragonstone
1
Rare
15,408
Dragonstone
1
Rare
10,629
Dragon dagger
1
Uncommon
16,624
Rune battleaxe
1
Rare
24,226
Rune javelin
5
Rare
870
Adamant javelin
20
Very rare
1,220
Rune 2h sword
1
Very rare
37,495
Rune spear
1
Very rare
11,537
Dragon spear
1
Very rare
36,913
Dragon dagger
50 (noted)
Very rare
831,200
Rune sq shield
1
Very rare
22,333
Rune kiteshield
1
Very rare
31,933
Shield left half
1
Very rare
64,320
Dragon helm
1
Very rare
59,209
Adamant bolts
200
Uncommon
14,400
Onyx bolts
150
Rare
1,266,300
Rune arrow
150–200, 500
Rare
22,800–76,000
Battlestaff
200 (noted)
Rare
1,599,200
Vecna skull
1
Very rare
105,870
Water talisman
1
Uncommon
14,606
Earth talisman
25–35 (noted)
Uncommon
80,225–112,315
Fire talisman
25–35 (noted)
Uncommon
80,425–112,595
Chaos talisman
1
Uncommon
972
Nature talisman
1
Uncommon
373
Pure essence
500–15,000 (noted)
Uncommon
10,500–315,000
Nature rune
20–80
Rare
5,920–23,680
Soul rune
20
Rare
4,960
Law rune
45
Rare
16,830
Death rune
50, 121
Rare
10,050–24,321
Blood rune
50
Rare
15,650
Raw swordfish
125–250, 1,000 (noted)
Uncommon
52,000–416,000
Raw shark
250–500 (noted)
Uncommon
456,500–913,000
Big bones
150–500 (noted)
Uncommon
106,800–356,000
Coal
150–7,500 (noted)
Uncommon
38,250–1,912,500
Adamantite ore
150–800 (noted)
Uncommon
350,250–1,868,000
Silver ore
100 (noted)
Rare
9,500
Runite ore
100 (noted)
Rare
1,122,600
Adamant bar
1,000–7,000 (noted)
Rare
3,625,000–25,375,000
Rune bar
1, 50 (noted)
Rare
14,305–715,250
Clean toadflax
25–250 (noted)
Uncommon
126,650–1,266,500
Clean snapdragon
30–120 (noted)
Uncommon
151,680–606,720
Clean torstol
10–100 (noted)
Uncommon
101,620–1,016,200
Watermelon seed
3
Uncommon
7,980
Yew seed
1–50
Rare
70,730–3,536,500
Magic seed
1–7
Rare
133,805–936,635
Palm tree seed
10
Rare
1,329,300
Snapdragon seed
1
Rare
1,617
Yew logs
50–20,000 (noted)
Rare
20,950–8,380,000
Crystal triskelion fragment 1
1
Very rare
Not sold
Crystal triskelion fragment 2
1
Very rare
Not sold
Crystal triskelion fragment 3
1
Very rare
Not sold
Brawling gloves (Melee)
1
Very rare
Not sold
Brawling gloves (Magic)
1
Very rare
Not sold
Brawling gloves (Ranged)
1
Very rare
Not sold
Brawling gloves (Agility)
1
Very rare
Not sold
Brawling gloves (Cooking)
1
Very rare
Not sold
Brawling gloves (FM)
1
Very rare
Not sold
Brawling gloves (Fishing)
1
Very rare
Not sold
Brawling gloves (Hunter)
1
Very rare
Not sold
Brawling gloves (Mining)
1
Very rare
Not sold
Brawling gloves (Prayer)
1
Very rare
Not sold
Brawling gloves (Smithing)
1
Very rare
Not sold
Brawling gloves (Thieving)
1
Very rare
Not sold
Brawling gloves (WC)
1
Very rare
Not sold
Universal drops
Edit
Universal drops are dropped by nearly every monster outside of Daemonheim.
These drops are dropped alongside main drops.
|   | Item | Quantity | Rarity | GE Market Price |
| --- | --- | --- | --- | --- |
| | Key token | 1 | | Not sold |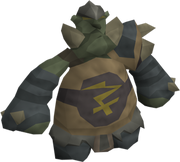 When you kill General Graardor, your Adventurer's log will say "I killed General Graardor, a huge warchief."

Killing more than one will result in "I killed # General Graardors, all huge warchiefs."

A puzzle box featuring Graardor can be obtained on Elite Treasure Trails.
Prior to the release of The Chosen Commander on 17 March 2009, General Graardor referred to Bandos as the "Big High War God" in his battle cries.
Prior to an updateBig bones rather than the ourg bones he drops as of now.
, Graardor's 100% drop were
An update changed Graardor's maximum hit due to complaints on how easy he was due to the Evolution of Combat.
During The World Wakes or doing Graardor in hard mode, when Graardor uses his special attack, he shouts "Graardor Smash!". This is a reference to the Incredible Hulk's "Hulk Smash!".
It is shown that Graardor has excessive pride, as he seems to make an excuse to cover his defeats up. In Missing, Presumed Death, if the player asks about defeating him in Cres' chamber, he will say that he "wasn't there" when Guthix died. In The Mighty Fall, he'll state that he had a "bad day".
Graardor is the only general in the God Wars Dungeon that doesn't have wings.
Graardor is known to be angered by the word "peacefully" and its variants, threatening to "smash" the player for saying it during The Mighty Fall.