Ganodermic runt
Discuss

2
22,529pages
on this wiki
Ganodermic runts are Slayer monsters located in the Polypore Dungeon, released on 28 November 2011. They require 95 Slayer to damage and can be found at the third and bottom floors of Polypore Dungeon.
The runt attacks only with magic, so using Protect from Magic or Deflect Magic blocks its attacks. However, if players are next to a runt, the runt can infest the player, dealing fast hits of 11 to 21 lifepoints. Infestation stops if the player moves away from the runt or kills it. Infestation can be temporarily prevented by sprinkling neem oil on the runt.
Due to their small size, they are usually a nuisance to deal with when safespotting in the multi-combat floors. It would be best to kill them if you are mass killing ganodermic beasts.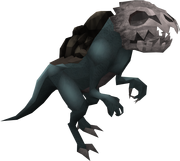 Ganodermic runts have very similar drops to grifolaroos.
Ganodermic runts give the same slayer experience as the ganodermic beast; 692.
100% drop
Edit
Equipment
Edit
Two seeds are dropped at a time.
Other drops
Edit
They are the second monster to have a combat level between 100-200 that require at least 95+ Slayer to kill.
Despite being much more smaller then a Ganodermic beast, they are just as durable as them, and have the same stats in terms of lifepoints. It is unknown whether or not this is intentional, as before the Evolution of Combat they had half the lifepoints and combat level of a Ganodermic beast.
Slayer Tower

Crawling Hand • Banshee • Infernal Mage • Bloodveld • Aberrant spectre • Gargoyle • Nechryael • Abyssal demon

Fremennik Slayer Dungeon

Cave crawler • Rockslug • Cockatrice • Pyrefiend • Basilisk • Jelly • Turoth • Kurask • Aquanite

Lumbridge Swamp Caves
Poison Waste Slayer Dungeon
Pollnivneach Slayer Dungeon

Banshee (Mighty) • Cave crawler (Monstrous) • Basilisk (boss) • Turoth (Mightiest and Swarming turoth) • Kurask (overlord) • Aberrant spectre

Meiyerditch Dungeon
God Wars Dungeon

Pyrefiend • Bloodveld • Spiritual ranger • Spiritual warrior • Spiritual mage

Jadinko Lair

Mutated jadinko baby • Mutated jadinko guard • Mutated jadinko male

Polypore Dungeon

Grifolaroo • Grifolapine • Ganodermic runt • Ganodermic beast

Daemonheim

Crawling hand • Cave crawler • Cave slime • Pyrefiend • Night spider • Jelly • Spiritual guardian • Seeker • Nechryael • Edimmu • Soulgazer

Others

Gelatinous Abomination • Desert Lizard • Mogre • Harpie Bug Swarm • Killerwatt • Molanisk • Terror dog • Brine rat • Fever spider • Mutated zygomite • Cave horror • 'Rum'-pumped crab • Dust devil • Skeletal Wyvern • Jungle strykewyrm • Desert strykewyrm • Dark beast • Ice strykewyrm

Specials

Bork • Skeletal horror • Phoenix • Jade vine(wild)

Slayer pets

| | |
| --- | --- |
| Soul Wars | Creeping hand • Minitrice • Baby basilisk • Baby kurask • Abyssal minion • TzRek-Jad |
| Social Slayer | |
| Other | Cresbot |
Monsters

Fungal rodent • Infested axe • Fungal mage • Grifolaroo • Grifolapine • Ganodermic runt • Ganodermic beast

NPCs