Ganodermic beast
Discuss

58
22,530pages
on this wiki
Ganodermic beast
Release date
28 November 2011 (Update)
Members?
Yes
Combat level
280
XP per kill
Unknown edit
Slayer level
95
Slayer XP
263
Assigned by
Duradel or Lapalok, Kuradal
Always drops
Big bones
Examine text
A hideous creature covered in ganodermic fungus. / This ganodermic beast has been weakened slightly. (When affected by neem oil)

Combat stats
LP
Max hit
2500
264
Attack
Defence
Ranged
Magic
Unknown
Unknown
Unknown
Unknown
Other
Immune to Poison?
Immune to Stun?
Yes
Unknown edit
Attack Speed

Speed 4 (Interval: 3.6 seconds)

Aggressive?
Poisonous?
No
No
Attack style
Weakness
Magic

Magic

[view template]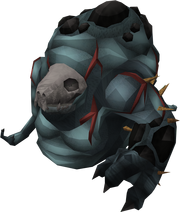 Ganodermic beasts
are monsters requiring a
Slayer
level of 95 to kill. They are found at the bottom of the
Polypore Dungeon
, or second to bottom floor if the player has 73 Agility. Players cannot receive this as a slayer task if their
magic
level is below 60.
They are very good droppers of seeds, the only droppers of the Polypore stick, and along with the Ganodermic runts, able to drop Ganodermic flakes.
Strategy
Due to the fungus that covers it, using Melee or Ranged is very ineffective (except the Dwarf Multicannon).
Ganodermic beasts have a large amount of health for their level. This is countered by the fact that they are very weak to magic (moreso than Mithril dragons). Due to their large size, players will find they are very easy to kill. On each cavern they reside in, players can find numerous obstacles to block the beasts' way, and potentially safespots against them. Can use the beasts to block other beasts, trapping them as conventional safespot, a blockade. *Neem oil can help trapping if theres an opening on one side.*
If they are within melee range of the player, they will use their fungal attack, which hits the highest out of all monsters in Polypore Dungeon (15-28 damage per tick for three attacks).
Many players prefer not to sprinkle Neem oil on them because nothing special will happen. Ganodermic beasts only use magic attacks, unlike the other two slayer monsters before it, the Grifolapine and Grifolaroo that use Ranged attacks along with Magic attacks. This is also similar to Fungal mages. They commonly hit around 51-159, so prayers should always be used.
Many players prefer to use high-levelled spells aganist Ganodermic beasts. The Storm of Armadyl spell can quickly kill them, but is more expensive than using a Polypore staff. A Polypore staff is cost-effective, but it will take longer then most spells to kill. Fire Surge can be another way, but this requires 95+ Magic, is expensive and doesn't deal as much damage per attack compared to a Polypore staff.
They are weak to cannon attacks, making the Dwarf Multicannon a valuable asset in the multi-combat areas.
It is recommended to bring an enhanced excalibur to heal from the occasions on which the lure fails, a jug of neem oil and a pestle and mortar . With a pack yak familiar, several overloads, extreme magic potions, a vecna skull or magic potions and 20 or more prayer potions, it is possible to stay in the dungeon for hours without needing to bank. You will also need runes for whatever spell you are casting, especially Fire or Armadyl runes.
Alternatively if you choose to take Akrisae's full set including the mace, it is possible to heal a net gain of 10% of your Prayer points in one kill, meaning using this method one would only have to leave when the pack is full. Even if you choose not to use the mace to heal Prayer Points, the low Magic defence of these monsters means Akrisae's hits often and its massive Prayer bonus will increase your trip dramatically.
Recommended Equipment (main chamber)
Inventory (95+ Slayer)
12+ Prayer potions
Best BoB + scrolls (Pack Yak)
Overloads/Extreme Magic/Magic potions/flasks
Inventory (90-94 Slayer)
6-8 Prayer potions
12+ Wild pies
Best BoB pouch and scrolls (Pack Yak only)

BoB should contain at least 20+ Wild pies and 5 Prayer potions (cut size if using lower BoB)
Recommended Equipment (multi-combat areas)
You must have at least 82 Dungeoneering or 73 Agility.
Cannoning the Ganodermic beasts is a fast and efficient way to kill them. Even players with 90 Slayer will find that cannoning improves profits up to 4x more. Players of 90+ Slayer should be careful of the Ganodermic runts though as they can bypass the beasts and cause fungal damage onto you.
When cannoning, you should always go look for a decent spot with only one or two entrances. This prevents an overflow of runts or beasts from infesting heavy damage onto you while you are fighting them. If you pick a good spot but there are too little ganodermic beasts around, go around and attack some, and lure them to your cannon. This is helpful and improves profit.
Helm: Virtus mask > Akrisae's hood > Ahrim's hood > Ganodermic visor
Cape: Completionist cape > God cape > Argdoune Cloak > Soul Wars cape > God cloaks
Necklace: Arcane stream necklace > Arcane blast necklace > Amulet of fury > Amulet of glory
Top: Virtus robe top > Akriase's robe top/Dagon'hai robe top > Ahrim's robe top > Ganodermic poncho
Bottom: Virtus robe legs > Akriase's robe skirt/Dagon'hai robe bottom > Ahrim's robe skirt > Ganodermic leggings
Weapon: Armadyl battlestaff > Polypore staff > Chaotic staff > Staff of light > Any other elemental staff
Shield: Arcane spirit shield/Sacred clay shield (magic) > Farseer kiteshield > Mage's book > Celestial surgebox > God books
Boots: Ragefire boots > Infinity boots > Wizard boots > Mystic boots
Gloves: Spellcaster gloves > Culinaromancer's gloves 10 > Infinity gloves > Mystic gloves
Ring: Ring of wealth > Ring of life
Inventory (cannon)
Neem oil
Emergency teleport
10000-25000 Cannonballs
15 Prayer potions
5 pieces of high level food
Best BoB familiar avaliable

Winter storage scrolls (Pak Yak only)
Inventory (90-94 Slayer)
Neem oil
Emergency teleport
10000-25000 Cannonballs
8 Prayer potions
12 Wild pies
Best BoB familiar avaliable

Terrorbird: 12 Wild pies
Bull ant: 9 Wild pies
War tortoise: 16 Wild pies, 2 Prayer potions
Pak Yak: 26 Wild pies, 4 Prayer potions
Drops
100% drops
Charms
Weapons
Runes
Armour
Seeds
Herbs
Other
Rare drop table drops
This monster drops items from the rare drop table.
The ring of wealth improves the chances if equipped but is not required to access the table.
Show/hide rare drop table

Item
Quantity
Rarity
GE Market Price
Coins
250; 381; 450; 3,000; 9,000; 12,000
Common
Not sold
Uncut sapphire
1
Common
1,143
Uncut emerald
1
Common
1,783
Uncut ruby
1
Common
3,576
Loop half of a key
1
Uncommon
8,548
Tooth half of a key
1
Uncommon
12,668
Uncut diamond
1
Uncommon
7,160
Uncut dragonstone
1
Rare
14,935
Dragonstone
1
Rare
9,966
Dragon dagger
1
Uncommon
17,221
Rune battleaxe
1
Rare
24,627
Rune javelin
5
Rare
1,270
Adamant javelin
20
Very rare
920
Rune spear
1
Very rare
12,048
Dragon spear
1
Very rare
36,856
Dragon dagger
50 (noted)
Very rare
861,050
Rune kiteshield
1
Very rare
32,145
Shield left half
1
Very rare
65,188
Dragon helm
1
Very rare
59,636
Adamant bolts
200
Uncommon
17,400
Rune arrow
150–200; 500
Rare
29,850–199
Onyx bolts
150
Rare
1,303,050
Battlestaff
200 (noted)
Rare
1,665,400
Air orb
1,000 (noted)
Rare
1,418,000
Fire orb
1,000 (noted)
Rare
1,612,000
Vecna skull
1
Very rare
133,474
Water talisman
1
Uncommon
4,721
Earth talisman
25–35 (noted)
Uncommon
19,825–27,755
Fire talisman
25–35 (noted)
Uncommon
50,450–70,630
Chaos talisman
1
Uncommon
227
Nature talisman
1
Uncommon
270
Pure essence
500–15,000 (noted)
Uncommon
42,500–1,275,000
Nature rune
47–77
Rare
5,217–8,547
Soul rune
20
Rare
2,420
Death rune
50; 121
Rare
93
Blood rune
50
Rare
8,150
Raw swordfish
125 – 250; 1,000 (noted)
Uncommon
37,250–298
Raw shark
250–500 (noted)
Uncommon
246,500–493,000
Big bones
150 – 500 (noted)
Uncommon
67,350–224,500
Coal
150–7,500 (noted)
Uncommon
41,700–2,085,000
Adamantite ore
150–800 (noted)
Uncommon
227,700–1,214,400
Silver ore
100 (noted)
Rare
10,500
Adamant bar
1,000–7,000 (noted)
Rare
3,168,000–22,176,000
Runite ore
100 (noted)
Rare
1,041,900
Rune bar
1,50,150 (noted)
Rare
13,002–1,950,300
Clean ranarr
33 (noted)
Uncommon
74,448
Clean toadflax
25–250 (noted)
Uncommon
95,050–950,500
Clean snapdragon
30–120 (noted)
Uncommon
106,530–426,120
Clean torstol
10–100 (noted)
Uncommon
118,420–1,184,200
Saradomin brew (4)
250 (noted)
Very rare
172,000
Watermelon seed
3
Uncommon
6,030
Yew seed
1–50
Rare
71,385–3,569,250
Magic seed
1–6
Rare
160,602–963,612
Palm tree seed
10
Rare
1,064,590
Snapdragon seed
1
Rare
2,196
Torstol seed
1–31
Rare
78,509–2,433,779
Fellstalk seed
2
Rare
932
Yew logs
100–20,000 (noted)
Rare
56,100–11,220,000
Trivia
This monster has the highest Slayer requirement outside of Dungeoneering, breaking the previous record holder, ice strykewyrms.
When the Ganodermic beasts were released in November 2011, you could easily make over 15 million coins per hour killing them. After some severe price drops you can still make 2-3M per hour.

They are still good for money-making due to flake and seed drops.

When they attack, the largest four orange circles on its back disappear. Their attack also seems to go in an arc, similar to most of the monsters in Polypore Dungeon.
Sometimes when cannoning Ganodermic beasts, they will attempt to get close to the player. However, there are cases when they may be unable to move from a invisible boundary, despite having a long wander/agression range. This might be a glitch. Happens while in the single area of Ganodermic beasts aswell.
If a Ganodermic beast is attacked, but the player is not within the minimap range of the beast, they will do nothing, even if they are attacked again. The same also appears to happen with the Ganodermic runts and may be a glitch.
Slayer Tower

Crawling Hand • Banshee • Infernal Mage • Bloodveld • Aberrant spectre • Gargoyle • Nechryael • Abyssal demon

Fremennik Slayer Dungeon

Cave crawler • Rockslug • Cockatrice • Pyrefiend • Basilisk • Jelly • Turoth • Kurask • Aquanite

Lumbridge Swamp Caves
Poison Waste Slayer Dungeon
Pollnivneach Slayer Dungeon

Banshee (Mighty) • Cave crawler (Monstrous) • Basilisk (boss) • Turoth (Mightiest and Swarming turoth) • Kurask (overlord) • Aberrant spectre

Meiyerditch Dungeon
God Wars Dungeon

Pyrefiend • Bloodveld • Spiritual ranger • Spiritual warrior • Spiritual mage

Jadinko Lair

Mutated jadinko baby • Mutated jadinko guard • Mutated jadinko male

Polypore Dungeon

Grifolaroo • Grifolapine • Ganodermic runt • Ganodermic beast

Daemonheim

Crawling hand • Cave crawler • Cave slime • Pyrefiend • Night spider • Jelly • Spiritual guardian • Seeker • Nechryael • Edimmu • Soulgazer

Others

Gelatinous Abomination • Desert Lizard • Mogre • Harpie Bug Swarm • Killerwatt • Molanisk • Terror dog • Brine rat • Fever spider • Mutated zygomite • Cave horror • 'Rum'-pumped crab • Dust devil • Skeletal Wyvern • Jungle strykewyrm • Desert strykewyrm • Dark beast • Ice strykewyrm

Specials

Bork • Skeletal horror • Phoenix • Jade vine(wild)

Slayer pets

| | |
| --- | --- |
| Soul Wars | Creeping hand • Minitrice • Baby basilisk • Baby kurask • Abyssal minion • TzRek-Jad |
| Social Slayer | |
| Other | Cresbot |
Monsters

Fungal rodent • Infested axe • Fungal mage • Grifolaroo • Grifolapine • Ganodermic runt • Ganodermic beast

NPCs