Ganodermic beast/Strategies
Discuss

0
22,498pages
on this wiki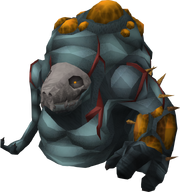 Ganodermic beast, found at the bottom of the Polypore Dungeon, are commonly killed for their valuable drops and for Magic experience. This article summarizes tips and important information that players should know when killing them.
Requirements
Edit
The following are required to kill ganodermic beasts.
95 . Boosts such as wild pies can be used to boost Slayer to 95; however, relying on boosting items will result in shorter trips and possibly longer kills.
A jug of neem oil or an effective safe spot, for dealing with their fungal attacks.
Magic equipment, optimally fire spells. Ganodermic beasts have very strong damage reduction versus melee and Ranged attacks, so it is only recommended to use Magic on them.
Recommendations
Edit
Skill levels
Edit
The following skill levels are recommended for killing ganodermic beasts. While they are not necessary, they will unlock valuable, helpful perks.
Equipment
Edit
Generally, higher-tier Magic equipment is best against ganodermic beasts. However, expensive, top-tier armour such as sea singer's robes and Virtus armour may not be cost-effective at ganodermic beasts due to their high repair costs. While they are listed on the above table, take note that the best possible armor may not be needed, and it may be possible to settle for less expensive armour, particularly if using the unlimited lifepoints/prayer method described below.
Recommended Equipment for Mages
Ganodermic beasts attack with a long-ranged Magic attack that can hit up to 332 damage. Like other creatures in the Polypore Dungeon, they will attempt to close to melee distance and use a fungal attack that hits once per game tick (0.6 seconds) for about 100-200 damage. This attack can quickly kill players, so it is crucial to deal with it, whether by a spray of neem oil or by hiding in a safe spot. Many such safe spots are present in the bottom floor of the dungeon; one popular spot is near the Ramokee Skinweaver to the south-east. Safe spotting is recommended over use of neem oil, as it requires less work and attention.
Defensively, ganodermic beasts are very weak to Magic, particularly fire spells, and have very powerful defenses versus melee and Ranged attacks. At 12,500 lifepoints, they have among the highest lifepoints of non-boss monsters in the game, but players using fire spells will find them easy to hit and damage. Ganodermic beasts respawn very quickly, allowing a higher kill rate, and therefore more experience and profit, per hour.
Most combat familiars are not useful against ganodermic beasts due to their melee and Ranged defence. Effective familiars are healing familiars, such as bunyips and unicorn stallions, or beasts of burden such as war tortoises and pack yaks that can hold extra supplies. Players can bring multiple pouches and renew Summoning points at the mini-obelisk in the southwestern corner of the bottom floor of the dungeon.
In terms of abilities, high-level players will find that they can effectively kill ganodermic beasts with Momentum. Players wishing to use abilities should avoid the use of Chain, Detonate, and Tsunami unless they want to draw the attacks of multiple ganodermic beasts at once. Metamorphosis is particularly effective for its 50% damage boost and long duration.
Unlimited lifepoints & prayer points method
Edit
This method requires a bonecrusher, a split dragontooth necklace or demon horn necklace, and 92 Prayer for use of the Soul Split curse, but it can allow players to remain at ganodermic beasts indefinitely. When a ganodermic beast is killed, bonecrusher will bury its big bones, while the necklace will restore 200 prayer points. With a quick kill rate, it is entirely possible for the prayer points restored on each kill to exceed the points drained during the kill, effectively resulting in a supply of unlimited prayer points. This can be combined with Soul Split to result in unlimited life points. With this method, a player can camp a ganodermic beast spawn for hours at a time without need for food or prayer potions.
The primary drawbacks with this method are the high Prayer requirement and the fact that kills must be fast enough not only to keep up with damage from the beasts' Magic attacks, but to ensure that fewer than 200 points are drained per kill. However, this should be an easy feat for a high-level player with a strong weapon.
Players without access to Soul Split can still use this method for unlimited or near-unlimited prayer points.
An alternative yet still very effective method is to use bloodfire spells and a vampyrism aura. With this set up and using abilities for very fast kills, players require no use of prayers (unless they want to use boosting prayers) as you should be able to heal enough each kill. You can also make use of healing abilities such as regenerate or guthix's gift if your life points start depleting too much. If praying protect magic using this method, food or healing abilities are not necessary.