A games necklace can be made by casting Enchant Level 1 Jewellery on a sapphire necklace, and can be used eight times before crumbling to dust. Only games necklaces with eight or one charges (shown in brackets) may be traded to other players on the Grand Exchange, but any may be traded to other players via the trade interface.
It currently costs 254.875 coins for each teleport. If the player sells the necklace with one charge on the Grand Exchange, 4253 coins are gained, as well as 7 free teleports.
On 28 June 2011, the Games necklace was changed in a hidden update to teleport players to Troll Invasion in Burthorpe, instead of Burthorpe Games Room which it did before.
After helping the companions in Temple Trekking to a total level of 500 or higher, it will unlock a teleport to Burgh de Rott on the necklace.
The Games necklace can now be used as an effective banking method, as there is a bank chest just south of Troll Invasion.
Combat Stats

A player wearing a Games necklace

A player using enchanted jewellery to teleport

Skill requirements
None
Class
Slot
None
Weapons
Main
Off
Damage
-
-
Accuracy
-
-
Style
-
Attributes
Armour
0
Life points
0
Prayer
0
Strength bonuses

0

0

0

[view] • [talk]
Teleports
Edit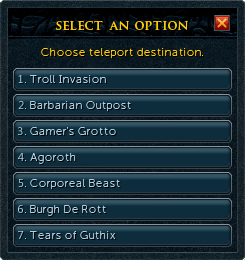 The necklace can be used to teleport a player to:
Dropping monsters
Edit
| Monster | Combat level | Quantity | Rarity |
| --- | --- | --- | --- |
| Skeleton | 13; 21; 142 | 1 | Common |
Disassembly
Edit
This item can be disassembled with the
Invention
skill.