Games necklace
Discuss

6
22,528pages
on this wiki

The Games necklace can be made (only by members) by casting Enchant Level 1 Jewellery on a sapphire necklace, and can be used eight times before crumbling to dust. This item is popular for players to recharge Amulets of glory, as the new Distraction and Diversion Troll Invasion is close to the Heroes' Guild. The item is extremely useful, considering the relative ease of creating it. Only games necklaces with eight or one charges may be traded to other players on the Grand Exchange.
The number of charges remaining is shown in brackets in the item name. E.g., "Games necklace (8)". Note that only the Games Necklace (1 & 8) can be sold on the Grand Exchange, while the other necklaces can be traded to other players, but not through the Grand Exchange.
It currently costs 120.875 coins for each teleport. If the player sells the necklace with one charge on the Grand Exchange, 1792 coins could, in theory, be gained.
On 28 June 2011, The Games necklace was changed in a hidden update to teleport players to Troll Invasion in Burthorpe, instead of Burthorpe Games Room which it did before.
After helping the companions in Temple Trekking to a total level of 500 or higher, it will unlock a teleport to Burgh de Rott on the necklace.
The Games necklace can now be used as an effective banking method, as there is a bank chest just south of Troll Invasion.
Combat Stats

| Class | Slot |
| --- | --- |
| None | |

Weapons
Main
Off
Damage
-
-
Accuracy
-
-
Type
-
-
Attributes
Armour rating

0

Life bonus

+0

Prayer bonus

0

Critical bonuses

0%

0%

0%

Compare item

A player wearing a games necklace

A player using enchanted jewellery to teleport

[view] • [talk]
Teleports
Edit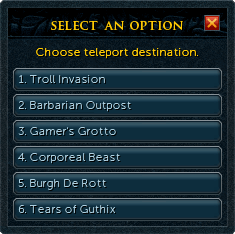 The necklace can be used to teleport a player to:
Dropping monsters
Edit
| Monster | Combat level | Quantity | Rarity |
| --- | --- | --- | --- |
| Skeleton | 13,21,142 | 1 | |
The games necklace used to have the ability to teleport you to the Wilderness Volcano even after the Bounty Hunter activity had been removed. This option was replaced with the option to teleport to the Corporeal Beast's cave.
If you have not completed Summer's End, the Corporeal Beast option is still included with the right-click options when wielded, but clicking it will yield the message "You can't go there until you've completed Summer's End."
The games necklace first appeared in both F2P and P2P later it was made purely P2P resulting in many F2P players having a necklace reading "Members Object"
When you equip a 7 charged Games' Necklace, your character will be darker.
.
Standard necklaces

Gold necklace • Sapphire necklace • Emerald necklace • Ruby necklace • Diamond necklace • Dragonstone necklace • Onyx necklace

Enchanted necklaces

Games necklace • Binding necklace • Digsite pendant • Phoenix necklace • Skills necklace • Berserker necklace

Other necklaces

Brass necklace • Silver necklace • Arcane pulse necklace • Arcane blast necklace • Arcane stream necklace • Expensive spices • Robert's necklace • Remora's necklace • Mad necklace
Head slot

Ram skull helm (e) • Witchdoctor mask • Icicle crown • Sunbeam crown •Wicked hood • Completionist hood • Mask of Broken Fingers • Helm of the Dead Hand • Mask of Stone • Helm of Petrification • Mask of Reflection • Helm of Little Kings • Mask of the Kura • Helm of the Kuraski • Mask of the Abyss • Helm of Warping

Cape slot
Neck slot

Desert amulet 2 3 4 • Games necklace • Digsite pendant • Skills necklace • Amulet of glory (t) Camulet • Cramulet • Amulet of nature • Drakan's medallion • Dominion medallion Super • Seal of passage • Remora's necklace

Mainhand slot

Pharaoh's sceptre • Sceptre of the gods • Skull sceptre • Broomstick • Clan vexillum

Offhand slot

The Book of Char

Leg slot
Hands slot
Ring slot

Explorer's ring 3 4 • Ring of duelling • Ring of Life • Ring of wealth • Ring of kinship • Ferocious ring • Ring of slaying • Jennica's ring • TokKul-Zo • Sixth-Age circuit