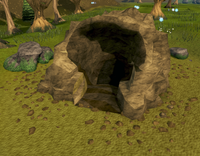 The Gamers' Grotto is a cave located just north of Falador (east of Falador lodestone), which was released when the Wilderness was restored on 1 February 2011. It contains three popular minigames: Stealing Creation, Clan Wars and a portal to Fist of Guthix. The Dungeon itself has been given a teleport via the Games necklace, which has replaced the teleports to the Bounty Hunter/Wilderness Volcano and Clan Wars arena.
The dungeon was originally believed to be a 'hub' for fans of these minigames (corresponding with player worries about how these minigames would be affected by the return of the Wilderness), while the games themselves would remain in the Wilderness and could be accessed much more easily by the portals here. It was discovered with the launch of the update that the minigames were moved here. The area that once held Clan Wars now holds the Bone Yard, an area for F2P players to train the Prayer skill (This addition was part of the original PvP Wilderness.) The area that held Stealing Creation has been only slightly altered, so that the graves that were nearby on the grassy hill have been moved closer to the Wilderness Volcano. The Fist of Guthix minigame technically remains in the Wilderness, with the entry now being by portal from the Gamers' Grotto.
The Mystic's Camp, where Stealing Creation is played, is in the North of the dungeon, in the largest room. The entire minigame has been moved, including the Rewards trader, portals and game lobbies.
To the South is the portal to the Fist of Guthix minigame. Enter the portal and you will be teleported directly to the cave, and exiting the cave will result in returning here. Surprisingly, this leads to the wilderness, although you can't be killed here and the only way out is to use the portal which leads you back to the grotto.
The final game in the dungeon is to the East, which is the famous Clan Wars. The portals have all been moved to this location, along with the NPCs related to the minigame, such as Larry, who sells team capes to players. For player convenience, there is a one-click Bank Chest in the corner of this room.
There was also some speculation that the creatures from the Wilderness Volcano (and possibly the Revenants) would have been moved to this location. However, on 1 February 2011, it was revealed that they resided in the new Forinthry Dungeon.
NPCs
Gameplay items
Rewards
Music
Other
Gamers' Grotto
Ad blocker interference detected!
Wikia is a free-to-use site that makes money from advertising. We have a modified experience for viewers using ad blockers

Wikia is not accessible if you've made further modifications. Remove the custom ad blocker rule(s) and the page will load as expected.