Ad blocker interference detected!
Wikia is a free-to-use site that makes money from advertising. We have a modified experience for viewers using ad blockers

Wikia is not accessible if you've made further modifications. Remove the custom ad blocker rule(s) and the page will load as expected.
Game Cards can be used to buy membership, keys for Treasure Hunter, and RuneCoins for Solomon's General Store. They are found in stores and come in increments of $10/£7.50 and $25/£20.
"
We're launching a new style of RuneScape game card that can be used for more than just membership. These two new cards – available in new denominations of $10 and $25 – will, upon redemption, allow you to choose from several packages:

Membership and Keys,
Membership and RuneCoins, and
RuneCoins and Keys.

In addition to these new packages we're celebrating the launch with a promotion! All cards purchased and redeemed before August 31st 2012 will receive 5 bonus membership days when purchasing a $10 game card, and 15 bonus membership days with the $25 card.

This new style of card is available exclusively through Walmart US stores initially, but will become available in other stores and territories at a later date so watch this space for more details. We're working hard to get the new style cards into stores over the next few weeks so if you don't see them in your local store, please bare with us – they'll be there soon.

"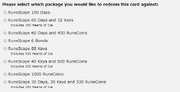 | GBP | USD | Membership only | Membership & Keys | Membership & RuneCoins | RS3 Bonds | OSRS Bonds | Keys only | RuneCoins & Keys | Runecoins only | Membership, Keys, & RuneCoins |
| --- | --- | --- | --- | --- | --- | --- | --- | --- | --- | --- |
| £20 | $25 | 90 Days | 50 days of Membership + 32 Keys | 50 days of membership + 400 RuneCoin | 4 Bonds | ? | 80 Keys | N/A | 1000 RuneCoins | RuneScape 25 Days, 30 Keys and 330 RuneCoins |
| £7.50 | $10 | 30 Days | 25 Days Membership, 7 Keys and 15 Hearts of Ice | N/A | 1 Bond and 12 Days Membership | 1 Old School Bond and 12 Days Membership | 28 Keys and 85 Hearts of Ice | 175 RuneCoins, 15 Keys and 40 Hearts of Ice | 350 RuneCoins | N/A |