The Ga'al are TzHaar which have been born erroneously, and have not retained the memories of their ancestors (which other TzHaar do) as well as being physically different. The Ga'al are an anomaly among the TzHaar society, and whenever they are born, the majority of them are rounded up and sent into the Fight Pits to die with dignity against other Ga'al and TzHaar. Ga'al can be found all over the TzHaar city in-game, and when spoken to will utter a phrase similar to baby-talk, upon which the player will comment that they cannot speak properly.
There are five "named" Ga'als: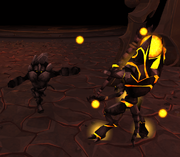 During the quest The Elder Kiln, after the death of his own Ga'al offspring, a TzHaar-Mej known as TzHaar-Mej-Jeh attempts to allow the Ga'al to regain their memories by infusing them with the TokKul of deceased TzHaar, and succeeded with their test on Ga'al-Xox.
After The Brink of Extinction the Ga'al become integrated into TzHaar society and are granted their own caste (Becoming known as the TzHaar-Ga'al), and are trained in combat and the TzHaar language by the other TzHaar. Several TzHaar-Ga'al's can be found training with other TzHaars around the city.
Ad blocker interference detected!
Wikia is a free-to-use site that makes money from advertising. We have a modified experience for viewers using ad blockers

Wikia is not accessible if you've made further modifications. Remove the custom ad blocker rule(s) and the page will load as expected.