Upcoming updates
Discuss

132
22,528pages
on this wiki
For updates of which there have been hints, see Update hints.
Please note that these updates have not occurred yet. For updates that have occurred, please click here.
The following is a list of upcoming updates, derived from official Jagex content:
Official Jagex Sources
Press conferences and interviews of Jagex staff
Jagex Moderators in their Clan Chats
Two new skills
Edit
Mod Mark confirmed in a recent interview with RuneShark (recorded 4/27/2012, published 6/12/2012) that Jagex does have plans to release another skill into RuneScape, with him hinting at a late 2013 release. He confirmed it would not be sailing, whilst listing several suggestions that had come up, including unarmed combat, necromancy and others. In the fourth live Q&A session Mod Mark confirmed that two new skills would be released. One would be a gathering skill like mining and woodcutting and one would be a production skill such as crafting. What form these skills will take is yet to be announced. In a November 2012 Behind the Scenes the new skills were described as "designed to suit the old-school, yet complement the entire game" since it was modelled "on some of our oldest and dearest content."
"
Most excitingly for me, we revealed the name of the new skill today, and the name of that skill is Divination. So it's gonna involve the power of the gods, but just how that works? Well, you'll have to wait and see.
"
 
One of these skills will be called Divination. The name was first leaked in an article by IGN[2], but later confirmed by Jagex to be one of the new skills.[3]
Mod Emilee hinted a Daemonheim 'finale' in the Game Updates FAQ for the Warped Floors.
"
Question: Is the truth of Daemonheim finally revealed?

Answer: More of the truth of Daemonheim is revealed with the Warped floors, where those who venture down can find out more about the lores and backstories to Bilrach's creation. As for "Finally", there is a finale to come…

"
 

— Mod Emilee
"
Question: Will the two new skills coming in 2013 be incorporated into Dungeoneering somehow?

Answer: Potentially, yes

"
 

— Mod Mark
In a development blog, Mod Mark commented that Jagex was planning to release many more rooms and the Menagerie was only the start. What the new rooms could be is unknown.
"
Question: Will we see an update for construction anytime soon? It's gone quite a while without anything. Then there's all of the current known bugs with Player Owned Houses like chairs turning the wrong way etc. Are you working on fixing that?

Answer: Yes. We recently made an update to Construction in which we fixed many bugs, and we do plan to add more rooms (like the recent menagerie) in the future. It's tough to add new features when we knew that aspects of the graphics were broken - we had to fix them rather than add more broken content. [4]

"
 

— Mod Mark
During the fourth live Q&A session, Mod Mark announced that two big updates would come to the Construction Skill during 2013. One such update would be a graphical rework of the house. There would also be an update to make parts of the house only for the player to train it. Some possible ideas that were suggested were player owned streets, where players can live alongside their friends in an instanced world. At approximately thirty minutes into the session, Mod Mark said that he wanted to bring back an idea from 2002, where you could buy land and tweak it to your own desires.
Wilderness for skillers
Edit
In the fourth live Q&A session, it was mentioned that there will be updates to the Wilderness to try and get more skillers into the wilderness, such as better resources. It was specifically mentioned that there would be an improvement on the agility return from the Wilderness Agility Course.  However, with the no items kept upon death update, it is unlikely that many skillers will venture in to the wilderness for any reason.
The final quest of the dwarf storyline will be a grandmaster quest.
"
Question: In 2010, will we see more of a variety of quest storylines? Well, in 2009, obviously the main quest theme was Mahjarrat with four quests in eight months or something like that. To me, that storyline is continuing to progress at an extremely fast rate. My favourite quest series is the dwarf one. Is there still a plan to make it a five part series with the fifth one coming out as a Grandmaster?

Answer: We think that we had a good mix in 2009. Don't forget we had continuation of many quest lines like the dwarf storyline, the elf storyline and the Fremennik one, on top of the penguin one and the conclusion of the cave goblin quest series. And, yes, we are continuing the dwarf storyline this year and we still plan to have a final one after that.

"
 

— Mod Fetzki
In the Game Update FAQ for Elemental Workshop IV, Mods Dylan and Mark have confirmed more quests being planned.
"
Question: How many more quests are planned for this series?

Answer: 3 or 5 depending on how the last parts turn out.

"
 
The ninth quest in the Elf series, the currently unsubtitled Mourning's Ends Part III, was to be released in 2013, according to RuneFest 2011. There is little known about it, other than the fact that access to Prifddinas will be granted as a reward, and it will be released alongside the Elf Task Diary. During the fourth live Q&A session Mod Mark announced that it was very unlikely that the next elf quest and Prifiddnas would be released during 2013 due to it being such a large undertaking. Mod Mark specifically mentioned that the quest would be so large that it would likely take place after the HTML5 update. He suggested a release in 2014 was more likely. Mod Osborne has stated that as it would grant access to Prifddinas, Mourning's Ends Part III will be a grandmaster quest.[6]
Black Knights' Fortress rework
Edit
In the fourth live Q&A session, it was strongly hinted at 49:00 that there would be a Black Knights' Fortress rework.
200th Quest
Edit
In the fourth live Q&A session, Mod Mark revealed that what the 200th quest would be was not at the top of his priorities, however, he confirmed that like The Chosen Commander, it would end a current storyline. It was further mentioned at 1:27:15 that the quest cape might be trimmed at the 200th quest, though Mod Mark said that the idea seemed a little dated.
God Content
Edit
During the live Q&A session Mod Mark confirmed that in 2013 a lot of content will center around how the gods interact with the game world. This could take the form of temporary events where for example players of Zamorak can battle with those of Saradomin. It was also suggested that Zaros and his followers will play a big role in the content next year as well. Mod Mark is also very interested in allowing players to both cosmetically and practically show their alignment to a particular god.
During the Runescape live Lore session it was revealed that as part of next year's god central updates, an NPC already in game will attain godhood.
Fossil Island
Edit
During the fifth live Q&A session on Runescapes lore, it was revealed that the Island discovered by the Varrock Museum will feature many fossils as part of its structure and landscape. An unmentioned Dragonkin lives on this island. Due to this update needing a large graphical budget, the project has been put on hold until further notice.
"
Upgrading everything was not achievable in one year, and, frankly, defining a whole year as a year of upgrades was an overstatement. There are many things we are yet to upgrade that were right at the top of our list, like Tournaments, Gnomeball and Barbarian Assault. We haven't forgotten them.
"
 

— Mod Mark
"
Question: Could you make a tutorial for Trouble Brewing, because I can't figure out how it works.

Answer: I love Trouble Brewing, but we know we need to rework a fair amount of it. Some of the gameplay is just broken now. I'd like to fix it up before teaching people how to play it. There is an excellent KB article on it, though – try reading that.

"
 
Note: The KB, or the Knowledge Base, no longer exists after an update.
"
Question: Changing the Burthorpe Games Room Teleport to something that is available only once a month. Does this mean you've officially given up on the Games Room?

Answer: No, we have not given up on the games room. In fact, we have plans that will hopefully re-invigorate it. But we felt the new teleport location was more convenient, generally, not just for the Loyalty and Troll invasion updates.

"
 
"
Question: I Counted the areas of RuneScape that could be grouped into a achievement diary, there are too many areas to reward a item for each equip slot, Will you just release more shields and rings or get more creative with the reward items?

Answer: Not all areas need to have an Achievement Diary. Interestingly, we do plan to have an Achievement Diary set with a potential set bonus. Who's to say that there won't be more areas, or indeed more slots, in a few years' time?

"
 

— Mod Mark
Two of these new slots are the aura and the pocket slots.
Since this statement the Morytania tasks and Morytania legs have been added, and the Desert tasks took up the amulet slot. Whether a task set will use the aura slot, pocket slot, or not is debatable, as these are only usable currently through the Loyalty Program and Player Owned Ports, respectively.
Daemonheim task list
Edit
"
Question: Will we ever get a task list for Daemonheim?

Answer: Yes!

"
 

— Mod Mark
Dungeons and Monsters
Edit
Adamant Dragons
Edit
"
Question: Few weeks ago I heard from players that there are going to be Adamant dragons. I would like to know, are you really planning those or is it just simply joke?

Answer: We are planning to add some adamant dragons in the future, but the screenshot that people "thought" were addy dragons weren't. Honest!

"
 

— Mod Mark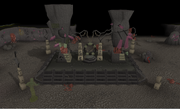 "
Question: Any plans with the weird machine in the Pollnivneach smoke dungeon?

Answer: Yes!

"
 
"
4. Will the device under polivneach in the dungeon ever be used, or has that been scrapped?

4. It's not been scrapped - it was a neat environmental inclusion that seemed to explain why the dungeon is like it is. I'm not sure what story I would tell about it...

"
[1]
Audio and Graphics
Edit
Voice acting
Edit
In the fourth live Q&A session at approximately 46:00, Mod Mark announced that Jagex was working on updating all previous quests to feature voice acting, background sounds, and more ambiance.


"
Question: What happened to the dwarf graphical update? Will we be seeing it soon?

Mod John A: Alas, the dwarf rework keeps being pushed back because of other Graphics priorities. It will come out eventually but I can't say when.

Mod Mark: The "chat head" part of the rework has been live for some months (that's the face you see in the chat box when talking to a dwarf), but sadly the full rework of the dwarves will have to wait. We've found other races in even greater need of a graphical rework, for example, the gnomes and trolls, both of which are being worked on right now.

"
Since both the Gnomes and the Trolls received their graphical rework, it is likely that the Dwarf race is next, however Jagex Hinted at a graphical rework for the Elves.
Also the new Dwarf model has been implemented in Taverley, Falador and Oo'glog.
In the Cinematic trailer there are a few updated monsters and a possible new area
Falador graphical update
Edit
Mod Pascal, a French member of the RuneScape graphics team, confirmed in a interview with Francoscape[10] that they were actually working on a graphical update of Falador. This was also confirmed by Mod Mark in the fourth live Q&A session.
Kandarin graphical update(s)
Edit
In the fourth live Q&A session, Mod Mark confirmed that a graphical update to Kandarin, specifically Ardougne would be coming.
Lighting update
Edit
In the fourth live Q&A session, a question was asked about a day and night system. Though the idea was being debated, it was mentioned that there would be more light sequences similar to that of The Firemaker's Curse.
Core and Interface
Edit
Chat and FFA split improvements
Edit
"
Question: Can you allow us to quickly talk to a friend by using /Friend-x for example? Answer:This is technically possible to implement, it just a question of getting the time to do it as it's rather fiddly. I will try to implement it in the next few weeks.
"
 

— Mod Rathe
"
Question: Are you planning on doing anything about the FFA split? How will I know if someone is lying to me?

Answer: We shall be changing this, the proposal has been signed off, but it's currently a rather low priority for the team that manage the website.

"
 

— Mod Emilee
Multi-Core Support
Edit
On a thread made by a player concerning Frames Per Second (FPS) and Multi-Core support on the day of release of Z-Buffering, Mod Chris E confirmed it is implemented but disabled.

HTML5 Support
Edit
Mod MMG confirmed in a news postthat HTML5 support is coming to the game.

"
Thank you for being RuneScape players, and we hope that you will continue to enjoy playing RuneScape over the years to come. We have some tremendous content - as well as technical innovations - lined up over the course of the next few months that we believe you will love. We already have RuneScape running in a new and improved client architecture built on HTML5 (a side by side screenshot of the early improvements over the current engine can be seen below - click for full size), and now I'm happy to report that we also have a dedicated Future Tech team working on bringing the game to your favourite tablets, platforms and even smart TVs in due course.
"
 

— Mod MMG
In December 2012, Mod Seven stated in a post on the RuneScape Forums that HTML5 support being released sometime in 2013.
"
I could sit here and wax lyrical about all of my favourite moments from the past year; all of the wonderful graphical re-works of old favourites, as well as amazing, imaginative new additions to RuneScape's growing world. The fantastic quests and memorable characters such as Ariane and Ozan getting more screen time...

Or I could muse about the possibilities next year will bring, with HTML5 looking set to ensure RuneScape will be looking better and running smoother than ever in 2013!

"
 

— Mod Seven
On January 23rd, 2013, Mod MMG announced the following in a post on the RuneScape Forums.
"
I believe the HTML 5 beta will be rather soon, I don't have the exact dates to hand but I think it's in the next month or two from memory, I know the engine team are working super hard to get it live by April but I'm kinda working back a little from that date for the beta.
"
 

— Mod MMG
On February 18th, the RuneScape Bestiary feature was released using the new HTML5 graphic engine.
"
This week, we're really excited to give you a glimpse at the next generation of RuneScape. We've created a new feature for the RuneScape website which lets you browse almost 3,000 of RuneScape's monsters and NPCs: the RuneScape Bestiary.

Each one is viewable in full 3D using our new HTML5 graphics engine - RuneTek 7 - which you'll be seeing much more of once we launch it for RuneScape later in the year.

"
To date, the RuneScape Bestiary only works in Google Chrome, using WebGL, and requires 3D video card drivers. Addressing concerns that some computers would no longer be able to run RuneScape once HTML5 was released, Mod Chris E said in a post on the RuneScape forums:
| | | |
| --- | --- | --- |
| " | ...Right now we don't have exact figures on performance, but it's safe to say it will require a better computer than the current Java client. We won't be removing the Java client, so anyone with an very old PC will not lose out. | " |
RuneScape 3
Edit
During the first live RuneScape Q&A, CEO Mark Gerhard announced that Jagex are making plans for developing RuneScape 3. Micro transactions such as Solomon's Store and Squeal of Fortune are helping to build a 'war chest' to fund such a large project. RuneScape 3 was then announced during the Fourth live Q&A session as the project name for several huge updates over the next couple of years. These updates would feature advanced graphics, audio, lighting, textures, a customisable interface and would run on HTML5. He also suggested that such a project might run on future generation technologies such as mobile phones and tablets.
Mobile Runescape
Edit
As part of Jagex's plans for the future of RuneScape, it was announced during the fourth live Q&A session that the team are not only looking to bring RuneScape to Tablet computers but to produce a mobile application or game that would allow players to interact with the game world and community while on the move. Little else is known about this project at the time.
RuneScape Spanish and Dutch
Edit
In the fourth live Q&A session at 1:03:50, a question was asked about when RuneScape Spanish would be released. At 1:13:00, it was said that it would possibly be released in Q1 2013, though Mod Mark intervened and said it would be released very soon. It was also confirmed that RuneScape Dutch was in consideration.
RuneScape Latin American Spanish was released on 24 April 2013.
Email Login
Edit
It was mentioned in the second live Q&A session that legacy accounts, that is, accounts created before e-mails could be linked to the account, will be able to log into the game via e-mail in the future.
Botany Bay and Bots
Edit
In the second live Q&A session at approximately 18:52, it was mentioned that there might be a future update to Botany Bay, with a possible punishment being a human piñata.
It was also mentioned that despite the fact that while items are banned with banned botting accounts, high profile items are taken into account and might be put on the Grand Exchange in the future.
The second live Q&A session confirmed that there will be future updates similar to JAG that will make the player's account even more secure. Jagex confirmed that they will do everything possible to make it free.
Item recovery
Edit
"
I understand as a gamer myself that losing items or gold can put a damper on your RuneScape experience. This is why we are looking into a system to help get players back their lost items, when this becomes available for our player's
, we will let you know on our homepage.
"
 

— Mod Katieann
Forum update
Edit
At approximately 32 minutes into the fourth live Q&A session, a question was asked about when the next forum update will occur. It was mentioned that it was in the list of top ten things to do. Fully fledged profiles and text effects were confirmed to be in the update.
Player moderators
Edit
In the fourth live Q&A session, it was also mentioned that they would expand the player moderator system to include ambassadors and mentors, in an effort to flesh out the system.
References
Edit