Fungal mage
Discuss

22
22,529pages
on this wiki
Fungal mage
Release date
28 November 2011 (Update)
Members?
Yes
Combat level
120
XP per kill
Unknown edit
Slayer level
1
Slayer XP
120
Assigned by
Chaeldar, Sumona, Duradel or Lapalok, Kuradal
Always drops
Accursed ashes, Neem drupe
Examine text
A creature of animated earth, infested with fungus. / This fungal mage has been weakened slightly. (When affected by neem oil)

Combat stats
LP
Max hit
1200
114
Attack
Defence
Ranged
Magic
Unknown
Unknown
Unknown
Unknown
Other
Immune to Poison?
Immune to Stun?
Yes
Unknown edit
Attack Speed

Speed 6 (Interval: 2.4 seconds)

Aggressive?
Poisonous?
No
No (but the infestation)
Attack style
Weaknesses
Magic

Magic

[view template]
The fungal mage is a monster found in the Polypore Dungeon.
If players come closer than one square away from it, it will infest them, dealing fast hits of 2 or 3 life points. However, this can be prevented by using neem oil on it; also, this infestation has a chance to reduce your Prayer points. It should be noted that they are very weak for their level. They have a moderately low max hit and terrible accuracy. Players with fair magical defence are strongly recommended to tank their attacks. Players with a low Magic level and poor magic defensive bonuses however, should go near the fungal mage and allow it to infest them; it would be difficult to break even while using Protect from Magic/Deflect Magic, and the damage from infestation is much less then the attacks from the magic attacks themselves.
Melee and range attacks will be severely reduced to almost 1/10th of what the attack would have done, unless a dwarf multicannon is used, which is highly recommended due to the fact that it does a large amount of damage (maximum 300) and the mages seem to have an instant respawn rate.
Players can kill these without 50 Magic, but they will not get them as a Slayer task until they have the level. It should be noted that fungal magi are incredibly strong against melee and Ranged, as with all other creatures found in the Polypore dungeon. A good way of training on these if lacking coins is to use a salamander on magic attack mode. Another way is to use the spell fire bolt, as with chaos gauntlets and an arcane stream necklace, it can deal a nice amount of damage comparable to fire blast, and chaos runes are inexpensive.
When sprinkling neem oil they will drop an item which is listed in a separate drops table. Items include such as swamp tar, neem drupe, eye of newt, or a vial of water.
Killing fungal magi can be quite profitable, due to their valuable drops such as fungal flakes, potato cactus, snape grass, pure essence, chaos runes and seeds.
Strategies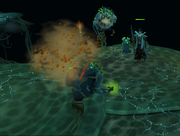 Inventory should include some food or other source of healing, runes for spells, an emergency teleport, and a cannon/cannonballs if applicable. You may also wish to take an Prayer urn for collecting the ashes.
An easy way to get a few safe hits in on the mage is to attack him once, then immediately sprinkle neem oil on the mage. This will give you about three safe hits before the mage starts to attack you.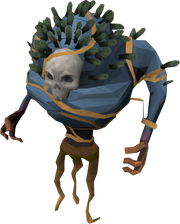 Drops
100% drop
Charms
Essence and runes
Seeds
Other
Neem oil drops
Note: The herbicide from Daemonheim does work with these herb drops.
Trivia
They may be related to earth warriors, as their examine option states "A creature of animated earth infested by fungus", and the only animated earth monsters in high amounts is the earth Warrior.
When the fungal mage is assigned for a Slayer task, the Slayer masters call them fungal magi (because the plural of "mage" is "magi" since the word has Latin origin).
Fungal mages have a very fast respawn rate; as soon as they are killed, within 5 seconds they will respawn.
When the fungal mage is assigned as a Slayer task, when you block it you can also choose the option to block all monsters in the Polypore dungeon.
When neem oil is scattered on them their back loses its bright green colour. When the effect has worn off they return back to their normal green colour.
Slayer Tower

Crawling Hand • Banshee • Infernal Mage • Bloodveld • Aberrant spectre • Gargoyle • Nechryael • Abyssal demon

Fremennik Slayer Dungeon

Cave crawler • Rockslug • Cockatrice • Pyrefiend • Basilisk • Jelly • Turoth • Kurask • Aquanite

Lumbridge Swamp Caves
Poison Waste Slayer Dungeon
Pollnivneach Slayer Dungeon

Banshee (Mighty) • Cave crawler (Monstrous) • Basilisk (boss) • Turoth (Mightiest and Swarming turoth) • Kurask (overlord) • Aberrant spectre

Meiyerditch Dungeon
God Wars Dungeon

Pyrefiend • Bloodveld • Spiritual ranger • Spiritual warrior • Spiritual mage

Jadinko Lair

Mutated jadinko baby • Mutated jadinko guard • Mutated jadinko male

Polypore Dungeon

Grifolaroo • Grifolapine • Ganodermic runt • Ganodermic beast

Daemonheim

Crawling hand • Cave crawler • Cave slime • Pyrefiend • Night spider • Jelly • Spiritual guardian • Seeker • Nechryael • Edimmu • Soulgazer

Others

Gelatinous Abomination • Desert Lizard • Mogre • Harpie Bug Swarm • Killerwatt • Molanisk • Terror dog • Brine rat • Fever spider • Mutated zygomite • Cave horror • 'Rum'-pumped crab • Dust devil • Skeletal Wyvern • Jungle strykewyrm • Desert strykewyrm • Dark beast • Ice strykewyrm

Specials

Bork • Skeletal horror • Phoenix • Jade vine(wild)

Slayer pets

| | |
| --- | --- |
| Soul Wars | Creeping hand • Minitrice • Baby basilisk • Baby kurask • Abyssal minion • TzRek-Jad |
| Social Slayer | |
| Other | Cresbot |
Monsters

Fungal rodent • Infested axe • Fungal mage • Grifolaroo • Grifolapine • Ganodermic runt • Ganodermic beast

NPCs