Ad blocker interference detected!
Wikia is a free-to-use site that makes money from advertising. We have a modified experience for viewers using ad blockers

Wikia is not accessible if you've made further modifications. Remove the custom ad blocker rule(s) and the page will load as expected.
The fungal mage is a monster found in the Polypore Dungeon. (Using the fairy ring code b•i•p. This is the fastest way to get there) If players come within one square away from it, it will infect them, dealing fast hits of 15-17 life points. However, this can be prevented by using neem oil on it. It should be noted that they are weak for their level, with a moderately low max hit and accuracy.
Players with fair magical defence can tank their attacks with ease. Players with a low Magic level and poor magic defensive bonuses should not go near the fungal mage and allow it to infest them; it would be difficult to break even while using Protect from Magic/Deflect Magic, and the damage from infestation is much less than the attacks from the magic attacks themselves.
It seems that even with good defence its normal magical attacks still cause more damage, but as the damage is small either way it is partially up to personal preference. If the player wishes to go for the infection method, they must stay in melee range and not use neem oil (Players should note that when neem oil is used on a fungal mage it stops attacking for a few seconds).
Melee and range attacks will be capped to no more than 50 damage per hit. Note that a Dwarf Multicannon will no longer work in this area.
Players can kill these without 50 Magic, but they will not get them as a Slayer task until they have the level. It should be noted that fungal magi are incredibly strong against melee and Ranged, as with all other creatures found in the Polypore dungeon. A good way of training on these if lacking coins is to use a Staff of air or equivalent, as it allows unlimited casts of Air spells, which are their primary weakness.
Killing fungal magi can be quite profitable, due to their valuable drops such as potato cactus and seeds.
Strategies
Edit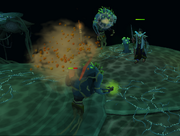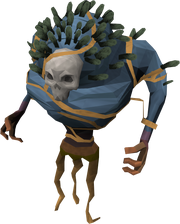 Inventory should include some food or other source of healing, runes for spells, and an emergency teleport. You may also wish to take a Prayer urn for collecting the ashes.
An easy way to get a few safe hits in on the mage is to attack him once, then immediately sprinkle neem oil on the mage. This will give you about three safe hits before the mage starts to attack you.
100% drop
Edit
No charm
79–80%
5%
12%
2%
1%
Represents a 90% confidence range.
Based on a sample of 34,474 kills.
1 charm is dropped at a time.
Add data to the log
(Requires JavaScript to be enabled)
Item
Quantity
Rarity
GE price
Grimy guam
1
Common
104
Grimy marrentill
1
Common
135
Grimy harralander
1
Uncommon
85
Grimy tarromin
1
Common
37
Grimy ranarr
1
Uncommon
2,422
Grimy irit
1
Uncommon
2,992
Grimy avantoe
1
Uncommon
2,638
Grimy kwuarm
1
Uncommon
5,432
Grimy cadantine
1
Uncommon
4,714
Grimy lantadyme
1
Uncommon
3,474
Grimy dwarf weed
1
Uncommon
3,296
Marrentill seed
1
Uncommon
12
Tarromin seed
1
Uncommon
20
Harralander seed
1
Uncommon
16
Ranarr seed
1
Uncommon
836
Wildblood seed
1
Uncommon
71
Poison ivy seed
1
Uncommon
90
Spirit weed seed
1
Uncommon
587
Limpwurt seed
1
Uncommon
610
Cactus seed
1
Uncommon
303
Whiteberry seed
1
Uncommon
24
Strawberry seed
1
Uncommon
88
Jangerberry seed
1
Uncommon
4
Bittercap mushroom spore
1
Uncommon
27
Belladonna seed
1
Uncommon
517
Irit seed
1
Uncommon
382
Kwuarm seed
1
Uncommon
6,286
Toadflax seed
1
Rare
1,016
Avantoe seed
1
Rare
303
Snapdragon seed
1
Rare
361
Cadantine seed
1
Rare
5,680
Lantadyme seed
1
Rare
732
Dwarf weed seed
1
Rare
632
Watermelon seed
1
Rare
521
Torstol seed
1
Rare
1,740
Polypore spore
1–100
Common
2–200
Fungal flake
1–90
Common
7–630
Snape grass
4 

(noted)

Common
68
Limpwurt root
1 

(noted)

Common
1,569
Gorajian mushroom
1
Common
51
Pure essence
15–25 

(noted)

Common
390–650
Potato cactus
8 

(noted)

Common
12,880
Spirit sapphire
1
Rare
Not sold
Spirit emerald
1
Rare
Not sold
Spirit ruby
1
Rare
Not sold
Tertiary drops
Edit
Universal drops
Edit
Universal drops are dropped by nearly every monster outside of Daemonheim.
These drops are dropped alongside main drops.
| | Item | Quantity | Rarity | GE price |
| --- | --- | --- | --- | --- |
| | Key token | 1 | Rare | Not sold |
When the fungal mage is assigned as a Slayer task, when you block it you can also choose the option to block all monsters in the Polypore dungeon.